India Said to Decide Fate of RIM's BlackBerry Service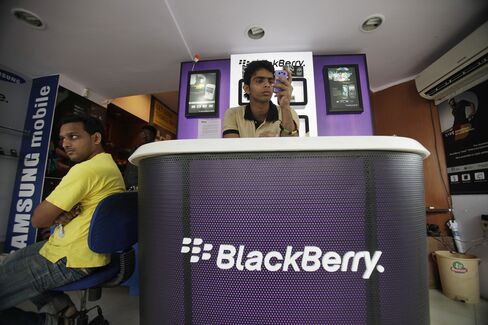 India is set to decide whether to ban BlackBerry instant messenger or accept Research In Motion Ltd.'s limited monitoring of the service, three officials with direct knowledge of the matter said.
The home ministry and intelligence agencies will meet today to review the proposals offered by RIM in the past week, the officials said, declining to be identified in line with government policy. RIM said on Aug. 26 any solution will need to ensure its clients' communications are secure, a selling point that's helped it attract users including President Barack Obama.
India, the world's fastest-growing mobile-phone market, Saudi Arabia and the United Arab Emirates have threatened to curtail BlackBerry messaging services, hampering RIM's expansion outside North America and Europe. The Canadian company's stock has declined 32 percent in U.S. trading this year, underperforming rivals Apple Inc. and Motorola Inc.
"If BlackBerry allows this to happen here in India, it's not just an Indian effect," said Romal Shetty, executive director of the telecommunications practice at KPMG's Indian unit. "It's going to affect them in many other countries."
Katie Lee, a Hong Kong-based spokeswoman at RIM, declined to comment on today's meeting in New Delhi.
The outcome may set the tone for how India deals with other services it says it wants to monitor, including RIM's e-mail service for corporate customers. India intends to find ways of monitoring voice-over-Internet protocol services run by companies such as Skype Technologies SA and Google Inc., a government official, who declined to be identified, said Aug. 13.
Industry Forum
Waterloo, Ontario-based RIM offered to lead an industry forum in developing ways to balance India's security needs with customers' privacy requirements, according to a statement on Aug. 26. Secure data transmission is an industry wide matter and important to the economic development in India, RIM said.
RIM will give India limited access to its BlackBerry messenger service beginning Sept. 1 to address security concerns, two government officials said on Aug. 16. The Canadian company will first give agencies access to messenger services on a manual basis, with information provided for individual phone numbers after government requests, the officials said.
Meeting India's requirement will undermine RIM's reputation for the security of BlackBerry e-mails and messages and drive some users to competitors, said analysts including HSBC Holdings Plc's Tucker Grinnan.
Access or Security
"RIM is in a quandary," said Grinnan, HSBC's head of Asian telecommunications research. "They want to balance the desire to be on the front edge of access to the Indian market, with the collateral impact of compromising user security."
Waterloo, Ontario-based RIM fell 1.8 percent to $45.99 in Nasdaq Stock Market trading on Aug. 27.
The company needs to persuade customers of the security of its messaging system, Scott Sutherland, an analyst at Wedbush Securities Inc. in San Francisco, said this month.
RIM held talks this month with clients including Goldman Sachs Group Inc. and JPMorgan Chase & Co. to reassure them about the security of the BlackBerry service, two people familiar with the situation said this month. At least one corporate customer has told RIM it's not satisfied with the explanations so far and is seeking an additional meeting, according to one person.
Set a Precedent
While India only accounts for an estimated 1.1 million users out of a total of more than 46 million BlackBerry subscribers worldwide, a ban by the South Asian nation may become a precedent for other governments. That prompted Ehud Gelblum, an analyst at Morgan Stanley to cut his stock rating RIM on August 20 to "underweight" in part because of the "ongoing chorus" of countries threatening to shut down BlackBerry service.
"What's more important is not the perception of the corporate users in India, but the perception of users outside of India," said HSBC's Grinnan.
India, which has faced terror attacks such as the one on Mumbai in Nov. 2008 that killed 166 people, gave RIM until Aug. 31 to resolve government concerns over some BlackBerry services, a government official said on Aug. 12.
Nokia Oyj, the world's largest mobile-phone maker, will set up servers in India by Nov. 5, allowing the nation's security agencies to monitor its customers' e-mail, the Indian unit's Managing Director D. Shivakumar told reporters in New Delhi today.
No Special Deals
RIM company maintains a "consistent global standard" for lawful access to its messaging system which "does not include special deals for specific countries," the company said last week, reiterating an Aug. 4 statement. It also reaffirmed it can't meet requests from governments for codes to users' data because the BlackBerry corporate service was designed to prevent RIM, or anyone else, from being able to read encrypted information.
The UAE is making "good progress" in talks with RIM to resolve the issue, Yousef Al Otaiba, the Persian Gulf state's ambassador to the U.S. said August 17. Given the "positive development" in meeting demands laid down by Saudi regulators, BlackBerry service in Saudi Arabia was allowed to continue, the government said August 10.