Posco Buys $2.8 Billion Stake in Daewoo International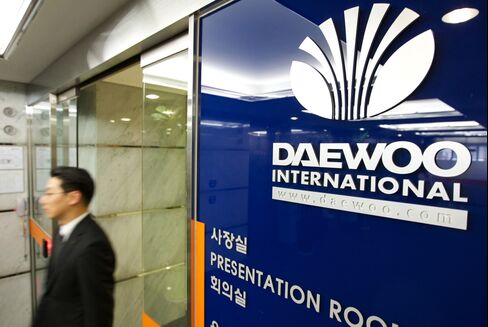 Posco, the world's third-biggest steelmaker, agreed to buy control of Daewoo International Corp. for 3.37 trillion won ($2.8 billion) to expand its sales network and gain raw materials as prices climb.
Posco will acquire 68.15 percent of the steel and crude oil trader, the Pohang-based steelmaker said in a regulatory filing today. The purchase price of 49,101.5 won a share is 53 percent higher than Daewoo International's closing share price on Aug. 27, based on figures derived from the statement.
Chief Executive Officer Chung Joon Yang is making South Korea's biggest acquisition this year as rising Chinese demand drove base metal and oil prices as much as 68 percent in the past five years. The 62-year old executive is spearheading a $30 billion capacity expansion plan in countries, including India and Indonesia.
"Daewoo's expertise in resources development will help Posco invest in mines overseas," Shin Yoon Shik, an analyst with Meritz Securities Co. in Seoul, said by phone today. "Posco will benefit from Daewoo's overseas sales networks as the steelmaker has to secure clients for its increasing output."
Posco, which counts Warren Buffett's Berkshire Hathaway Inc. as a shareholder, rose 2.6 percent to close at 497,000 won in Seoul trading. Daewoo International gained 0.9 percent to 32,300 won. Moody's Investors Service today downgraded Posco's foreign-currency debt by one rung to A2, with a negative outlook on the rating, citing the acquisition.
Elkem Interest
Posco is considering buying Norway's Elkem ASA, a maker of silicon for solar panels, Reuters reported today, citing Chung. Citigroup Inc. is advising Posco, and Elkem hired Moelis & Co., Reuters said, citing unidentified people.
Elkem, which makes products including silicon, special alloys and ferrosilicon, had sales of 7.4 billion krone ($1.2 billion) in 2009, down from 9.1 billion in 2008, according to the company's website. Elkem, with 2,500 employees, is part of Orkla ASA, a diversified company with products ranging from frozen pizzas to chemicals.
"We don't comment on rumors," Johan Chr. Hovland, Senior Vice President for Public Affairs at Elkem, said by phone. Posco spokesman Choi Doo Jin couldn't be reached for a comment. Godwin Chellam, a Hong Kong-based spokesman for Citigroup, declined to comment by telephone today.
Public Funds
State-run Korea Asset Management Corp., the biggest shareholder of Daewoo International, is recouping 1.76 trillion won in public funds from selling its entire 35.5 percent stake, it said today. The acquisition is the largest of the year in South Korea, based on equity value excluding debt, according to data compiled by Bloomberg.
The transaction will be completed by the end of September, and other sellers include Export-Import Bank of Korea and Korea Finance Corp, it said. The creditors acquired the assets as part of the bailout of Daewoo Corp. in 2000.
The acquisition "will help strengthen our competitiveness and increase synergy between Posco and related affiliates," Posco said in the regulatory filing.
Daewoo International owns stakes in a nickel mine in Madagascar, a coal mine in Australia and an oil block in Vietnam. The nickel reserves are estimated at 125 million metric tons, one of the world's four biggest. It also operates a natural gas project in Myanmar.
"The price looks neither cheap nor expensive," Kim Gyung Jung, an analyst with Eugene Investment & Securities Co. in Seoul, said.
Trading Sales
Daewoo gets 98 percent of sales from trading, with steel and metal accounting for 60 percent. The trader, which also runs a shopping center and sells automobile parts, handles about one-quarter of Posco's steel exports.
Daewoo International posted 11.1 trillion won in sales last year, with net income up 42 percent to 124.6 billion won. Posco, which earns about 70 percent of sales in the domestic market, posted 3.2 trillion won of profit last year.
Samjong KPMG Advisory Inc. and Bank of America Merrill Lynch are arranging the sale. Macquarie Group Ltd., Woori Investment & Securities Co. and Shinhan Investment Corp. are advising on Posco's bid, the steelmaker said in December.
Posco is the world's third-biggest steelmaker by production, ranked after ArcelorMittal and China's Baosteel Group Corp., according to the World Steel Association website. According to the American Institute for International Steel, the South Korean steelmaker is No. 4, coming after ArcelorMittal and China's Hebei Iron & Steel Group and Baosteel.