Pimco Lets Palocci Make Rousseff Favorite to Succeed Lula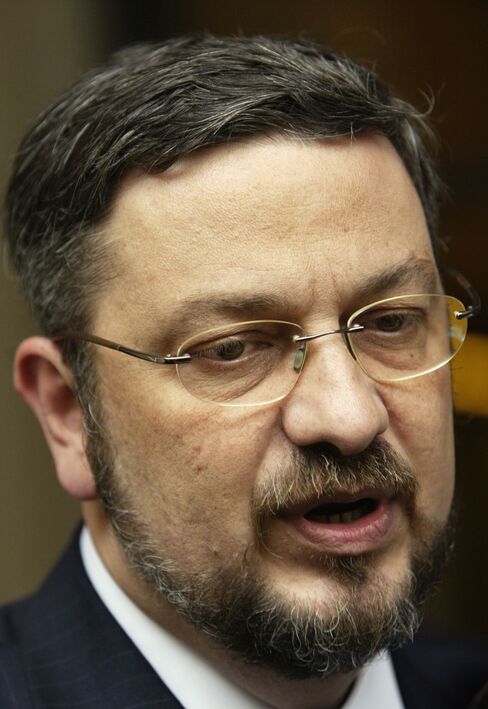 Antonio Palocci, who four years ago resigned as Brazil's finance minister before the Supreme Court belatedly exonerated him of violating bank secrecy laws, can thank Pacific Investment Management Co. for helping him pave the way for Dilma Rousseff's election as President in October.
Pimco, the world's biggest bond fund based in Newport Beach, California, has made Brazilian debt its favorite among emerging markets mostly because of its confidence in the 49-year-old Palocci, who is a congressman from Sao Paulo state and the economic adviser to Rousseff. Brazil's 11 percent bonds maturing in 2040, the benchmark, tripled to 137 cents on the dollar as the yield declined to 7.81 percent since Pimco increased their holdings eight years ago.
"Palocci's steady hand is what kept us in the trade even after prices started to recover," said Mohamed A. El-Erian, Pimco's Chief Executive Officer, who met with Palocci twice following the election of President Luiz Inacio Lula da Silva in 2002. The bond between Lula and Palocci "gave us confidence to develop deep roots" for Pimco, which tripled its Brazil holdings at a point when there was widespread talk of default.
Roussseff, who is Lula's chosen successor and has never run for office, has a 20 percentage point lead over opposition candidate Jose Serra in a Datafolha poll published Aug. 26. The poll of 10,948 people has a 2-percentage point margin of error.
Palocci's insistence on fiscal austerity during Lula's first term is needed again to rein in public spending and "gusher" credit from state banks, said Thomas Trebat, head of the Institute of Latin American Studies at Columbia University. Gross public debt, after falling to 56 percent of gross domestic product the year Palocci resigned from 67 percent in 2002, has since risen back to 60 percent, according to the finance ministry, as spending accelerated faster than economic growth.
Needed Again
"What Palocci did as finance minister set Brazil on the right course," Trebat, a former Citigroup Inc. analyst, said from New York. "Brazil needs him again."
Palocci, who accompanied Rousseff to presidential debates and television interviews, declined to comment for this story.
As finance minister, Palocci paid $15.5 billion in loans to the International Monetary Fund ahead of schedule and sponsored a bankruptcy law favoring creditors over workers. He created rules allowing loan payments to be deducted from paychecks that fueled a record expansion of credit among low-income families. Under his watch, inflation slowed to 5.3 percent from 17.2 percent. The benchmark Bovespa stock index more than doubled.
If Rousseff is elected, Palocci will likely shun a return to the Finance Ministry or a central bank appointment and instead work as cabinet chief, said Carlos Thadeu de Freitas Gomes, a former central bank director and chief economist at the National Federation of Commerce in Rio de Janeiro.
Party Obstacles
Palocci's role may include helping Rousseff battle members of her Workers' Party who want to expand the government's role in the economy, said Paulo Vieira da Cunha, a central bank director until 2008 who is now a partner at Tandem Global Partners LLC.
"Palocci stands for fiscal prudence," Vieira da Cunha said in a phone interview from New York. "It's not clear how much support there is for that within his own party."
Rousseff declined to comment, according to her campaign's press team led by Helena Chagas.
Palocci, who turns 50 a day after the Oct. 3 election, resigned in March 2006 after lawmakers accused him of illegally obtaining and leaking the private bank records of a witness in a bribery investigation that targeted senior Workers' Party officials. The witness, a caretaker, placed Palocci at a Brasilia residence where politicians and lobbyists allegedly negotiated bribes and partied with prostitutes.
Palocci denied any wrongdoing. The Supreme Court cleared him of breaking bank secrecy laws last year.
Former Marxist
Like Rousseff, Palocci joined the armed Marxist underground that fought against Brazil's 1964-1985 military dictatorship when he was a student. Palocci, who is the son of an artist, trained as a physician and co-founded the Workers' Party with Lula two decades ago. He twice won election as mayor of Ribeirao Preto in Sao Paulo state.
In May, Rousseff and Palocci traveled to New York for an event at which the candidate surprised investors by discussing a possible reduction of Brazil's inflation target -- something Lula has refused. Rousseff, 62, said it was "very important" to reduce lending by the state development bank, which has more than doubled since 2007.
"It was a watershed event and Palocci orchestrated it," Freitas said. "It was the signal the market wanted that she would follow an orthodox path."
'Risky Path'
In his 2007 memoir about his time in government, titled "About Ants and Cicadas," Palocci says spending cuts are the first step to boosting investment and economic growth. "A forced reduction of interest rates, without having savings and the investment capacity to increase the supply of goods, is an extremely risky path," he wrote.
El-Erian, who visited Brazil last month, said the next president must address Brazil's high tax burden, budget rigidities and poor infrastructure. While faster-than-forecast growth has made the challenges less urgent, resolving them is easier because the private sector has more confidence, he said.
El-Erian, 52, said he's "comfortable" with Pimco's holdings in Brazil. The $239 billion Pimco Total Return Bond Fund has 2.03 percent of its investment in Brazilian securities, the third-largest country after the U.S. and U.K.
"The more the market sees of Palocci, the happier it feels about Dilma," Urban Larson, who helps oversee about $2.2 billion as a Latin American stocks fund manager for F&C Management Ltd. in London, said in a phone interview.
Lula, 64, has also praised Palocci.
"I owe him a part of my government's success," Lula said in an Aug. 5 interview with Isto E magazine, according to a transcript from his office. "Especially during the first two years, when we had to eat charcoal instead of filet mignon."
Before it's here, it's on the Bloomberg Terminal.
LEARN MORE