Obama to Revamp U.S. Export Control, Ease Limits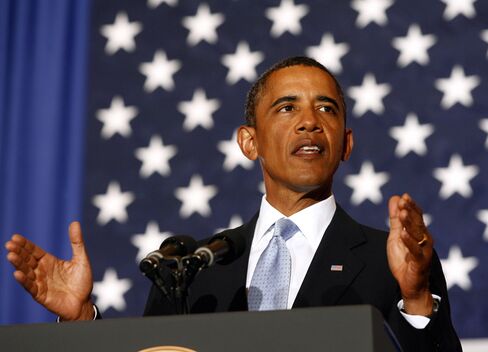 President Barack Obama plans to ease restrictions on selling products with military applications to foreign buyers as part of a restructuring of U.S. export rules that companies said were too broad and burdensome.
Obama will announce the changes, which will create narrower and more consistent rules for defense, technology and aerospace products, in a video message to an export-control conference in Washington tomorrow, the administration announced.
"While there is still more work to be done, taken together, these reforms will focus our resources on the threats that matter most, and help us work more effectively with our allies in the field," Obama will say in his remarks, according to a text released by the White House.
"By enhancing the competitiveness of our manufacturing and technology sectors, they'll help us not just increase exports and create jobs, but strengthen our national security as well," he will say.
A yearlong review by Defense Secretary Robert Gates led to the refining of rules that were largely set to keep dual-use technology including encryption software and airplane parts out of the hands of military adversaries. Businesses complained that the list of prohibited products was too long and out of date, and found it hard to tell if they were subject to the ban, said Bill Reinsch, president of the National Foreign Trade Council.
'Protecting Nothing'
"If you protect everything, you end up protecting nothing," said Reinsch, whose Washington-based organization represents the trade policy interests of more than 300 companies. "These changes are the most important in at least 20 years in terms of" defense, aerospace, and technology exports," he said. "We're very happy."
Aircraft controls maker Honeywell International Inc., software developer Microsoft Corp., defense contractor Northrop Grumman Corp. and airplane builder Boeing Co. are among the companies that may benefit from the changes, he said.
"The reform of the country's export-control system is a very positive step," Northrop Chief Executive Officer Wes Bush said in an e-mailed statement.
At the center of the new approach is a three-tier licensing system that will have stricter controls only for items that have direct warfare applications, according to an administration announcement. Restrictions will be looser for less military-sensitive products such as the brake pads used on tanks.
Congressional Approval
Additional changes, including the development of a single licensing agency, will require congressional approval, according to administration officials who briefed reporters before the announcement was made. Currently, the Commerce Department and State Department administer different parts of the export-control rules with the input of the Defense Department and other agencies.
Obama plans to issue an executive order to establish the "Export Enforcement Coordination Center." The center will have a mandate to improve enforcement and coordination between agencies and departments.
"This action will improve the functioning of the government and protect sensitive and critical U.S. technologies while enhancing industry's ability to compete in global markets," Northrop's Bush said. "It also allows industry to better utilize manufacturing capacity and improve efficiency, while working closely with our allies."
Tanks, Fire Trucks
The current system was inefficient, the administration officials said. The brake pads on a M1A1 tank are subject to restrictions, even though they are almost identical to pads for fire trucks that can be exported without a license.
An administration analysis of the new approach shows the changes may reduce the number of items that will be subject to licensing. Of the 12,000 items in the tank and truck category on the U.S. Munitions List and the Commerce Control List, 74 percent will be on the less-restrictive commerce list or not be subject to controls. While about one-fourth of the items would remain on the munitions list, none would be put into the highest tier of licensing requirements that is being created.
"It really is a twofer," said James Carafano of the Heritage Foundation, a Washington-based policy group that advocates free enterprise and limited government. "It does stimulate exports and it does have security benefits."
"Aircraft is the leading country export," he said. A new export regime "has a lot of potential benefits for them, as well as the defense and technology industries," he said.
Obama is pursuing a goal announced in his State of the Union address to double U.S. exports in five years to about $3.1 trillion. At the Group of 20 summit in Canada in June, Obama said he is working to revive stalled free-trade talks with South Korea and reach a deal during his November visit to Seoul.
The trade deficit, U.S. exports minus imports, widened to $445 billion in the second quarter, the Commerce Department said in a report last week. The gap subtracted 3.37 percentage points from economic growth, the biggest reduction since record-keeping began in 1947, the report shows. Imports grew at a 32.4 percent pace, the most since 1984.
Before it's here, it's on the Bloomberg Terminal.
LEARN MORE