Intel Buys Infineon Wireless Unit for $1.4 Billion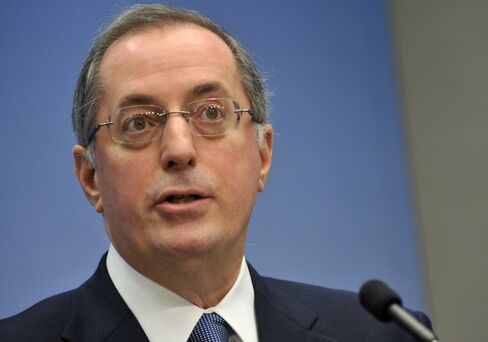 Intel Corp., the largest chipmaker, agreed to buy the wireless operations of Infineon Technologies AG for about $1.4 billion, gaining a foothold in the mobile-phone business it has struggled to crack for more than a decade.
Infineon, Europe's second-biggest semiconductor maker, expects the all-cash transaction to close in the first quarter of 2011, according to a statement today. The business makes third-generation, or 3G, chips for devices like Apple Inc.'s iPhone and Samsung Electronics Co.'s Galaxy S.
"It's a good deal for both companies," said Marco Guenther, an analyst with Hamburger Sparkasse in Hamburg. "Intel strengthens its position in the fast-growing smartphone market. Infineon sells its wireless unit at a time when the more cyclical business is running successfully. The transaction price is in line with expectations."
The acquisition follows Intel's $7.68 billion purchase of security software maker McAfee Inc., and fits a plan by Chief Executive Officer Paul Otellini to lessen the company's reliance on the personal-computer market. Intel, based in Santa Clara, California, wants to get its processors into smartphones like the iPhone and could use the business to beef up the wireless features of PCs.
Taking on Qualcomm
For Infineon, the deal unloads a unit that has struggled to turn a profit, letting the company focus on areas where it can grab the biggest market share, such as the automotive and industrial areas. Infineon did little to narrow Qualcomm Inc.'s lead in the market for chips that control radio functions in phones.
"In the near term, Intel could potentially equip every PC with 3G, which could accelerate its 3G volumes and directly challenge Qualcomm's 3G dominance," said Stephen Entwistle, an analyst with Strategy Analytics, a consulting group in the U.K.
Intel gets more than 90 percent of its sales from the PC market. While analysts project a 24 percent jump in the company's revenue this year, fueled by a rebound in computer spending, growth is forecast to slow to 4 percent next year. That would fall short of the double-digit growth that Intel set as its goal.
The company generated $3.49 billion in cash from operations last quarter and ended the period with more than $18 billion on its books, giving it the means to make large acquisitions. It's paying for McAfee in cash.
Atom Chip
Intel is hitching its mobile ambitions to a scaled-down version of its PC chips called Atom. The company has signed agreements aimed at landing its products in devices made by Nokia Oyj and LG Electronics Inc. So far, though, no phone that's currently on sale uses its chips.
The Infineon unit had sales of 346 million euros ($440.2 million) last quarter, a 38 percent increase from a year earlier. The gains were mainly due to a "ramp-up of new smartphone and entry-level phone platforms at several major customers," Infineon said last month.
Infineon fell 3.7 percent to 4.44 euros today in Frankfurt trading, giving the company a market value of 4.83 billion euros. Intel shares declined 41 cents, or 2.2 percent, to $17.96 at 4 p.m. New York time in Nasdaq Stock Market trading.
"Despite the strategic rationale behind the deal, we fear the equity market will give Infineon only brief credit for the disposal," Bernd Laux, a Frankfurt-based analyst with Cheuvreux, wrote in a note to investors.
'Complementary Skills'
Intel will run its new unit as a separate entity, allowing Infineon to keep and develop existing product lines sold by its own sales force, said Intel Executive Vice President Dadi Perlmutter, who will supervise the business. The two companies have been working together for two years, and Intel doesn't want to jeopardize Infineon's customer relationships with a strategy overhaul, he said.
"We understand the good and the missing parts," Perlmutter said in an interview. "We believe we have complementary skills."
In the future, Intel plans to sell all-in-one chips, which will handle the communications and computing functions needed by phones and other connected devices, he said. That won't stop it from offering individual products that boast single or limited sets of functions.
Intel was advised by Evercore Partners Inc., while JPMorgan Chase & Co. advised Infineon.
The market for processors that run smartphones is dominated by technology from Cambridge, England-based ARM Holdings Plc, which licenses its designs to such companies as Qualcomm, Dallas-based Texas Instruments Inc. and Suwon, South Korea-based Samsung. San Diego-based Qualcomm, the largest supplier of semiconductors for mobile phones, produces chips that combine the functions of applications and baseband processors -- components that form the brains of wireless devices.
Before it's here, it's on the Bloomberg Terminal.
LEARN MORE