Hurricane Warning Issued for the U.S. Virgin Islands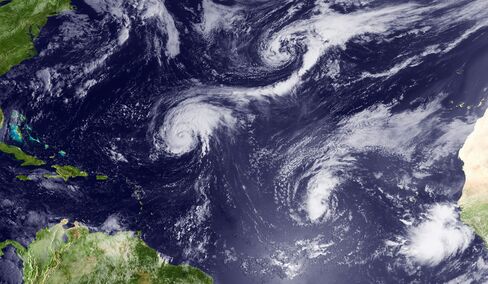 A hurricane warning was issued for the U.S. and British Virgin Islands, popular Caribbean tourist destinations, as Earl strengthened to 110 miles per hour (175 kilometers per hour) today east of Puerto Rico.
The National Hurricane Center forecast that Earl, the third hurricane of the Atlantic season that runs from June through November, would become a "major" storm later in the day with sustained winds exceeding 111 mph.
Earl grew in intensity to a Category 2 hurricane on the five-step Saffir-Simpson scale and is moving west-northwest at 14 mph, likely passing the Virgin Islands about 60 miles east of Puerto Rico this afternoon. Meteorologists expect Earl to turn northward and curl near the U.S. East Coast later this week.
The hurricane, currently close to the island of St. Martin, was headed with heavy showers and high winds toward the easternmost tip of Puerto Rico, the center said in the advisory. A hurricane watch was issued for Puerto Rico and Vieques Island.
Forecasters cautioned of hurricane-like conditions within the warning area and that hoteliers and residents should have already completed "preparations to protect life and property."
As a result of the conditions, British Airways Plc said its only flight today from the U.K. to Antigua was canceled. Antigua-based Leeward Islands Air Transport said "several flights" to the Caribbean island were also canceled, according to the airline's website.
Hurricane Earl "will pose a serious threat to the East Coast as we approach Labor Day weekend," Jim Rouiller, energy meteorologist at Planalytics Inc., said yesterday. The Labor Day holiday in the U.S. is Sept. 6.
Storm Not Gulf-Bound
Oil fell today from its highest price in more than a week as forecasts showed Earl would head northward and not toward the Gulf of Mexico. The Gulf is home to 31 percent of U.S. oil output and about 10 percent of natural gas production.
The storm may generate a surge of as much as 4 feet (1.2 meters) above normal tide levels and produce rainfall of as much as 8 inches in the affected islands and 12 inches in isolated higher elevations, the hurricane center said.
Hurricane-force winds extend as much as 50 miles out from the storm and tropical-storm-force winds as far as 175 miles, the center said. The storm is expected to turn toward the U.S. mid-Atlantic coast tomorrow.
Five-day storm tracks show hurricane-force winds from Earl may brush the North Carolina coast and Massachusetts shores on Sept. 2-3.
"The next few days will be critical because each day that passes this week without any true and sustained hook northward will result in threat levels dramatically increasing for a major hurricane strike to the East Coast," Rouiller said.
Beachgoers Warned
Weather forecasters urged care be taken by beachgoers including staying out of rough storm surf, which has affected parts of the U.S. East Coast from Hurricane Danielle.
Danielle continued to weaken over the cooler open North Atlantic Ocean, the center said today in another advisory. Danielle was packing sustained winds of 75 mph and was about 440 miles south of Cape Race, Newfoundland.
Danielle surpassed Hurricane Alex last week as the season's most intense storm. Alex had 105-mph winds when it hit northeastern Mexico on June 30 and dissipated over land.
A low-pressure system about 1,150 miles east of the Lesser Antilles has a 90 percent chance of forming a tropical storm in the next 48 hours, the center said in a separate advisory. The thunderstorms were moving west at about 20 mph, the center said.