U.S. to Use Drones on Entire U.S.-Mexico Border, Official Says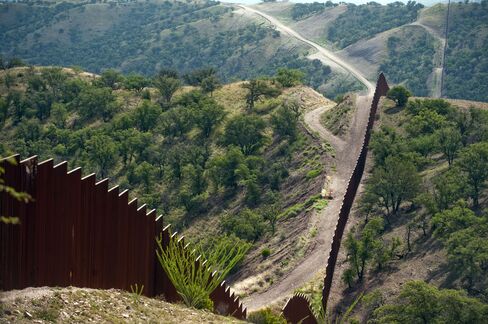 The U.S. will begin patrolling the entire U.S.-Mexico border with unmanned aircraft this week, Homeland Security Secretary Janet Napolitano said.
A Predator drone, made by closely held General Atomics Aeronautical Systems Inc. of San Diego, will be deployed to Corpus Christi, Texas, on Sept. 1, she told reporters on a conference call today.
The plane will join two other drones in covering the border from El Centro, California, to the Gulf of Mexico.
"This is yet another critical step we've taken in ensuring the safety of the border," Napolitano said.
Republicans are calling on the administration to do more to stop illegal immigration. President Barack Obama on Aug. 13 signed legislation providing $600 million for border enforcement.
The measure included funding for two additional drones. Customs and Border Protection also has money for a third new drone, according to the Homeland Security department.
On the call, Napolitano said the administration has focused the country's border strategy on criminals who have entered the U.S. illegally. Currently, half of deported illegal immigrants were convicted of a crime, she said. That compares with 34 percent of those deported in June 2009.
Republican lawmakers have said Obama should put more agents and equipment at the border to catch those crossing illegally and beef up efforts to crack down on employers who hire undocumented workers.
Before it's here, it's on the Bloomberg Terminal.
LEARN MORE