Volcker Panel Gives Obama Outlines for Revamping U.S. Tax Code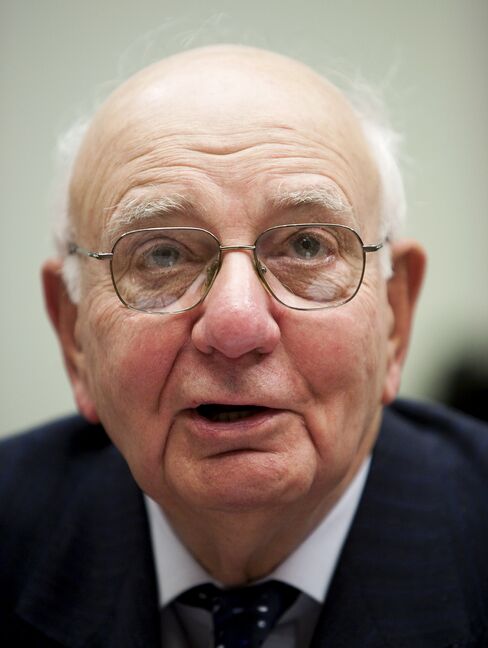 A task force headed by former Federal Reserve Chairman Paul Volcker handed President Barack Obama a report that may set the boundaries for administration proposals to revamp the corporate tax code.
The President's Economic Recovery Advisory Board, headed by Volcker, presented options that would lower corporate income tax rates while widening the income base covered. The panel, which took no position on the individual proposals, also outlined a menu of choices for simplifying individual income taxes.
Amid election-year fights over income taxes and the deficit, the 118-page report released yesterday isn't likely to stir any immediate action to change the tax code, said William Gale, co-director of the Tax Policy Center, a Washington research organization. It may guide the debate if the administration and Congress decide to tackle an overhaul.
"This is more like a warm-up drill, not the game itself," Gale said. "Congress has to actually want to take these issues seriously rather than use them as sound bites and campaign material. And I don't see any interest right now in doing the hard work."
The board's work is intended "to aid discussion about the wide variety of tax reform ideas" and "is not a reflection of administration ideas under consideration," Austan Goolsbee, a senior economic adviser to the president who acted as staff director for the board, wrote on the White House website.
Wider Base
One way to lower corporate tax rates without decreasing government revenue would be to expand the number of businesses required to pay corporate income tax. About half of U.S. business income isn't subject to corporate tax.
Among the options the board presented is subjecting all businesses to corporate income tax if they have "corporate characteristics," such stock that is publicly traded, assets or income above a certain level or a large number of shareholders.
Business entities not subject to corporate tax such as partnerships, S corporations and limited liability companies have grown because of changes in federal and state laws in recent decades.
The advisory panel also proposed considering limiting interest deductions available to corporations, which the report said would serve dual goals of expanding the tax base and reducing discrimination in the tax code that currently favors debt financing over equity financing.
Needing Reform
"The corporate tax system is deeply flawed and deeply in need of reform," board member Laura D'Andrea Tyson, a professor of economics at the University of California at Berkeley and former economic adviser to President Bill Clinton, said during today's session of the panel to vote on the report.
The panel also offered options for simplifying personal income taxes, retirement incentives and treatment of capital gains as well as cracking down on tax evaders to close the tax gap, or the difference between the amount of taxes owed and the amount collected.
The board also suggested consideration of a "simple return" in which the IRS would mail a pre-filled return to as many as 60 million taxpayers who don't itemize deductions and receive all their income from wages or other third-party payers. Taxpayers would then simply sign and return the form or amend it if they chose.
A simple return "would relieve millions of taxpayers from the chore of filling in tax forms" and "would reduce the frustration and anxiety of taxpayers at tax time," the board said in its report.
Time on Taxes
The panel's report said Americans spent more than 21 hours and about $140 billion filling out federal tax forms in 2008 because of the code's complexity. About 60 percent of Americans now pay others to do their taxes.
"We hope that the administration and Congress will select changes that are desirable on their merits and not worry about" creating a system of "winners and losers," the board said in its recommendations to Obama, who made tax overhaul part of his presidential campaign.
The hundreds of options cited will be submitted to a separate presidential commission that is preparing recommendations for ways to cut the deficit, Goolsbee said.
That panel is scheduled to give its report to Obama on Dec. 1, after the November elections that will decide control of Congress.
Under Review
The review has been under way since March 2009, when Obama put Volcker in charge of the tax review. The 17-member panel of chief executives, academics and economists was told to examine tax policies but to exclude options that "would raise taxes for families with incomes less than $250,000 a year."
When Volcker was named to head the panel in March 2009, then-White House Budget Director Peter Orszag said the goals were to reduce tax evasion and what he called "corporate welfare."
"There are hundreds of billions of dollars in uncollected taxes each year," Orszag said at the time. He cited academic studies suggesting that the difference is $300 billion or more and that the administration is going to be "as aggressive as possible" in reducing it.
Among members of the advisory panel: Harvard University's Martin Feldstein, former chief economic adviser to President Ronald Reagan; Tyson; Roger Ferguson, chief executive officer of Teachers Insurance & Annuity Association and a former vice chairman of the Federal Reserve; and William Donaldson, a former chairman of the Securities and Exchange Commission.
The panel also includes Jeffrey R. Immelt, chief executive of General Electric Co.; Jim Owens, chief executive of Caterpillar Inc., Richard L. Trumka, president of the AFL-CIO; Robert Wolf, chairman and chief executive officer of UBS Americas, and Penny Pritzker, who led Obama's campaign fundraising effort and is chairman of Pritzker Realty Group.
Before it's here, it's on the Bloomberg Terminal.
LEARN MORE