Time Warner Cable, Disney Talks Focus on ESPN Site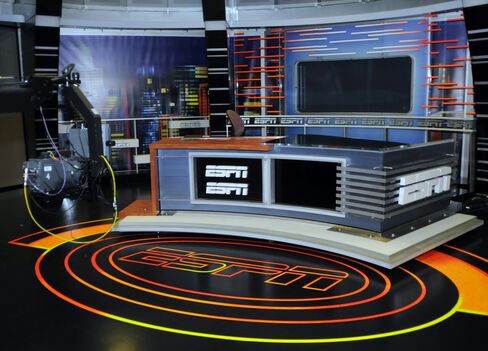 Time Warner Cable Inc.'s negotiations to renew rights to ESPN may be held up on a demand by the sports channel's owner, Walt Disney Co., to be paid for a related website, two people with knowledge of the talks said.
Disney is seeking a fee of about 10 cents a month per Web customer for ESPN3.com, said one of the people, who declined to be identified because the talks haven't concluded. Time Warner Cable is resisting the fee, both people said.
ESPN, the most-profitable unit of Burbank, California-based Disney, has honed a strategy of buying sports broadcast rights and charging cable systems industry-leading fees for games. An agreement with Time Warner Cable would add more than 9 million paying customers to the website.
Maureen Huff, a spokeswoman for New York-based Time Warner Cable, declined to comment.
"We're very focused on reaching a fair agreement with Time Warner Cable, and we will not comment on the specifics of the negotiations," ESPN, based in Disney and Bristol, Connecticut, said in an e-mailed statement.
Time Warner Cable, the fourth-largest U.S. pay-TV provider, rose $1.11 to $51.67 at 4 p.m. in New York Stock Exchange composite trading. The shares have gained 25 percent this year. Disney, the world's biggest media company, climbed 84 cents to $32.78 and has gained 1.6 percent this year.
ESPN is the most expensive national pay-TV channel, costing providers on average $4.08 per subscriber a month, according to researcher SNL Kagan. Time Warner Inc.'s TNT is second at 99 cents.
Fastest-Growing Business
An agreement with Time Warner may raise questions among advocates of so-called net neutrality rules that have been proposed to prevent some websites from gaining priority access to Internet users. ESPN3.com is the first and only site to charge Web-service providers a subscriber-based access fee.
Internet service is Time Warner Cable's fastest-growing residential product and is more profitable than video largely because the operator doesn't have to pay programmers for content. Last quarter, Time Warner Cable's high-speed data revenue climbed 9.7 percent to $1.23 billion, with the company gaining 85,000 new home Internet customers to 9.29 million.
The cable operator has previously said it doesn't agree with ESPN3.com's business model, which requires payment based on the total number of Internet subscribers. Although Time Warner Cable has said it acknowledges the site's appeal, its Internet customers shouldn't have to pay for programming they may never watch.
Broader Talks
Time Warner Cable is negotiating pricing for Disney's cable outlets, including the Disney Channel and ABC Family, for all of its 12.7 million video subscribers. In addition, the companies are negotiating rights to Disney's ABC broadcast stations in New York, Los Angeles and Raleigh, North Carolina. The existing contract expires on Sept. 1.
Formerly called ESPN360, ESPN3.com carries 3,500 live events a year, including World Cup soccer and the Little League World Series. ESPN.com, the flagship website doesn't provide start-to-finish live broadcasts or replays. ESPN3.com offers programming not available on TV.
Comcast Corp., Cox Communications Inc., Charter Communications and phone companies AT&T Inc. and Verizon Communications Inc. have ESPN3.com agreements with Disney, according to the website.