Plummer Falls for Four-Legged Bitch in 'Tulip' Film: Interview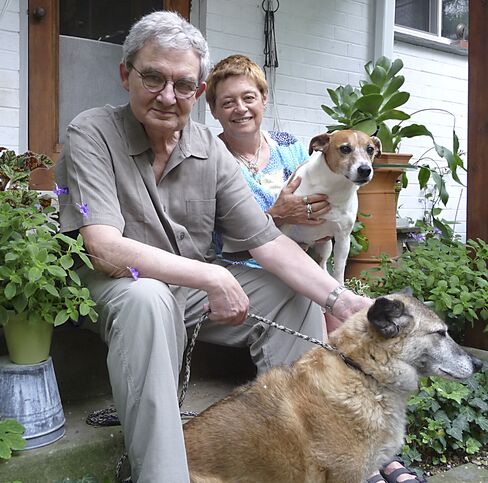 She was a wayward beauty with huge, soulful eyes, and the curmudgeon fell deeply in love with her. Now the story of a famously unruly German shepherd and her obsessive owner comes to the big screen, thanks to two acclaimed Philadelphia hermits.
Paul Fierlinger, 74, who made his first film in 1958, teamed with his wife, Sandra, 56, to animate "My Dog Tulip," based on the memoir by British author J.R. Ackerley.
The couple live in a three-bedroom, suburban ranch house with a Jack Russell terrier named Oscar and a German shepherd mix, Gracie. They typically work seven days a week, sometimes as long as 16 hours a day, seldom leaving town or watching a movie. They don't even employ assistants.
"You see how I draw," Paul Fierlinger said, sitting in his living room before the four big computer screens, stylus and black tablet he uses to create. "What would they do? It's too personal."
A soft-spoken, blunt man who weathered ice-cold parents and two decades of totalitarian Czechoslovakia, he has made about 900 films, won two Peabody Awards for television and an Oscar nomination for a short. Geared toward adults, "Tulip" is his first feature-length film to be released in theaters.
"Every student sees the day when he makes his first theatrical film," he said. "I tell them that it took me 50 years to get there."
Canine Capers
In "Tulip," which runs 83 minutes and cost $1.3 million, Christopher Plummer gives voice to the besotted Ackerley, who wants to give his pooch everything in life. At one point, he even orchestrates an error-prone breeding sequence that would make Neil Simon proud. Other voices include Lynn Redgrave and Isabella Rossellini.
Like the book, the movie depicts doggy bodily functions and human hang-ups in outrageous detail. It also takes joy in the everyday, as when Ackerley watches Tulip play on the dirty banks of the Thames.
"It seems to me both touching and strange that she should find the world so wonderful," he muses.
Learning of the Fierlingers from another animator, producers Norman Twain and Howard Kaminsky saw their work and asked them to make a feature.
"Tulip" took 2 1/2 years to draw and paint.
"It was a little like watching grass grow," Twain said. "They did about 45 seconds a week. Every time we'd watch it we'd see the beginning. I must've seen the beginning a thousand times."
Twain added that whenever he watches the film, which consists of 58,000 drawings total, he spots something new.
Flip Artist
Paul Fierlinger draws with a stylus on a tablet using TVPaint, an animation system from Metz, France, that eliminates the need for paper or shooting. Sandra paints with the computer, filling in lines and mixing colors.
Fierlinger was 12 when he shot his first flip book using a 16-millimeter Bolex movie camera. He recalled that he didn't need a license because the communists regarded his equipment as "amateur."
He was born in Japan to Czech diplomats, and during World War II lived with families in the U.S. Summoned to Czechoslovakia after the war, he escaped back to America in 1967.
These struggles were dramatized in two animated documentaries he made with Sandra: 1995's"Drawn from Memory," and 2001's "Still Life with Animated Dogs." The latter focused on the extraordinary canines that came into his life in Czechoslovakia after he was liberated from his parents.
Animated Book
"My craving for dogs was a mixture of loneliness as a result of never fitting in and always being a transient," he said. "But I had an in-born heightened sensitivity toward any animal life. I could turn a spider into a pet."
He and Sandra are working on an "animated book" about Joshua Slocum, who in the 1890s became the first man to circumnavigate the world alone in a sailboat. They're doing it on spec, with an eye toward Apple Inc.'s iPad, which they see as a growing market for animation.
Fierlinger, an avid e-mailer who teaches at the University of Pennsylvania, said there's renewed interest in animation among students. Unlike 3-D from Pixar, for example, two-dimensional work allows an individual to shine as an artist and tell personal stories in original ways, he said.
While the process is painstaking and seldom lucrative, animators can be their own boss. As Fierlinger points out, "It's a short commute from your bedroom to your computer."
"My Dog Tulip" opens on Sept. 1 at New York's Film Forum, and elsewhere in the U.S. in coming weeks. Information: http://www.mydogtulipfilm.com/.