Feldstein Sees 'Significant Risk' of Recession Again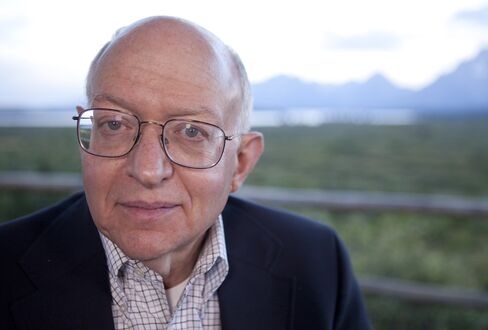 The U.S. economy remains "weak" and "fragile" and has a "significant" chance of falling back into a recession, Harvard University economics professor Martin Feldstein said in an interview with Bloomberg Radio.
"I would say there's still a significant risk, maybe one chance in three, that there will be a double dip, real GDP falling, before we're in the clear," said Feldstein, member of the committee at the National Bureau of Economic Research that dates the beginning and end of recessions.
The U.S. economy grew at a 1.6 percent annual rate in the second quarter, less than previously estimated, based on revised Commerce Department figures released today. A separate report showed confidence among consumers rose less than forecast in August from an eight-month low, indicating the biggest part of the economy will be slow to recover.
"We see a weak economy," Feldstein said. "We see a fragile economy that is growing at a slower pace."
Data released earlier this week show a further slide in home sales and a drop in business spending on equipment, prompting economists such as Joseph Lavorgna, managing director of Deutsche Bank Securities Inc., to reduce third-quarter growth estimates.
1.6 Percent Growth
The 1.6 percent growth rate is still "very weak" and another slump would signal that the nation remains mired in a recession, Feldstein, 70, said in a separate interview with Bloomberg Television from Jackson Hole, Wyoming, where the Federal Reserve is holding its annual symposium.
"If the economy turns down again, we would still be in recession, but that remains to be seen," said the New York-born economist, who twice served as president of the NBER from 1977 to 1982 and from 1984 to 2008.
Today's GDP estimate is the second for the quarter, with the third figures set for release on Sept. 30. The economy grew at a 3.7 percent pace in the first quarter.
Feldstein's remarks contrast with those of Federal Reserve Chairman Ben S. Bernanke, who told conference attendees that "the preconditions for a pickup in growth in 2011 appear to remain in place."
U.S. stocks rose, paring the market's weekly loss, as Bernanke signaled the central bank is willing to do more to boost the economy. The Standard & Poor's 500 Index gained 1.7 percent to 1,064.59 at the 4 p.m. close in New York.
Before it's here, it's on the Bloomberg Terminal.
LEARN MORE