U.S. Economy: Growth Decelerates More Than Previously Estimated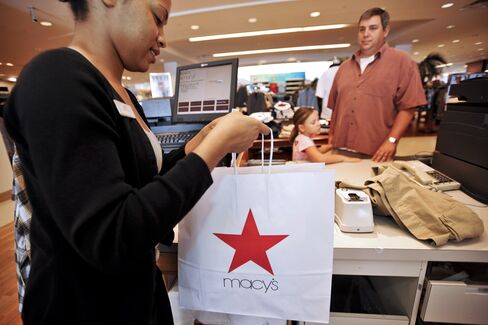 The economic recovery in the U.S. weakened in the second quarter more than previously estimated, highlighting the risks of a prolonged slackening in growth.
The world's largest economy grew at a 1.6 percent annual pace, exceeding the median forecast of economists surveyed by Bloomberg News and down from an estimate of 2.4 percent issued last month, revised figures from the Commerce Department showed today in Washington.
Reports from companies like Intel Corp. point to a slowing in consumer spending, accompanied by a cooling in business investment that is prompting economists to cut second-half growth forecasts. Federal Reserve Chairman Ben S. Bernanke told global central bankers meeting in Wyoming today the "preconditions" for growth in 2011 are "in place," and added that policy makers are ready to do more if needed.
"The economy has slowed down and the Fed is not ready to accept that we are in a growth recession," said Ethan Harris, head of Developed Markets Economics at BofA Merrill Lynch Global Research in New York, referring to a pace of expansion that is too weak to reduce unemployment. Harris commented in an interview on Bloomberg Television's "InBusiness with Margaret Brennan."
Another report today showed consumer sentiment this month rose less than forecast from July's eight-month low, a sign the biggest part of the economy will be slow to recover.
Shares Rise
Stocks rallied, paring a loss for the week, after Bernanke said policy makers were prepared to take additional action to spur growth. The Standard & Poor's 500 Index rose 1.2 percent to 1,060.07 at 12:30 p.m. in New York. Treasury securities fell, sending the yield on the benchmark 10-year note up to 2.63 percent from 2.48 percent late yesterday.
Economists projected growth would slow to a 1.4 percent rate in the second quarter, according to the median estimate of 81 economists surveyed. Forecasts ranged from 0.5 percent to 2.2 percent. The economy grew at a 3.7 percent pace in the first quarter.
Today's revision reflected smaller gains in inventories and a wider trade deficit.
Intel, the world's biggest chipmaker, today cut its third-quarter revenue forecast, citing weaker-than-expected consumer demand for personal computers.
J. Crew Group Inc., the New York-based retailer of sportswear, casual and career clothing, yesterday lowered its full-year earnings forecast.
'More Conservative'
"The continued economic uncertainty we're seeing is leading us to take a more conservative outlook for the second half of the year," Mickey Drexler, the retailer's chief executive officer, said on a conference call.
The Thomson Reuters/University of Michigan final index of consumer sentiment climbed to 68.9 in August from 67.8 the prior month. The index averaged 89 in the five years leading up to the recession that began December 2007. The gauge was projected to rise to 69.6, unchanged from a preliminary reading issued earlier this month, according to the median forecast of 65 economists in a Bloomberg News survey.
Sentiment "remains severely depressed," said Joshua Shapiro, chief U.S. economist at Maria Fiorini Ramirez Inc., a New York forecasting firm. "This is hardly surprising in view of all the headwinds facing the consumer, most of which are likely to persist for some time."
The Fed "is prepared to provide additional monetary accommodation through unconventional measures if it proves necessary, especially if the outlook were to deteriorate significantly," Bernanke said today in opening remarks at the Kansas City Fed's annual monetary symposium in Jackson Hole, Wyoming.
Consumer Spending
Today's report on gross domestic product showed consumer spending, which accounts for about 70 percent of the economy, rose at a 2 percent annual rate in the second quarter compared with a previously reported 1.6 percent pace. The revision reflected revised electricity and natural gas usage data, the Commerce Department said.
A lack of job growth, declines in household wealth following slumps in stocks and housing, and the drive to reduce debt and boost savings are reasons consumer spending may struggle to strengthen.
The Commerce Department also lowered personal income estimates for the first three months of the year. Wages and salaries increased by a revised $6.5 billion from January through March, compared with $18.8 billion initially reported. The figures incorporate new, more comprehensive data from the Labor Department and show why consumer spending will be hard-pressed to accelerate in coming months.
Cutting Forecasts
Figures this week showing a further slide in home sales and a drop in business spending on equipment prompted economists such as Joseph LaVorgna of Deutsche Bank Securities Inc. to reduce third-quarter growth estimates.
The economy remains "weak" and "fragile" and has a "significant" chance of falling back into a recession, said Harvard University economics professor Martin Feldstein.
"I would say there's still a significant risk, maybe one chance in three, that there will be a double dip, real GDP falling, before we're in the clear," said Feldstein, a member of the National Bureau of Economic Research group that determines when slumps begin and end. He spoke in an interview with Bloomberg Radio from Jackson Hole, Wyoming.
The economy is a top issue for voters in the November congressional elections and polls show the public is increasingly skeptical of President Barack Obama's performance. Public approval for the president's handling of the economy was at 41 percent in an Aug. 11-16 Associated Press-GfK survey, an all-time low and down from 50 percent last July.
The GDP report also showed corporate profits rose 4.6 percent in the second quarter, the smallest gain in a year, after a 10.5 percent increase the prior quarter.
Before it's here, it's on the Bloomberg Terminal.
LEARN MORE