Toyota Recalls 1.1 Million Corolla, Matrix Cars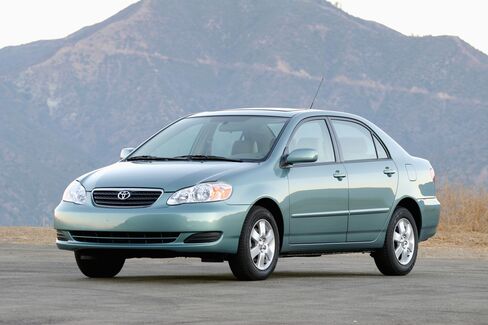 Toyota Motor Corp. will recall 1.13 million Corolla and Matrix cars for a flaw U.S. regulators said may cause stalling "at any speed without warning," a setback as the company seeks to regain its reputation for quality.
Toyota, the world's biggest automaker, said yesterday in a statement it will recall the vehicles for the model years 2005 to 2008 in the U.S. and Canada following at least three reported accidents linked to the defect.
The action may raise new questions about Toyota's electronics and adds to record recalls in the past year by the Toyota City, Japan-based company, including more than 8 million vehicles worldwide for flaws related to unintended acceleration. The Corolla is Toyota's best-selling model globally.
"This is another bump in the road while Toyota is trying to recover their reputation," auto analyst Rebecca Lindland of IHS Automotive in Lexington, Massachusetts, said in an interview. "It will give people who are not Toyota loyalists another reason not to buy the brand."
Toyota declined as much as 1.3 percent to 2,890 yen in Tokyo and changed hands for 2,896 yen as of the 11 a.m. trading break. The stock has declined 25 percent this year.
Toyota tested 32 of the engine components and found four had cracking after thermal-shocking tests, said John Hanson, a spokesman at the U.S. sales unit in Torrance, California.
'Voluntary Safety Recall'
"Toyota concluded that this problem would likely continue to occur, and, therefore, in order to address customer concerns, decided to conduct a voluntary safety recall of all vehicles within the affected range," Chris Santucci, Toyota Motor North America's manager of technical and regulatory affairs, wrote yesterday in a letter to the U.S. National Highway Traffic Safety Administration.
Hanson said he doesn't know what the recall, Toyota's largest since January, will cost the company. The recall also covers about 200,000 of General Motors Co.'s Pontiac Vibe hatchbacks, according to a statement from Detroit-based GM. Vibes and Matrixes were manufactured in a GM-Toyota joint venture in California.
"Our goal is to help ensure that Toyota drivers are completely confident in the safety and reliability of their vehicles," Steve St. Angelo, Toyota's chief quality officer for North America, said in the statement.
NHTSA on Aug. 18 upgraded its investigation of the defect to an engineering analysis, a step that can lead the agency to demand a recall. The regulator said cracks in engine control units could occur if improperly cured coating was applied to circuit boards.
Complaints
Olivia Alair, a spokeswoman for the U.S. Transportation Department, which includes NHTSA, confirmed the recall.
The safety regulator has received 163 complaints, including six crashes, about engines stalling in the cars and began investigating in November.
Toyota said it will repair the cars at no cost to owners and will reimburse those who had already had the repair done at their own cost.
None of the Corollas or Matrixes in yesterday's action were involved in the recalls this year related to unintended acceleration. Toyota has said it has found no evidence of electronics-related causes for that defect, blaming pedals that got stuck or became snagged on floor mats.
Former NHTSA chief Joan Claybrook is among auto-safety advocates who have called for further investigation of possible electronics-related defects in Toyota vehicles.