Wars Hinder U.S. Hunt for Deadliest Weapons, Top Commando Says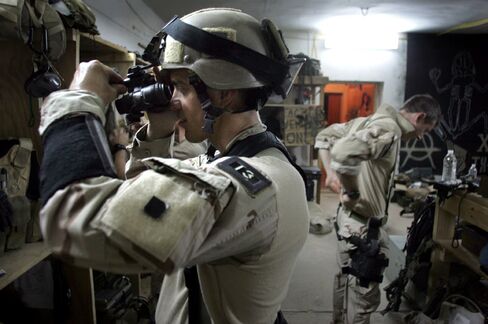 The effort to keep weapons of mass destruction out of the hands of terrorists has been slowed by the wars in Iraq and Afghanistan, according to the head of U.S. special forces.
Fewer elite commandos are available for the hunt and their expertise has been degraded by "the decreased level of training," Admiral Eric Olson said. They now have only a "limited" capability for this mission, he said.
Meanwhile, the threat of extremists acquiring and using chemical, biological or nuclear arms "is greater now than at any other time in history," Olson told the Senate Armed Services Committee in a written response to a question posed by lawmakers after a hearing March 16 on his command's budget.
Olson is privy to the latest intelligence on terrorist attempts to get weapons technology. His assessment -- which has not been officially released -- offers a window into one of the U.S. military's most secret missions: the use of elite commandos to blunt the efforts of terrorist groups and rogue states to get hold of the world's deadliest weapons.
Al-Qaeda leader Osama bin Laden told a Time magazine reporter in 1998 that acquiring weapons of mass destruction "for the defense of Muslims is a religious duty."
"It would be a sin for Muslims not to try to possess the weapons," he said.
Growing Threat
This threat has since only magnified, then-director of National Intelligence Dennis Blair told a congressional committee in February.
"The time when only a few states had access to the most dangerous technologies is over," he said. Often dual-use, these technologies are "widely available."
While there's no evidence al-Qaeda or other terrorist groups have acquired these weapons, al-Qaeda's pursuit of them appears unabated, according to a study by Harvard University's Belfer Center for Science and International Affairs.
The need for a strong commando force to keep ahead of this threat "reflects the 'one percent doctrine' of thinking at the highest levels of the government," Belfer study author Rolf Mowatt-Larsen said in an interview.
"If you had a probability of just one percent of a terrorist organization getting WMD, this is one of the few capabilities to have ahead of the threat that is not just nice to have, but required," he said.
Delta Force, Seals
The Joint Special Operations Command that's under Olson's purview includes the Army Delta Force and the Navy's Seal Team Six.
As the mission in Iraq and Afghanistan winds down, training for counter-proliferation must "be redoubled," he told the armed services panel. "We need to redeploy, reconstitute and retrain forces returning from overseas," he wrote.
Defense Secretary Robert Gates, in his fiscal 2011-2015 budget, shifted a total of $147 million to accelerate fielding new technology for these elite commandos.
In his unreleased guidance, Gates cited the need to "fully fund" technologies for disposing of explosive ordnance, destroying "ultra-high performance" concrete that might shelter WMD production or storage sites and disabling "control systems" for "state-run weapons production facilities."
The proposed budget for the Pentagon's Defense Threat Reduction Agency that develops these capabilities increases to $113 million in 2015 from $61.3 million in fiscal 2010.
'Neutralize and Destroy'
The agency's fiscal 2011 plan calls for continuing to develop and field "new technologies to improve" the commandos' "ability to detect, disable, interdict, neutralize and destroy chemical, biological and nuclear production, storage and weaponization facilities."
Gates's guidance "appears intended to give" the commando command "additional capabilities at all levels" of threats, from improvised roadside bombs containing chemical or biological weaponry to sites operated by terrorist groups," said Congressional Research Service analyst Ken Katzman.
"At the highest threat level," the command "wants to potentially discover and defeat hardened WMD sites operated by countries, particularly Iran," he said.
Former National Security Council counterterrorism strategist Michele Malvesti, in a June report on the role of special operations forces, wrote "virtually no other military component or U.S. department or agency has the ability to conduct the full range of counter-proliferation missions."
Given the gravity of a terrorist attack using weapons of mass destruction, special operations forces "cannot be diverted from preparing for this mission," she wrote in the report, prepared for the Washington-based Center for a New American Security, a nonpartisan research group.
Before it's here, it's on the Bloomberg Terminal.
LEARN MORE