RBC's Profit Misses Estimates on Decline in Trading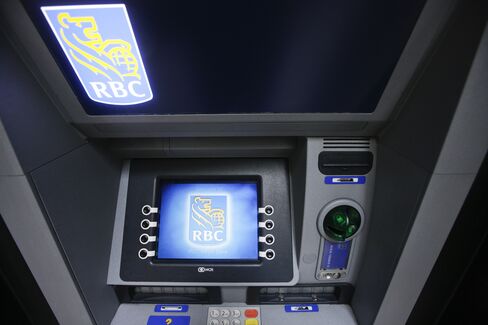 Royal Bank of Canada, the country's biggest lender, reported profit that missed analysts' estimates for the fourth straight quarter as trading revenue plunged 93 percent from a year earlier.
Net income for the third quarter ended July 31 fell 18 percent to C$1.28 billion ($1.21 billion), or 84 cents a share, from a record C$1.56 billion, or C$1.05, a year earlier, the Toronto-based bank said today in a statement. Revenue dropped 13 percent to C$6.83 billion.
Royal Bank joins Bank of Montreal, Canadian Imperial Bank of Commerce and National Bank of Canada in posting a decline in capital markets and trading after equity prices fell and financings slowed. The profit decline was the biggest since the lender reported a loss in the second quarter of 2009.
"RBC is a very strong company for corporate finance work and for trading; this has been a difficult quarter for those activities," said Douglas Davis, chief executive officer of Davis-Rea Ltd. in Toronto, which manages about C$380 million including Royal Bank shares. "I think the banks will have a couple more quarters of flat growth because of the cooling-out that's going on."
Excluding one-time items, Royal Bank said it earned 87 cents a share, lower than the C$1.02 a share average estimate of 13 analysts surveyed by Bloomberg News.
Trading Drop
Earnings from the RBC Capital Markets investment-banking unit fell 64 percent to C$201 million from C$562 million a year earlier, as falling trading revenue outpaced higher fees from corporate and investment banking.
"Concerns over the global economic recovery, European sovereign debt crisis, U.S. regulatory reform and volatility resulted in significantly lower client activity, tightening spreads and higher funding costs," Royal Bank said in the statement.
Royal Bank also recorded a pretax loss of C$100 million tied to its U.S. subprime mortgage assets hedged with insurer MBIA Inc. and a C$73 million loss tied to its bank-owned life insurance contracts.
Trading revenue across the bank fell 93 percent to C$125 million, compared with a record C$1.74 billion a year earlier, on declines in global fixed-income, U.S.-based equity and money- market businesses.
Stock sales in Canada dropped 29 percent to $6.23 billion during the quarter, according to Bloomberg data. The Canadian benchmark Standard & Poor's/TSX Composite Index fell 4.1 percent in the three-month period.
Weak Area
"One of Royal Bank's biggest strengths was capital markets, and if this trend follows then that's going to be a weak area for them," said John Kinsey, who helps manage C$1 billion at Caldwell Securities Ltd. in Toronto. "The rest of the Royal is pretty solid across the board."
Canadian consumer-banking earnings rose 14 percent to C$766 million, driven by mortgages, personal loans and deposits, as well as lower provisions for credit losses.
International banking, which includes Raleigh, North Carolina-based RBC Bank, narrowed its loss to C$76 million from C$95 million on falling provisions. It was the ninth straight quarterly loss for the international unit.
Wealth management, which includes mutual funds sales, rose 10 percent to C$185 million from a year earlier. Insurance fell 8.4 percent to C$153 million.
Royal Bank has hired Goldman Sachs Group Inc. to sell a U.S. insurance unit, according to people with knowledge of the matter. The business is likely to fetch less than $1 billion in a sale, the people said this month.
Royal Bank set aside C$432 million for bad loans, 44 percent less than a year earlier.
National Bank
National Bank of Canada, the country's sixth-biggest bank, reported today that profit fell for the first time in six quarters on lower fees from its capital markets-related businesses. Net income dropped 11 percent to C$271 million, or C$1.56 a share, from C$303 million, or C$1.78, a year earlier, the Montreal-based bank said in a statement. National's profit beat analysts' estimates.
Canadian Imperial said yesterday that net income rose 47 percent to C$640 million, or C$1.53 a share. Bank of Montreal reported Aug. 24 that profit rose 20 percent to C$669 million, or C$1.13 a share. CIBC, the fifth-biggest lender, beat analysts' estimates while Bank of Montreal, the No. 4 lender, missed.
Bank of Nova Scotia, the third-biggest bank, reports Aug. 31, followed by Toronto-Dominion Bank, the second largest, on Sept. 2.
Royal Bank rose 60 cents to C$50.69 yesterday on the Toronto Stock Exchange. The stock has fallen 10 percent this year, compared with a 1.3 percent decline for the nine-member Standard & Poor's/TSX Banks Index.
(Royal Bank will hold a conference call to discuss third-quarter results at 8 a.m. Toronto time. Dial +1-888-789-9572 passcode 4285250 or +1-416-695-7806 for the call, or go to www.rbc.com/investorrelations/ir_events_presentations.html)
*T
Before it's here, it's on the Bloomberg Terminal.
LEARN MORE