PetroChina Vows Global Expansion as Net Growth Slumps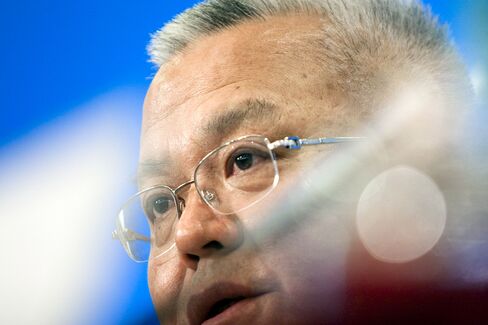 PetroChina Co., Asia's biggest company by market value, pledged to step up acquisitions and boost cooperation with global oil companies after profit growth slumped because of state controls on fuel prices at home.
"PetroChina will continue to expand globally," President Zhou Jiping said at an earnings briefing in Hong Kong yesterday. "We will boost profitability at existing projects and seek new opportunities around existing ventures in Central Asia, the Middle East, Africa, the Americas and the Asia-Pacific."
Net income growth slowed to 4 percent in the second quarter from 71 percent in the first as state-set gasoline prices lagged behind gains in crude. The oil producer and refiner plans to spend at least $60 billion in the next decade on overseas takeovers after paying about $6.2 billion in the past year for refineries and reserves from Australia to Canada.
"PetroChina has about $20 billion in cash it could put toward acquisitions and this will continue to be one of the major focuses of attention," said Neil Beveridge, an analyst at Sanford C. Bernstein & Co. in Hong Kong. "Cooperation with oil majors makes sense because it gives them greater access to projects overseas and also addresses some of the sensitivities about Chinese investment abroad if they can work as partners."
The Beijing-based company completed the C$1.9 billion ($1.8 billion) stake purchase in two Canadian oil-sands projects in February and the acquisition of Australian coal-bed gas producer Arrow Energy Ltd. with Royal Dutch Shell Plc for A$3.5 billion ($3.1 billion) this week.
Global Cooperation
The shares fell 0.9 percent to HK$8.43 in Hong Kong trading at 10:15 a.m. local time. PetroChina has declined 4.4 percent in the past 12 months, compared with the 1.6 percent gain in the benchmark Hang Seng Index.
"We will also expand our cooperation with national oil companies in key resources countries like Venezuela, Russia, Iraq, Kazakhstan, Chad and Niger," Zhou said. "We will boost partnerships with major oil companies like" Exxon Mobil Corp., Chevron Corp., Shell and BP Plc.
PetroChina's parent, China National Petroleum Corp., has operations in 29 countries including Mongolia, Indonesia and Sudan. The Hong Kong-listed unit plans to buy assets from state-controlled CNPC to expand its overseas oil and gas reserves, Chairman Jiang Jiemin said in May.
Net income was 32.8 billion yuan ($4.8 billion) in the April-to-June period, according to calculations made by subtracting first-quarter earnings from six-month profit the company reported yesterday. Spokesman Mao Zefeng said he couldn't immediately comment on the figure. Average crude prices surged 31 percent in the second quarter from a year earlier.
Fuel Tariffs
First-half profit climbed 29 percent to 65.3 billion yuan, less than the 68.7 billion yuan median estimate of nine analysts surveyed by Bloomberg. China raised fuel tariffs once this year after five increases in 2009 to check inflation in the world's fastest-growing major economy.
Full-year net income may increase 28 percent to 132.3 billion yuan, a median estimate of 15 analysts surveyed by Bloomberg shows.
Cnooc Ltd., China's largest offshore energy explorer, more than doubled its first-half profit as crude prices rose and it doesn't own any refineries. China Petroleum & Chemical Corp., known as Sinopec, posted a 6.7 percent gain. The nation's biggest refiner gets 80 percent of its revenue from producing and selling fuels.
Shell, based in The Hague, reported a 35 percent increase in first-half net income. Exxon Mobile Corp., not bound by government price controls, recorded a gain of 63 percent.
Refining Margins
Gains from processing crude fell in the first half, PetroChina said in its earnings statement without giving a figure. Sinopec's margins slumped 45 percent in the period.
China has adjusted prices 11 times since introducing a mechanism in December 2008 that allows the government to revise prices when crude oil costs change more than 4 percent over 22 working days. Gasoline prices in the country have risen about 7 percent since the system took effect and crude has gained about 80 percent.
"The new system marked a step toward a marked-based formula and helped reverse losses at Chinese oil refineries," Zhou said. "However, there are still some flaws in the current pricing system and PetroChina is actively pushing for a more market-oriented pricing mechanism."