North Korea's Kim Said to Make Surprise China Visit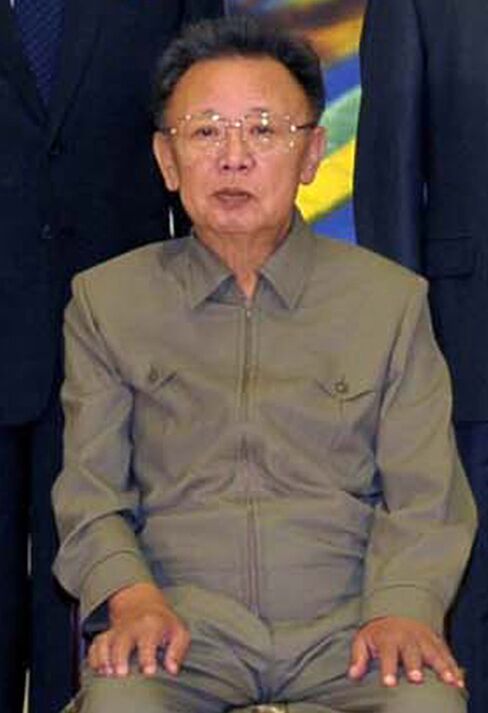 North Korea's leader Kim Jong Il may be on a surprise visit to China, in what would be his second trip this year to the country's main ally and source of financial support, a South Korean government official said.
Circumstantial evidence suggests that Kim has either crossed or is planning to head into China, the official said, requesting anonymity because he wasn't cleared to talk to the media. In May, Kim traveled to Beijing on board a private train for talks with Chinese government officials including President Hu Jintao on what was his first visit abroad in four years.
During that trip, Kim was seen limping and dragging his left foot, raising speculation that he is preparing to hand over power to third son Kim Jong Un after suffering a stroke and as possible kidney disease saps his strength. Kim has taken the son on the visit to China, South Korea's Chosun Ilbo newspaper reported, without saying where it received the information.
The purported visit comes as former U.S. President Jimmy Carter arrived in North Korea yesterday to seek the release of an American citizen who has been detained for seven months for illegal entry. Freeing the prisoner may help ease tensions with the U.S. that have risen in the past year because of North Korea's nuclear weapons program and after the sinking of a South Korean warship in March.
The North Korean regime has been under pressure because of tightened sanctions, shriveling trade amid increased international isolation, food shortages, floods that have destroyed infrastructure and a botched currency reform last year.
Benefactor
North Korea's official Korean Central News Agency said yesterday that China's government will provide emergency relief to help the recovery process after Shinuiju, a city near the border crossing of Dandong, was hit by floods.
China is North Korea's main supplier of the food and aid that the regime needs to remain in power.
Officials at China's Foreign Ministry and the Communist Party's International Department, which in the past has coordinated Kim's visits to China, were not immediately available for comment.
Kim's special train crossed into China at midnight and was headed to Jilin city in the namesake province near the border with North Korea after passing through Jian city, Yonhap News reported, citing an official from the President's Office in Seoul and a diplomat in Beijing it didn't identify.
Kim Il Sung's School
The Maeil Business Newspaper, citing an unidentified person in Jilin, said Kim had already arrived in Jilin at 6 a.m. local time today and visited a middle school where his father, Kim Il Sung, graduated. There was heavy security around Yuwen middle school and traffic was controlled in the area, the Korean-language report said.
Kim Jong Il's last reported public appearance in North Korea was to tour a cornstarch factory in Pyongyang, according to a KCNA story published late last night. The report didn't say when the "field guidance" visit was made. Kim was accompanied by Jang Song Thaek, his brother-in-law who was recently promoted to No. 2 in the North Korean power structure.
North Korea is planning to elect new leaders of the ruling Worker's Party in early September, which South Korean officials have said may provide some insight into the succession.
Carter was greeted at Pyongyang airport by North Korean Deputy Foreign Minister Kim Kye Gwan, state-run Korean Central News Agency said. North Korea has agreed to release Aijalon Mahli Gomes if Carter visits the country, the Associated Press reported, citing U.S. officials it didn't identify.
Carter Meeting
Carter yesterday also met with Kim Yong Nam, president of the Presidium of the Supreme People's Assembly of North Korea, KCNA said. The pair had a "cordial talk" in the Mansudae Assembly Hall, the official news agency said.
It is unclear whether he met Kim Jong Il.
Gomes was sentenced to eight years of hard labor in April after he was captured on Jan. 25 for illegally crossing the border from China, KCNA has said. The 31-year-old Boston resident attempted suicide last month because he felt his government hadn't done enough to get him free, KCNA reported.
Former U.S. President Bill Clinton flew to Pyongyang and met with Kim last August, winning the release of two U.S. journalists arrested in March 2009 for illegal entry. Kim Kye Gwan, who is also the chief negotiator to the international talk on the North's nuclear program, also greeted Clinton at the airport at the time.
Mood Sours
Carter, 85, traveled to Pyongyang in 1994 when he met with Kim Jong Il's father, and discussed terms to freeze the country's nuclear program.
Following Clinton's trip, the U.S. conceded to North Korea's demand for direct talks, with President Barack Obama's envoy Stephen Bosworth traveling to Pyongyang in December. The contact fueled optimism the stalled six-party forum on the North's nuclear weapons program will soon resume.
The mood turned sour after the March 26 sinking of the Cheonan that claimed the lives of 46 sailors. A South Korean-led international panel said in May North Korea torpedoed the ship, an accusation the communist country has repeatedly denied.
North Korea faces tighter U.S. trade restrictions that will further cripple an economy already hit by United Nations sanctions and a botched currency revaluation late last year. The North's economy shrank 0.9 percent to 24.7 trillion won ($20.6 billion) in 2009, with international commerce falling 11 percent to $3.4 billion, according to the Bank of Korea in Seoul.
Before it's here, it's on the Bloomberg Terminal.
LEARN MORE