Jobless Claims in U.S. Decrease More Than Forecast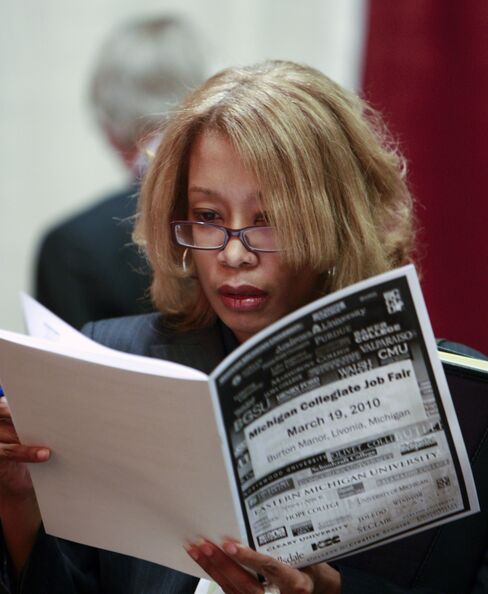 Applications for jobless benefits fell more than forecast last week, easing concern American employers are again slashing payrolls as the economy slows.
Claims dropped by 31,000, the first decline in a month, to 473,000 in the week ended Aug. 21, Labor Department figures showed today in Washington. The total number of people receiving government payments exceeded 10 million for the first time in four months, reflecting an increase in those getting extended benefits.
The average number of claims over the past month climbed to the highest level since November even as the latest reading provided some relief to the drumbeat of negative economic data in recent weeks. Employers have delayed hiring plans and some have renewed firings as the year-old recovery shows signs of petering out, raising the risk consumer spending will weaken further.
The trend "is consistent with a lackluster pace of job growth," said Scott Brown, chief economist at Raymond James & Associates Inc. in St. Petersburg, Florida. "The private sector really hasn't recovered enough."
Stock dropped as growing concern over fiscal stability in Europe wiped out earlier gains following the drop in claims. The Standard & Poor's 500 Index fell 0.8 percent to 1,047.22 at the 4 p.m. close in New York. Treasury securities climbed, sending the yield in the 10-year note down to 2.48 percent from 2.54 percent late yesterday.
Less Than Forecast
The median estimate of 48 economists surveyed by Bloomberg projected claims would drop to 490,000. Forecasts ranged from 475,000 to 510,000. The government revised the prior week's claims figure up to 504,000, the highest level in nine months, from a previously reported 500,000.
There were no special factors influencing last week's data, a Labor Department spokesman told reporters as the figures were being released.
The four-week moving average of claims increased to 486,750 from 483,500 the prior week.
The number of people continuing to collect unemployment benefits dropped by 62,000 to 4.46 million in the week ended Aug. 14 from 4.52 million the prior week.
The continuing claims figure does not include those receiving extended benefits under federal programs. The number of Americans who've used up traditional benefits and are now collecting emergency aid rose by about 268,000 to 5.86 million in the week ended Aug. 7. The figures reflect Labor Department revisions that were not included in today's report.
Combined with the continuing claims, the total receiving benefits rose to 10.1 million before seasonal adjustment, the most since mid April.
'Astronomical Number'
"The rate of firings is still elevated well above our comfort zone," said David Semmens, an economist at Standard Chartered Bank in New York. The total number of people claiming unemployment benefits shows "an astronomical number of people to be inactive," he said. "This points to weak consumer spending and significant slack in the labor market for many months to come."
The unemployment rate among people eligible for benefits, which tends to track the jobless rate, fell to 3.5 percent in the week ended Aug. 14 from 3.6 percent.
Eleven states and territories reported an increase in claims that same week, while 42 reported a decrease.
Job Gains
While companies have boosted payrolls seven straight months, firings have remained elevated as the economic recovery shows signs of slowing. Private firms added 71,000 jobs in July, fewer than economists had forecast, according to government figures released Aug. 6. Unemployment held at 9.5 percent, near a 26-year high of 10.1 percent.
The government may report tomorrow the economy grew at a 1.4 percent pace in the second quarter, less than the 2.4 percent rate earlier estimated, according to economists surveyed by Bloomberg. That would be the slowest growth since the second quarter of 2009 when the economy was still contracting.
A year after the expansion resumed, companies are still cutting staff.
Northrop Grumman Shipbuilding, a unit of Northrop Grumman Corp. this week said it would fire 292 employees at the Gulf Coast shipbuilding facility at Pascagoula, Mississippi, and that it expects to cut another 350 jobs at Pascagoula by the end of the year.
Government Aid
Congress this month passed legislation providing $26 billion in aid to state governments to prevent thousands of layoffs of teachers and other public service employees as declining tax revenue has left state and local governments with budget deficits the National Conference of State Legislatures estimates at $84 billion.
In a sign local governments and employees are cooperating to save jobs, the Los Angeles-based Engineers & Architects Association, which represents one-seventh of the city's municipal workforce, agreed to terms that call for members to help pay their health insurance costs for the first time, Mayor Antonio Villaraigosa said this week.
Before it's here, it's on the Bloomberg Terminal.
LEARN MORE