Intel Said to Be Near Purchase of Infineon Division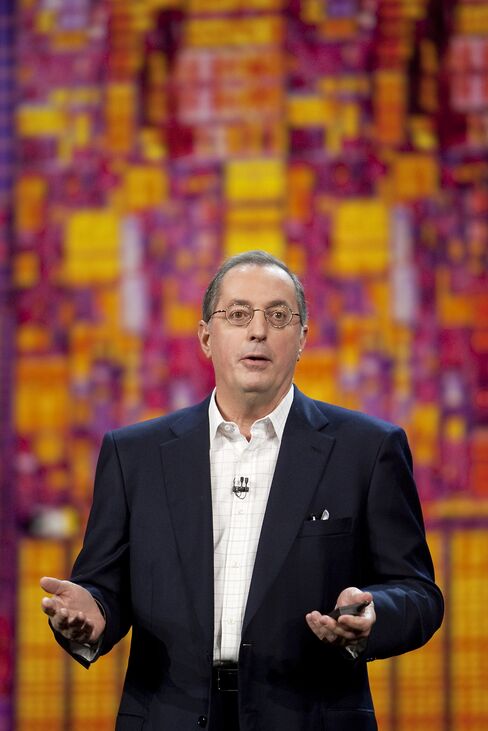 Intel Corp., the world's largest chipmaker, is close to an agreement to buy Infineon Technologies AG's wireless business, three people with direct knowledge of the discussions said.
An announcement could come as early as this week, the people said, declining to be identified because the talks are private. Infineon, Europe's second-largest chipmaker, is seeking about 1.5 billion euros ($1.91 billion) for its wireless business, two people familiar with the talks said on Aug. 2.
A purchase of the unit, which makes processors used in Apple Inc.'s iPhone, follows Intel's $7.68 billion acquisition of McAfee Inc., announced Aug. 19. Chief Executive Officer Paul Otellini is using deals to get chips into a wider range of devices. While Intel semiconductors run more than 80 percent of the world's personal computers, they're absent from phones now on the market.
"Intel's big strategy is to be at the heart of computing everywhere," said Alex Gauna, an analyst at JMP Securities LLC in San Francisco, who rates the company "market outperform" and doesn't own the shares. "The McAfee acquisition helps make that a secure equation and a potential Infineon acquisition would give them inroads in the mobility space.
Infineon rose 5.2 percent to 4.65 euros at the close of trading at 5:30 p.m. in Frankfurt, its biggest gain in more than three months. Intel fell 22 cents to $18.26 at 1:17 p.m. on the Nasdaq Stock Market.
Intel has the cash and is "sophisticated enough" to manage both purchases at the same time, Gauna said.
Up Against ARM
The Infineon unit, which also makes chips for Samsung Electronics Co.'s Galaxy S phone, had sales of 346 million euros in the fiscal third quarter, a 38 percent increase from a year earlier. The gains were mainly due to a "ramp-up of new smartphone and entry-level phone platforms at several major customers," Infineon said last month.
Infineon spokesman Kay Laudien declined to comment, as did Martin Strobel, an Intel spokesman in Germany.
Intel, based in Santa Clara, California, is hitching its mobile ambitions to a scaled-down version of its PC chips called Atom. The company has signed agreements aimed at landing its products in devices made by Nokia Oyj and LG Electronics Inc.
The market for processors that run smartphones is dominated by technology from ARM Holdings Plc, which licenses its designs to companies including Qualcomm Inc., Texas Instruments Inc. and Samsung. Qualcomm produces chips that combine the functions of applications and baseband processors.
Infineon said on Aug. 2 that it had made "significant progress" in talks with potential buyers, whom it declined to name. The "objective of a potential transaction is the strategic development" of the unit, the Neubiberg, Germany-based company said at the time.
Infineon makes the baseband processors that control radio functions of phones. Intel processors run the software that powers the handsets.
Before it's here, it's on the Bloomberg Terminal.
LEARN MORE