Brangelina Cake, Jimi's Flat, Notting Hill: London Weekend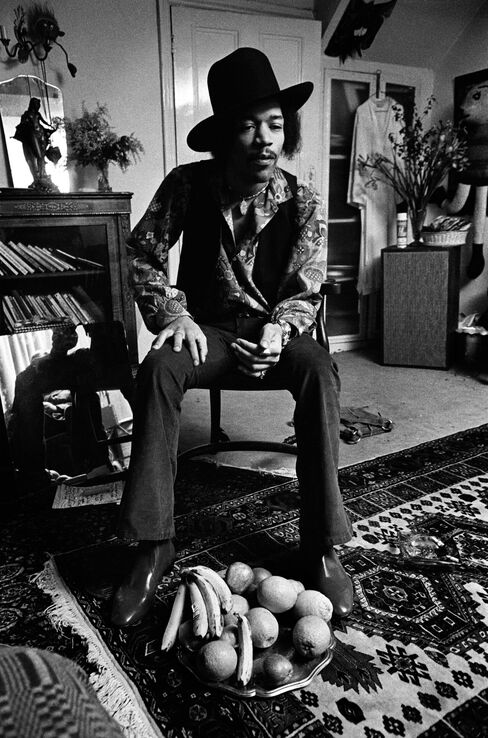 Londoners will be partying over the three-day bank-holiday weekend. It starts east with the London Electronic Dance (L.E.D.) Festival, and ends west at the Notting Hill Carnival.
L.E.D. opens tonight with Calvin Harris and David Guetta (the French producer of Black Eyed Peas hits), Akon and Kelly Rowland. On Saturday, Friendly Fires, Goldfrapp and Leftfield play Victoria Park for its last festival this season that stops at 11 p.m. sharp to keep locals from moaning.
Starting Sunday, Notting Hill hosts a million revelers for the Caribbean carnival. Floats bearing dancers in sequins and banana belts will crawl through the streets with 40 throbbing sound systems, while 40,000 volunteers join in. Sunday is Kids' Day and the main parade is on Monday.
Information: http://www.ledfestival.net/ and http://www.thenottinghillcarnival.com.
Saturday
Jimi Hendrix and George Frideric Handel would seem to have nothing in common except an H.
In fact, they lived next door to each other, some two centuries apart: Hendrix rented a flat on Brook Street, next to Handel's house, for 30 pounds ($46 at current exchange rates) a week, in 1968-9.
An on-site exhibition traces the singer-guitarist's career-boosting London years. On view are his U.K. work permit, lyrics and sketches scrawled on legal pads and hotel stationery, an orange velvet blazer, a Gibson guitar, and a map of landmarks including the Samarkand Hotel where he died.
The man can be heard on CD players placed throughout the show, which costs 5 pounds per adult, and ends Nov. 7. From Sept. 15 to 26 only, you can see Hendrix's cramped pad, a bare red-carpeted space where he once strummed away on his rugs.
Information: http://www.handelhouse.org or +44-20-7495-1685. To book the flat visit: http://www.seetickets.com.
Saturday Night
"Danton's Death" -- at the National Theatre -- plots the final year in the life of Georges Danton, the French Revolution pioneer who stood up to his blade-happy rival Robespierre and paid for it with his life.
The play, penned in 1835 by German revolutionary Georg Buechner, is staged by Michael Grandage -- artistic director of the Donmar Warehouse across the Thames -- and based on a new version by Howard Brenton. Toby Stephens plays Danton.
Information: http://www.nationaltheatre.org.uk or +44-20-7452-3000.
Sunday
Actors Brad Pitt and Angelina Jolie are the centerpiece of a work of art that viewers are invited to eat.
Effigies of the Hollywood couple sit atop "Cloud Cuckoo Cake," an edible sculpture by Stuart Semple that takes a swipe at popular culture. It's part of a three-day group show of artworks made of cake and cookies at the Future Gallery.
The exhibition starts Friday and ends Sunday, when visitors can consume the displays. While entrance is free, it's all for charity, so contributions are encouraged.
The Future Gallery is at 5 Great Newport Street, London WC2H 7HY. Information: http://www.futuregallery.co.uk or http://www.madartiststeaparty.com/.
If you prefer a weekend burger outing, chef Bjorn van der Horst has just put one on the bar-snacks menu at Eastside Inn. Information: +44-20-7490-9230 or http://www.esilondon.com/.
There's also a top burger on the weekend brunch menu at Hawksmoor. Information: +44-20-7247-7392 or http://www.thehawksmoor.com/.
Or you could opt for London's finest, New York chef Daniel Boulud's foie gras and truffle burger, available at Bar Boulud only on Sunday from 6 p.m. It's not on the menu, so ask for it. Information: +44-20-7201-3899 or http://www.mandarinoriental.com/london/dining/bar_boulud/.
(Farah Nayeri writes for Muse, the arts and leisure section of Bloomberg News. The opinions expressed are her own.)
Before it's here, it's on the Bloomberg Terminal.
LEARN MORE