BP Executives Say They Didn't Know Who Commanded Rig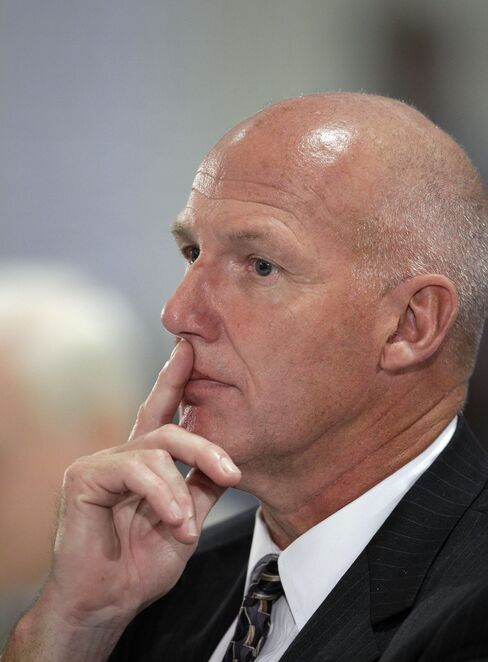 Aug. 27 (Bloomberg) -- BP Plc executives told U.S. investigators they didn't know who was in charge of the doomed Deepwater Horizon rig in the Gulf of Mexico or who made key decisions before the vessel exploded in April, killing 11 workers and spewing millions of barrels of crude into the sea.
Kent Wells, a BP senior vice president who started working on the oil-spill response two days after it began, told a federal panel yesterday he never looked into who might have been at fault because he was focused on controlling the well. Another manager, David Sims, said he failed to read an e-mail about cementing procedures because it was difficult to see on his Blackberry.
The testimony from Wells, the highest-ranking BP executive to appear before the joint U.S. Coast Guard-Interior Department panel probing the catastrophe, frustrated Hung Nguyen, co-chairman of the panel, who said no one from BP has accepted responsibility for actions that led to the disaster.
"We've had so many vice presidents of drilling come before us, I can't even keep track," said Nguyen, a Coast Guard captain. "A lot of them answered 'I don't know, I'm not responsible' for this or that. If everybody's in charge, nobody's in charge, is that correct?"
Wells, a former chief of shallow-water exploration in the Gulf who has overseen BP's onshore U.S. natural-gas business since 2007, told the panel he doesn't know why the company never followed up on audits that showed the Deepwater Horizon was behind on some maintenance and inspections.
"I'm not really the best person to ask that question," said Wells. "I'm not involved in deep water."
Conversion Struggle
Sims, BP's Gulf of Mexico drilling and completion operations manager who was in his job for 18 days before the blast, said he didn't know about a blowout risk with the well and that BP workers were struggling with converting to an electronic system from paper since the beginning of 2010.
Five out of 12 BP managers responsible for Macondo had been in their jobs less than six months when the accident happened, Jason Mathews, a panel member, said yesterday when questioning Sims.
Sims said he didn't read an entire string of e-mails from April 15 and 16 that contained Halliburton Co.'s warning about the danger of a natural-gas surge. Halliburton had recommended 21 centralizers, devices that ensure the steel pipe lining the well can be properly secured to the rock with cement, as a safer approach than the six BP chose to use.
Sims testified he didn't make the decision about using fewer centralizers and hadn't been told about Halliburton's warning. He told the panel his subordinate, John Guide, had final say on centralizers.
Rental Rate
The daily cost of drilling the well with the Deepwater Horizon was about $1 million, Sims said. The rig was about 45 days behind when the explosion happened.
Wells testified yesterday that the cost of additional centralizers shouldn't have been an issue.
Halliburton Technical Adviser Jesse Gagliano said at the Aug. 24 hearing he warned BP that its design for Macondo was susceptible to a "severe" gas surge five days before the well erupted.
The Deepwater Horizon, a deep-water rig owned by Transocean Ltd. and leased to BP, exploded and sank in April after a surge of natural gas escaped from the Macondo well about 5,000 feet (1,524 meters) below the sea surface.
The incident shut down deep-water oil exploration in the Gulf, closed thousands of square miles of fishing grounds for months, and erased 40 percent of BP's market value.
Fire, Evacuation
U.S. offshore-drilling regulators questioned BP's safety record as far back as 2003, after a rig fire that caused millions of dollars in damage and a separate incident in which a pressure buildup in an unfinished well prompted the evacuation of workers from a rig, according to a letter entered into evidence yesterday by the panel.
The rig fire occurred in August 2002 in a part of the Gulf called Grand Isle, shortly before Wells took over responsibility for shallow-water drilling in the Gulf. The second event was in November of the same year.
"The circumstances surrounding these incidents raise questions about the ability of BP to safely conduct drilling operations in the Gulf of Mexico," the agency formerly known as the Minerals Management Service said in a September 2003 letter to BP.
The Minerals Management Service was renamed the Bureau of Ocean Energy Management after the Deepwater Horizon catastrophe prompted a shake-up in the Interior Department agency.
Two of BP's Houston-based well engineers are scheduled to testify today before the government panel about their roles in designing the well.
To contact the reporters on this story: Joe Carroll in Houston at jcarroll8@bloomberg.net; Katarzyna Klimasinska in Houston at kklimasinska@bloomberg.net
To contact the editor responsible for this story: Susan Warren at susanwarren@bloomberg.net.