Dell Offers $1.6 Billion for 3Par, Topping HP's Bid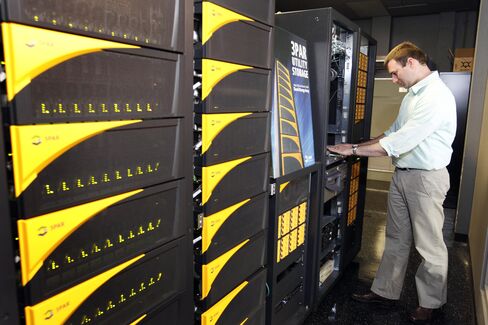 Dell Inc. raised its bid for 3Par Inc. to $24.30 a share, or about $1.6 billion, topping Hewlett- Packard Co.'s offer in the battle for the data-storage provider.
3Par accepted the increased bid, Dell and 3Par said in statements today. HP had offered $24 a share this week, surpassing Dell's original bid of $18.
Analysts, including Jeff Fidacaro of Susquehanna Financial Group, say it's likely HP will counter Dell's latest offer. HP, the world's largest personal-computer maker, has about twice the sales of Dell and almost $15 billion in cash.
"It was fairly rich when Dell bid, and then valuation was out the window when HP put their offer in," said New York-based Fidacaro. "Now it's going to be who wants the asset more."
3Par, based in Fremont, California, said it will pay Dell a $72 million termination fee if it accepts another acquisition proposal. 3Par shares fell 63 cents to $26.13 at 11:02 a.m. in New York Stock Exchange composite trading, indicating investors also expect a higher bid.
3Par sells hardware and software that make it easier and cheaper for companies to store information. The company's technology would help the winning bidder compete in the growing market for data centers that handle corporate clients' computing needs, said Fidacaro.
For Dell, owning 3Par would mean a chance to sell its own storage systems, rather than reselling products from EMC Corp., Fidacaro said. HP would gain higher-end storage products as it tries to package its servers, storage and networking equipment for corporate customers, he said.
High Premium
Dell and HP are both offering a higher premium than acquirers in comparable transactions. The Dell bid values 3Par at eight times revenue. In 24 acquisitions of U.S. computer hardware, storage, printing and services companies during the past five years, buyers paid a median of 1.26 times sales, according to data compiled by Bloomberg.
3Par's stock jumped 45 percent on Aug. 23, after HP's bid was announced. 3Par closed at $9.65 on Aug. 13, the last trading day before Dell's agreement was made public.
Dell, based in Round Rock, Texas, rose 11 cents to $11.89 in Nasdaq Stock Market trading. HP climbed 20 cents to $38.44 on the New York Stock Exchange.
While HP is more than three times as profitable as Dell, it's coping with the loss of its chief executive officer. Mark Hurd exited on Aug. 6, following a probe that found he filed inaccurate expense reports to conceal a personal relationship with a marketing contractor.
Dell, meanwhile, is trying to rebound from shrinking market share in PCs and tightening profit margins. This month, more than 25 percent of shareholders withheld support for Chief Executive Officer Michael Dell as a director.
Kaushik Roy, an analyst at Wedbush Securities in San Francisco, has predicted that HP will end up with 3Par.
"HP is going to win," he said this week. "HP has the balance sheet to buy anything."
Before it's here, it's on the Bloomberg Terminal.
LEARN MORE