Selfridges Rooftop Dining, Leisure Area to Target Fashionistas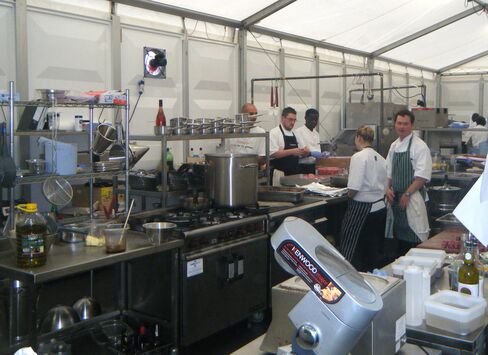 Selfridges is moving ahead with plans for a permanent restaurant on the roof following the success of chef Pierre Koffmann's temporary venue last year.
The department store on London's Oxford Street plans to create a leisure area with gardens or other attractions, recalling the interwar years when, in addition to dining, customers could watch fashion shows on a catwalk.
"We want to create a fantastic restaurant, but at the same time ensure that the rooftop becomes a real destination in central London," said Ewan Venters, director of food and restaurants. "We've had a number of chefs make contact with us, but this will probably be more about the Selfridges brand than attracting a big international name."
Selfridges plans to add a kosher counter in the food hall at the end of this month, Venters said. It will be operated by Adafina, a gourmet catering company with a branch on Abbey Road. The good news for shoppers is that the store outlet has obtained permission to open for business on Saturdays.
Goodman, the Moscow-based steakhouse whose London branches are packing in diners, is looking for a site for a third restaurant in the city, only this one will be different.
"We have an idea to open a fish restaurant with the same simple philosophy as Goodman," said George Bukhov-Weinstein, the company's U.K. director, who said he has looked at sites in Canary Wharf but is more likely to pick Soho or Mayfair.
The fish eatery would have a different name. If it's meat you're looking for, Goodman aims to open in Zurich at the end of next month at a site on Brandschenkestrasse.
Vinoteca, the Smithfield wine bar known for its long list, medium prices and small plates of food is to open another branch, this time in Marylebone. The outlet, on Seymour Place, is set to open in late October with a similar ground-floor-and-basement layout to the east London original.
"It's about a third bigger and the area has a nice village feel," said co-owner Charlie Young. Unlike at the original, which opened in September 2005, this branch might accept evening reservations. The prices will be similar, including about 50 wines for less than 20 pounds ($31).
Wahaca is inviting members of the public to design staff T-shirts for the latest branch of the Mexican restaurant, this one in Soho. Entries must be submitted by Sept. 30 and the winner will get 12 months of free food at the outlet on Wardour Street. For details of the competition: http://bit.ly/dBKqQ5. Wahaca Soho is to open in October.
Pierre Herme, the French maker of luxury macaroons, plans to open his own store next month on Lowndes Street, in Belgravia. The patissier, who already has outlets across Paris and Tokyo, has invited chef Heston Blumenthal to the opening party on Sept. 1.
Rhodes W1 is offering 15 percent off your total bill in the restaurant or brasserie until Aug. 31 if you quote "Hampton Court" while booking on +44-20-7616-5930.
In the unlikely event you are looking for more food and restaurant news after reading this, Charles Campion's website is a good place to start. Campion is a self-effacing champion of British food: http://www.charlescampion.com/.
Busaba Eathai's latest branch has opened. It's on Old Street, in Shoreditch, just around the corner from Hoxton Square. If you haven't tried this Thai food chain, the quality is high and the prices are low.
Congratulations to Jamie Oliver, who won an Emmy for his U.S. series, "Jamie Oliver's Food Revolution."
(Richard Vines is the chief food critic for Muse, the arts and leisure section of Bloomberg News. Opinions expressed are his own.)
Before it's here, it's on the Bloomberg Terminal.
LEARN MORE