Private Equity Loses Fund Commitments as Tony James Woos Oregon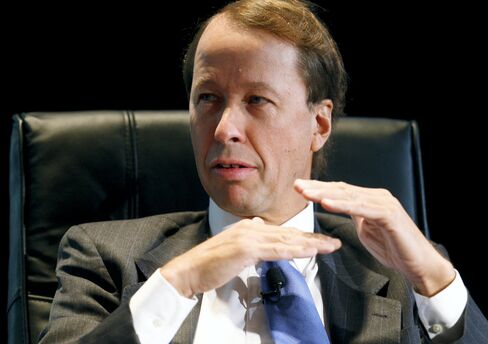 A year after the financial crisis subsided, the $2.5 trillion private-equity industry is finding the easy money may be gone.
Managers saddled with $1.6 trillion in buyouts made during a three-year boom have marked at least 6 of the era's 10 biggest deals at or below cost, according to data compiled by Bloomberg. About $470 billion sits idle, according to London-based researcher Preqin Ltd. Announced purchases so far this year total less than a fifth of their volume at the peak in 2007.
Pensions, endowments and mutual funds cut new commitments to buyout funds by more than 50 percent, according to Preqin, questioning whether firms led by Blackstone Group LP have grown too large to generate the returns that made their founders billionaires. Blackstone, the world's biggest private-equity company, has dropped 67 percent in New York trading since a 2007 offering, and Fortress Investment Group LLC lost 82 percent. KKR & Co. this month canceled a $500 million stock sale.
"There is a rightsizing of the industry right now," said Joncarlo Mark, senior portfolio manager at the California Public Employees' Retirement System, the largest state-run U.S. public pension. "A lot of investors have limited ability to commit new capital, and it's going to stay that way for years unless public markets come back in a meaningful way."
Calpers slashed its commitments to 2009 funds by 90 percent from those made to 2008 funds -- to $1.27 billion from $12.7 billion -- according to data compiled from the pension's website. It committed a record $15.1 billion to 2007 funds.
Overall, private-equity funds raised $281 billion last year, a 57 percent drop from the record $646 billion collected in 2007, according to Preqin.
Rates of Return
Private-equity firms, which have their roots in the leveraged buyouts of the 1980s, pool money from investors to take over companies, usually with a mix of cash and debt, with the intention of selling them later for a profit.
The firms grew into multibillion-dollar asset managers, helped by returns that dwarfed what investors could earn in traditional assets such as stocks and bonds. Funds with more than $2 billion in commitments that were completed in 2001 and 2002 generated median rates of return of 34 percent and 33 percent, according to Preqin.
Institutional investors including endowments and pensions poured money into the funds as limited partners, committing more than $200 billion in a single quarter at the height of the buyout boom. The fund managers, or general partners, collected management fees of 2 percent of the capital committed and 20 percent of profits, making buyout pioneers including Blackstone's Stephen A. Schwarzman and KKR's Henry Kravis and George Roberts billionaires.
'Pumped Out Profits'
"From 2005 to 2008, firms pumped out profits in 24 hours, buying on Monday and selling on Tuesday," said Antoine Drean, head of Triago SA in Paris, which helps firms raise money. "That made for fundraising that was like a lottery, in which every ticket was a winner. That was too good to be true."
The "lazy" days of easy fundraising are over, Tony James, president of New York-based Blackstone, said in an interview. Last month the 59-year-old Wall Street veteran flew across the country to win a commitment from the Oregon Investment Council to invest in a new $13.5 billion buyout fund. Instead of jumping at the opportunity, the council's members grilled James for almost an hour about the performance of Blackstone's 2007 fund, its fifth buyout pool.
The Oregon pension committed $1.6 billion to private-equity funds last year, down from $2.7 billion in 2008, according to the state treasury.
Blackstone Fund V
"That all sounds really great, and you probably raised money at the right time so you could go out and get deals," Katherine Durant, who helps oversee $52 billion for state employees as a member of the council, said during James's presentation in the Portland suburb of Tigard, which was open to the public. "That said, why does Fund V look so bad?"
Blackstone Capital Partners V was valued at a loss of 2 percent including fees, compared with a 7 percent drop in the Standard & Poor's 500 Index during the same period, James told council members seated around him in a semicircle. He said it would return investors twice their money eventually.
The firm's 1994 fund delivered 2.2 times investors' money and average annual returns of 37 percent, according to Calpers, one of the investors.
Below Cost
Blackstone's Fund V isn't the only pool started in the boom years that's struggling. As of the end of the second quarter, New York-based Fortress had $4.9 billion in unrealized, or paper, losses from private-equity funds started since 2005.
That's because at least six of the 10 largest buyouts announced between 2005 and 2007 are marked at or below cost, according to public disclosures and communications with investors obtained by Bloomberg. KKR and TPG Capital's Energy Future Holdings Corp.; Blackstone's Hilton Worldwide; and Apollo Global Management LLC and TPG's Harrah's Entertainment Inc. have all sought to restructure their debt through methods such as debt exchanges or additional equity infusions.
Energy Future Holdings, the Dallas-based power producer formerly known as TXU, was the largest leveraged buyout in history when it was announced in 2007, with a value of $43.2 billion. At the end of the second quarter, KKR valued the company at 30 cents on the dollar.
Harrah's, NXP
Harrah's, the world's largest casino company, was taken private in a $30.7 billion deal completed in January 2008. The Las Vegas-based firm's owners have trimmed about $4.2 billion in debt through discount deals with banks and exchanges with creditors. Apollo valued the investment at 63 cents on the dollar as of June 30, according to an investor presentation obtained by Bloomberg.
Firms that were able to sell holdings had to cut the price or sell below cost. KKR and Boston-based Bain Capital LLC this month raised $476 million in an initial public offering of NXP Semiconductors NV after reducing the price to $14 a share from as much as $21. They bought the Dutch chipmaker in 2006 in a deal valuing the company at about $9.4 billion including debt. NXP has reported combined losses of $5.5 billion since then, and its current market value is $2.7 billion. KKR said this month that its stake in NXP was worth 50 cents on the dollar.
"Too much capital in any strategy, sector, time or place renders a market efficient, or hyper-efficient, and dilutes returns," said Peter Yu, managing partner of Cartesian Capital, a New York-based private-equity firm.
Smaller Deals
Private-equity managers have been able to reap profits from some smaller deals of recent years. KKR's Dollar General Corp., bought in 2007 for $7.3 billion, went public in November and sold shares at $21 apiece. The stock has gained 35 percent since then, and KKR sold part of its stake in a secondary offering in April. Chipmaker Avago Technologies Ltd., controlled by KKR and Silver Lake Partners, went public in August 2009 and has since conducted two secondary share sales.
KKR distributed $3 billion to its private-equity investors during the past 18 months, said Alex Navab, the firm's co-head of North American private equity.
Even so, investors are reluctant to commit new money because funds are sitting on an estimated $469 billion in capital commitments they haven't been able to invest, according to Preqin. Funds announced $128 billion in private-equity deals over the past 12 months, less than a fifth of the $668.5 billion announced in 2007, according to data compiled by Bloomberg.
Wary of Overpaying
At that pace, it would take more than seven years to invest the existing commitments, assuming funds borrow half the purchase price.
Deals that would allow funds to put money to work faster have fallen apart as investors are wary of overpaying. Blackstone, TPG and Boston-based Thomas H. Lee Partners in May walked away from talks with Fidelity National Information Services Inc., a Jacksonville, Florida-based payment-services provider, over a $15 billion buyout after the company sought a higher price, said people briefed on the talks. The transaction would have been the largest deal in almost three years.
Funds usually have three to six years to deploy commitments. If they exceed that period, they need to seek an extension or release investors from their commitments and forgo management fees.
"We all have to be accountable to our investors and explain our track record and strategy, so the decision to raise too much capital relative to the opportunities in the market comes home to roost pretty quickly," said Bain managing director Mark Nunnelly.
'Oddball Things'
Private-equity managers contend that the 2005 to 2007 time period was an aberration and that they're now returning to business as usual. Blackstone's James says his firm is more comfortable with deals worth less than $5 billion and its best returns have come from transactions in that range.
"You have to be able to create these oddball, one-off things" and eschew the headline-grabbing sales of companies, he said in a July 22 interview. "In today's environment, anything that's auctioned and public is fully priced."
Finding those deals means increasing staff, which leads to higher costs and lower compensation across the firm, said James. Blackstone's private-equity investment staff, which totaled 59 for its fourth fund, has swelled to 149 employees, and pay for deal partners is "substantially" down, he said. At KKR, the buyout staff has more than doubled to 180 from 75 in 2005.
"Despite the downturn, this has been part of our long-term strategic plan to significantly grow our private-equity business domestically and globally, by adding to our investment teams and increasing our operational capabilities," KKR's Navab said.
Lower Fees
Blackstone is pursuing deals like its April purchase of a heavy-crude-oil refinery in Delaware, which it bought with energy specialist First Reserve Corp. for $220 million from Valero Energy Corp. KKR is building an exploration business for gas trapped in shale and coal beds under parts of Appalachia and Texas, using mostly equity.
Blackstone had about $1 billion left to invest in its fifth fund, with another $2 billion reserved for follow-on investments, James said at the meeting in Oregon last month. KKR had $11.9 billion in uncalled commitments in its private markets unit as of June 30.
James ultimately wrung a $200 million commitment from the Oregon Investment Council for Blackstone's new fund -- the pension's first ever with the private-equity firm. The decision came after Blackstone agreed to share more fees, an offer the firm later had to extend to other investors. Blackstone had previously lowered the annual management fee for the fund to 1 percent from 1.5 percent for investors with more than $1 billion in commitments.
Smaller Funds
Even with those concessions, the new pool is 62 percent of the size of its $21.7 billion predecessor, raised in 2007. Blackstone cut the target after aiming for about $20 billion and has told investors it secured $13.5 billion. Other firms postponed fundraising or refrained from seeking new money.
Fortress, the buyout and hedge-fund firm co-founded by Wesley Edens, in September released long-time investor Washington State Investment Board from a $300 million commitment to a new private-equity fund, according to the pension plan, which manages $74 billion. Fortress had aimed to raise $6 billion for the fund, according to Preqin.
The Washington fund made $2.2 billion in private-equity commitments during its fiscal 2009, about half of the $4.1 billion it committed in 2008, according to its annual report.
Raising a new fund is taking an average of 20 months, more than twice as long as in 2004, according to Preqin. New funds are also smaller. For U.S. buyout funds of more than $2.5 billion, the average size in 2009 was $4.3 billion, compared with $7.8 billion in 2007, according to data compiled by Preqin.
New 'Zeitgeist'
"The zeitgeist in the era in which we are living is not to allow people to raise $20 billion funds," David Rubenstein, 61, co-founder of Washington-based Carlyle Group, said in a June interview. "I don't think we are going to see $20 billion funds for some time, and I don't think we'll see $30 billion or $40 billion deals for some time, but it's difficult to predict beyond three or four years."
Blackstone, KKR and Carlyle, the largest firms, have responded in part by expanding beyond buyouts. Blackstone, created by Schwarzman and Peter G. Peterson in 1985, has cut its dependence on private equity to about 11 percent of its fee income. The largest unit at the firm by assets now is one that includes funds of hedge funds.
That's a shift from 2004, when Blackstone's private-equity assets under management totaled $15.7 billion, or almost half of the $32.1 billion total, according to the company's 2007 IPO prospectus. The fund of funds unit had $11.6 billion in assets.
'Like Mutual Funds'
KKR is seeking fees from underwriting debt and stock offerings by companies it owns and investing in oil and gas. The New York-based firm's capital markets and principal activities business accounted for about 15 percent of its fee earnings in the second quarter of this year.
"KKR's new efforts are highly complementary to our private equity business," said Navab.
The firm's private-markets segment accounted for 66 percent of KKR's fee-related earnings in the second quarter.
Expanding beyond private equity is transforming the firms into asset managers and separating them from traditional buyout investors, said Colin Blaydon, director of the Center for Private Equity & Entrepreneurship at Dartmouth College's Tuck School of Business in Hanover, New Hampshire.
"In that regard they start looking like the big mutual funds," Blaydon said.
Fortress, KKR
Shareholders aren't convinced that profits will return to levels during the boom. Blackstone, which managed to sell shares before the financial crisis, declined to $10.37 yesterday from an IPO price of $31. The stock reached a high of $38 on the first day of trading.
Fortress has done worse, declining 82 percent since going public in February 2007. Top executives including Edens and Peter Briger, who last year bought 3.6 million shares at $5 apiece, last week filed to register 6.1 million shares, about 2 percent of their holdings, a step that would permit them to sell the stock on the open market. The shares have declined 24 percent this year to $3.38.
KKR, which has dropped about 4 percent since listing its shares in New York on July 15, canceled a planned stock sale on Aug. 9, citing "unfavorable market conditions." KKR, which abandoned an IPO in 2007, gained a listing in New York after combining with its publicly traded fund in Europe last year. Shares in that fund lost 58 percent between May 2006, when it went public, and July 14, 2010, when it was delisted.
'That World Is Gone'
Apollo, the firm run by Leon Black, 59, is seeking to move its Class A shares, now held by private investors, to the New York Stock Exchange. Calpers invested $600 million in the firm in July 2007. That stake is now worth $210 million based on a share price of $7 on GSTrUE, a system run by Goldman Sachs Group Inc. that is open to institutions and wealthy investors, according to a person with knowledge of the stock's pricing who asked not to be identified.
The California pension, which has led a push by institutional investors for lower fees and a bigger say in buyout funds, in April won a $125 million fee reduction --spread over five years -- for funds Apollo manages solely for the $212 billion fund. Firms often charge lower fees for such vehicles, called managed accounts, because it costs less to raise them. Apollo, in a letter to investors, said such accounts are "the fastest growing part" of its business.
Blackstone's James says the time when investors accepted fund terms without questioning are over for good. He recalls how, about a year ago, after the peak of the financial crisis, he and his partners sat at the company's headquarters on Park Avenue and agreed that each of them would start calling investors regularly to check in.
"We as an industry were lazy," James said. "We were unresponsive to our investors. That world is gone."
Before it's here, it's on the Bloomberg Terminal.
LEARN MORE