McCain Wins Arizona Primary on Way to Fifth Term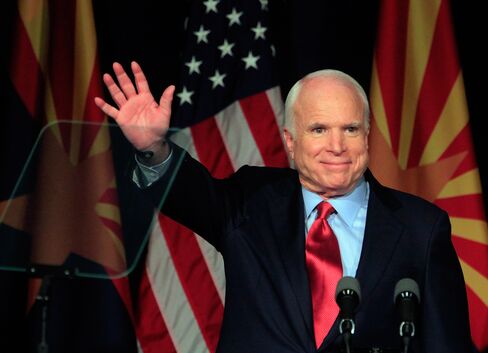 Arizona Senator John McCain fought off a challenge in the Republican primary election in his bid for a fifth term after spending some $20 million and adopting a hard line on his signature issue of immigration.
McCain, who was his party's 2008 presidential nominee, defeated former congressman J.D. Hayworth, withstanding an anti-incumbent trend that threatened his candidacy earlier this year and putting him in a strong position to win re-election in November. He received 57 percent of the primary vote to Hayworth's 31 percent with 53 percent of precincts reporting, according to the Associated Press.
Jim Deakin, a contractor with no experience in elective politics who competed with Hayworth for the support of Tea Party activists, had 11.5 percent, AP said.
"We won an important victory, for which I am truly thankful" after a "hard-fought primary," McCain told supporters. "This will be a consequential election" because of the nation's "staggering unemployment, a devastated housing market" and "a river of red ink that threatens your prosperity."
Another Republican senator, Lisa Murkowski of Alaska, faced an unexpectedly close contest with a political newcomer, Joe Miller, a Gulf War Army veteran and Yale Law School graduate who was backed by former Alaska Governor Sarah Palin.
Miller's Lead
With 50 percent of the vote counted in Alaska's Republican primary, Miller, 43, led Murkowski, 53, with the challenger collecting 52 percent and the senator 48 percent. Miller said Murkowski was "not Republican enough."
The Tea Party Express endorsed Miller, hoping to replicate victories in Nevada and Kentucky for a loose-knit coalition that opposes higher taxes and government spending. Murkowski was named to the Senate to serve the remaining term of her father, Frank Murkowski, who resigned in 2002. She was elected in 2004.
To shore up his political base, McCain, 73, modified his immigration position to repair his standing with conservatives and sought to tarnish Hayworth's reputation, said Margaret Kenski, a Republican pollster in Tucson. He flooded the airwaves with "devastating" advertisements, painting Hayworth as a "fake conservative" who once peddled ways to earn free money from the government on late-night infomercials, she said.
"He probably spent more money than he needed to in an Arizona primary," said Kenski. "He didn't leave anything to chance."
'Fence First'
At the same time, McCain, who once supported giving a pathway to U.S. citizenship for undocumented aliens, "shifted his position on immigration and said, 'Give the people what they want, give them a fence first,'" said Kenski.
Democratic National Committee spokesman Hari Sevugan said in an e-mailed statement that, to win the primary, McCain became "a rubber stamp for the extreme right wing." Sevugan said "the complete takeover of the Republican Party by the Tea Party has included taking over the soul" of "a man who once reveled in being a maverick."
Leading up to the primary, McCain campaigned with Arizona Governor Jan Brewer and supported her decision to sign into law a bill that authorized police to check the status of anyone they suspected was an illegal immigrant. A federal judge last month barred Arizona from enforcing key parts of that law after the Obama administration sued the state.
Along the way, McCain alienated some old supporters, including many Hispanics. Tommy Espinoza, who testified to McCain's pro-immigrant policies at the 2008 Republican National Convention, said the senator had made a "radical departure." McCain's new posture was "heart-wrenching," said Espinoza, of Raza Development Fund in Phoenix.
Throughout the campaign, McCain insisted he hadn't changed his position.