Carter Arrives in North Korea for Release of American Prisoner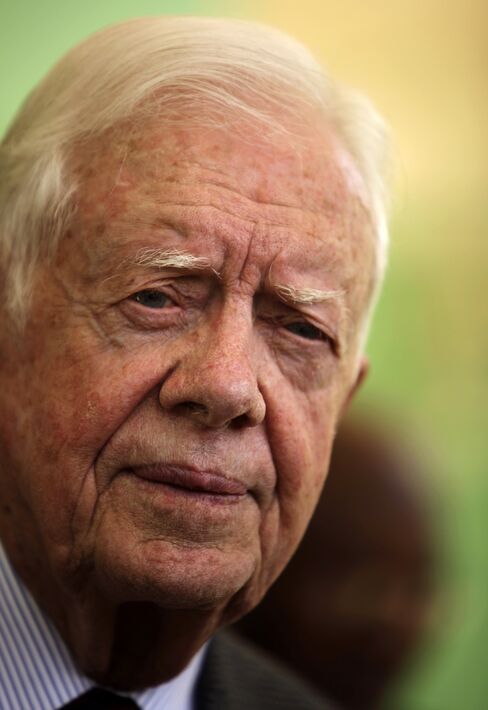 Aug. 25 (Bloomberg) -- Former U.S. president Jimmy Carter arrived in North Korea today on a mission to secure the release of an American citizen who has been detained for seven months for illegal entry.
Carter was greeted at Pyongyang airport by North Korean Deputy Foreign Minister Kim Kye Gwan, state-run Korean Central News Agency said. North Korea has agreed to release Aijalon Mahli Gomes if Carter visits the country, the Associated Press reported yesterday, citing U.S. officials it didn't identify.
Gomes was sentenced to eight years of hard labor in April after he was captured on Jan. 25 for illegally crossing the border from China, KCNA has said. The 31-year-old Boston resident attempted suicide last month because he felt his government hadn't done enough to get him free, KCNA reported.
Former U.S. President Bill Clinton flew to Pyongyang and met with Kim last August, winning the release of two U.S. journalists arrested in March 2009 for illegal entry. Kim Kye Gwan, who is also the chief negotiator to the international talk on the North's nuclear program, also greeted Clinton at the airport at the time.
Carter, 85, traveled to Pyongyang in 1994 when he met with Kim Jong Il's father, Kim Il Sung, and discussed terms to freeze the country's nuclear program.
The release of Gomes may help defuse tension on the Korean peninsula that has increased since the North was accused of torpedoing one of the South's warships in March. Carter's meeting with Kim may also give the U.S. some idea about the 68-year-old North Korean leader's health and his plan for succession of power, said Yang Moo Jin, a professor at the University of North Korean Studies.
"The U.S. could get information, albeit secondhand, they could use for better assessment of the complexities in North Korea regarding the succession and economic issues," Yang said in Seoul. The trip may "create an environment for dialogue."
Clinton, Concession
Following Clinton's trip, the U.S. conceded to North Korea's demand for direct talks, with President Barack Obama's envoy Stephen Bosworth traveling to Pyongyang in December. The contact fueled optimism the stalled six-party forum on the North's nuclear weapons program will soon resume.
The mood turned sour after the March 26 sinking of the Cheonan that claimed the lives of 46 sailors. A South Korean-led international panel said in May North Korea torpedoed the ship, an accusation the communist country has repeatedly denied.
North Korea faces tighter U.S. trade restrictions that will further cripple an economy already hit by United Nations sanctions and a botched currency revaluation late last year. The North's economy shrank 0.9 percent to 24.7 trillion won ($20.6 billion) in 2009, with international commerce falling 11 percent to $3.4 billion, according to the Bank of Korea in Seoul.
'Furious Struggle'
"This latest gesture may represent a bid by the faction favoring better relations with the outside world to promote a resumption of the stalled six-party talks," said William Keylor, a professor of international relations at Boston University. "There is obviously a furious struggle within North Korea over the succession. Which side will win this latest struggle is anyone's guess."
North Korea is planning to elect new leaders of the ruling Worker's Party in early September, which South Korean officials have said may provide some insight into the succession, most likely to be made to Kim's youngest son, Kim Jong Un. In his latest appearance in May during a trip to China, Kim Jong Il was seen limping and dragging his left foot.
To contact the reporter on this story: Bomi Lim in Seoul at blim30@bloomberg.net
To contact the editor responsible for this story: Bill Austin at billaustin@bloomberg.net