Florida's Scott to Vie for Governor After Upset Win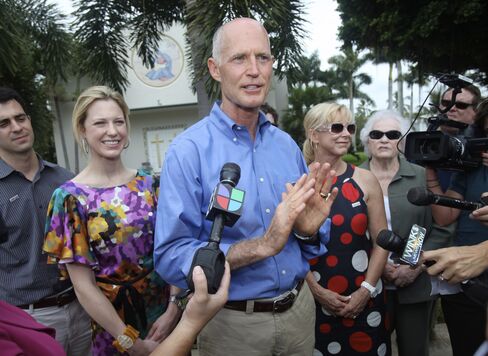 Former hospital executive Rick Scott, who spent almost $40 million on his campaign for Florida governor, upset Attorney General Bill McCollum in the Republican primary and will face the state's chief financial officer, Democrat Alex Sink, in the general election.
Scott collected 46.4 percent of the votes to 43.4 percent for McCollum, according to the state's election division. Mike McCalister got 10.1 percent. Sink, 62, who was once president of Bank of America Corp.'s Florida unit, beat Brian Moore 77 percent to 23 percent.
Scott, 58, founder of Columbia/HCA HealthCare Corp., tapped anti-incumbent sentiment among voters, said Joseph Uscinski, who teaches politics at the University of Miami in Coral Gables. He backed Arizona's anti-immigration law and increasing offshore oil and gas drilling, and opposes abortion and President Barack Obama's health-care plan, according to his campaign website.
"There is an adage that all politics are local, but this year all politics are national," Uscinski said. "Democrats are going to suffer nationally and statewide" in the Nov. 2 general election.
Scott, a first-time candidate, trailed McCollum 35 percent to 39 percent in a Quinnipiac University poll released the day before yesterday's voting. In the campaign, he painted McCollum, 66, a Florida congressman from 1981 to 2001 who twice ran unsuccessfully for Senate, as a Washington insider.
'Political Ranks'
"I didn't come up through the political ranks," Scott told supporters in his victory speech in Fort Lauderdale. He said Florida and the nation "have been heading in the wrong direction."
"People know that government cannot continue to expand," he said. "They know you can't continue to spend more than you make, and they know that you can't keep piling up record debt."
McCollum's campaign stressed Scott's ties to about $1.5 billion of fraud-settlement payments made by his companies. HCA-The Health Care Co., as Nashville-based Columbia/HCA was called in 2000, paid $840 million to settle criminal and civil charges that it defrauded government health-care programs.
In 2003, the company, renamed HCA Inc., paid $631 million in civil penalties to settle charges of filing false Medicare claims. It also agreed to reimburse $250,000 to cover overpayment claims.
Campaign Spending
The attorney general conceded the race at about 1 a.m. in Orlando, his headquarters. He cited campaign spending by Scott that totaled $37.7 million to McCollum's $7.5 million, according to the state's election division.
"No one could have anticipated the entrance of a multimillionaire with a questionable past who shattered campaign spending records," he said in a statement.
Sink benefited as McCollum and Scott attacked each other in the primary, Peter Brown, assistant director of the Quinnipiac University Polling Institute, said in a news release accompanying an Aug. 19 survey. The poll showed Sink had drawn statistically even with Scott and McCollum in a head-to-head contest. She had trailed the Republican candidates by as much as 9 points in June.
"She has been the unintended beneficiary of the heavy volume of negative television ads her potential November opponents launched against each other," Brown said.
Born in Illinois
Scott was born in Bloomington, Illinois, and raised in Kansas City, Missouri, where his father was a truck driver and his mother worked for JC Penney Co. as a clerk, according to his campaign website. He served in the Navy and later earned a bachelor's degree in business administration from the University of Missouri-Kansas City and a law degree from Southern Methodist University.
He stayed in Dallas to work for the city's largest law firm, Johnson & Swanson, primarily representing companies in the health care, oil and gas and communication industries, his website said. In 1987, Scott raised $6 billion to finance a takeover of HCA. When the offer was rejected, he started Columbia with his savings of $125,000.
In 1994, he made a successful bid for HCA, which owned 100 hospitals, and changed the company's name to Columbia/HCA. He left Columbia in 1997 at the age of 44. Scott also started Solantic Corp., a Jacksonville-based operator of Florida urgent-care centers.
Health-Care Advocacy
Scott used $5 million of his own money in March 2009 to start Conservatives for Patients' Rights, which advocated against the Obama health-care plan. He also believes marriage should be between a man and a woman, his website says.
Sink became Florida's chief financial officer in 2006 by winning her first election. Her campaign platform includes fining companies that knowingly hire undocumented workers, providing incentives for employers to hire and expand, bringing more efficiency to state government and aiding small businesses.
She grew up in Mount Airy, North Carolina, and holds a mathematics degree from Wake Forest University.
"We can do what no negative campaign can do, which is to bring to the fore a detailed plan to create jobs in Florida," she said in her victory speech yesterday.
The Florida governorship opened when incumbent Charlie Crist decided to run as an independent for a U.S. Senate seat. He will face Republican Marco Rubio and Democrat Kendrick Meek in November.