Audi to Sell New A1 Outside Europe, Boost Production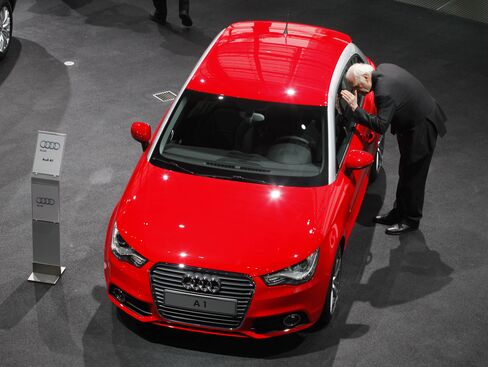 Volkswagen AG's Audi luxury brand will start selling the new A1 compact outside Europe next year and increase production to meet higher demand, Audi sales chief Peter Schwarzenbauer said in an interview.
Audi decided to expand A1 sales after a website the automaker set up for the car attracted more than 150,000 interested customers worldwide, Schwarzenbauer said. The model, which will compete with Bayerische Motoren Werke AG's 1 Series and Daimler AG's Mercedes-Benz A-Class, will start at 15,800 euros ($20,100) and enters showrooms Aug. 27 in Europe.
"We will expand our production capacities by 20 percent" for the A1, Schwarzenbauer said yesterday in Munich. Audi initially pledged to produce about 100,000 A1s annually at its Brussels factory.
The A1, originally built to sell only in Europe, will be expanded to markets globally in 2011, with the exception of China and the U.S., he said. Audi, which is targeting record sales of more than 1.08 million cars and sport-utility vehicles this year, has a goal of dethroning BMW as the world's largest maker of luxury cars by 2015.
"It makes good sense for Audi to focus on European core markets first before expanding the A1's reach abroad, depending on demand for the vehicle," said Tim Schuldt, a Frankfurt-based analyst at Equinet AG who recommends buying VW stock.
Volkswagen's preferred shares were down 1.11 euros, 1.4 percent, to 77.97 euros as of 1:39 p.m. in Frankfurt trading. The stock has gained 19 percent this year, valuing Europe's largest carmaker at 34.1 billion euros.
Young Professionals
Audi is targeting young professionals with what will be its cheapest and smallest car and expects 80 percent of purchasers to be first-time customers for the Ingolstadt, Germany-based carmaker, Schwarzenbauer said. Audi, which accounts for 19 percent of VW group sales and almost half of operating profit, is targeting these buyers with the intention of enticing them to trade up to a more expensive model in the future, he said.
The A1 will be introduced in China at some point after 2011, Schwarzenbauer said. The car will go on sale in the U.S. "at the earliest" with the model's second generation, he said.
The VW division is able to introduce the A1 "at short notice" in China, he said, adding that a decision on the timing of such a move hasn't been made yet. Audi, BMW and Mercedes-Benz have boosted sales this year because of surging demand in China, the world's largest car market, and a rebound in the U.S.
"Many of the Asian markets are now showing a trend toward smaller vehicles," the executive said. "For that reason, it's right to sell the A1 also in those regions."
Chinese Sales
Audi's seven-month Chinese sales surged 53 percent to 20,537 vehicles, spurred by the extended-body A6 and A4 models and the Q5 sport-utility vehicle. Targeting China for future A1 sales underscores Audi's commitment to maintain its sales lead in the market ahead of BMW and Mercedes, said Juergen Pieper, an analyst at Bankhaus Metzler in Frankfurt.
"Audi will roll out its latest models to Chinese buyers, and this shows the degree of appreciation for the market which is key to Audi's global growth goals," said Pieper, who recommends selling VW stock. "The U.S. will be a different story. The A1 is small and expensive, that's not going to work over there."
Audi will expand the lineup of A1 model variants after introducing the current version, Schwarzenbauer said, declining to provide more details. Audi will produce about 50,000 A1s this year, he said.
"The uptrend has continued in August and we will again post a super sales month," Schwarzenbauer said. "It looks as if the good development in first-half deliveries will continue."
Before it's here, it's on the Bloomberg Terminal.
LEARN MORE