American Mechanics Authorize Strike, Reject Contract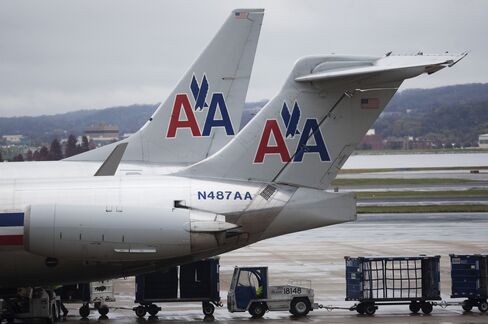 American Airlines' mechanics gave union leaders authority to call a strike at the second-largest U.S. carrier as their labor group rejected a three-year contract that would have boosted members' pay.
About 64 percent of the votes cast were against the proposed accord, said the Transport Workers Union, which represents 11,500 American mechanics. Also turning down the accord were 1,200 stock clerks, with 54 percent opposed. A third TWU group, 90 technical specialists, ratified the deal.
The defeat extends labor tension at AMR Corp.'s American, where flight attendants and ramp workers are asking the National Mediation Board to be released from further negotiations and allowed to walk out. American is trying to contain the U.S. industry's highest labor costs and return to profit.
"Both the company and the affected employees lose," said William Swelbar, a research engineer at the Massachusetts Institute of Technology, who specializes in airline economics. "The employees lose the most as negotiations are guaranteed to drag on for an unspecified period, meaning no new compensation improvements as economic headwinds begin to increase."
AMR fell 19 cents, or 3.1 percent, to $6.04 at 4 p.m. in New York Stock Exchange composite trading, the lowest price since Nov. 30.
The TWU can't strike Fort Worth, Texas-based American until the union takes additional steps under the federal Railway Labor Act, which covers airlines. The two sides have been in talks since November 2007; the proposed contract was reached May 5.
American's Response
"American felt the tentative agreements reached with both groups represented the company's best offer and demonstrate that we can reach agreements with the TWU," Missy Latham, an American spokeswoman, said in a statement. "That's important to remember because we're not at a point in negotiations where a strike could occur."
The airline expects to continue working on a contract under the mediation board's guidance, she said.
Union leaders sought in bargaining to recapture part of job, wage and benefit concessions its members gave up in 2003 to keep American out of bankruptcy, while the airline said it needs productivity improvements.
"Our members have spoken loud and clear," Garry Drummond, the TWU international vice president, said in the statement. He said workers who opposed the plan "were not convinced that this agreement represented an adequate return for the hundreds of millions of dollars of sacrifices we agreed to in 2003."
The agreement would have provided a 6 percent lump-sum signing bonus for workers, followed by a 3 percent pay raise now and 1.5 percent in each of the next two years.
The accord also would also have let American operate around the clock at its large maintenance bases to compete for work from other airlines and lowered its contribution for future retiree medical benefits. AMR posted annual net losses in 2008 and 2009, and in the first two quarters of this year.