Oil-Spill Investigation Focuses on Command, Bonuses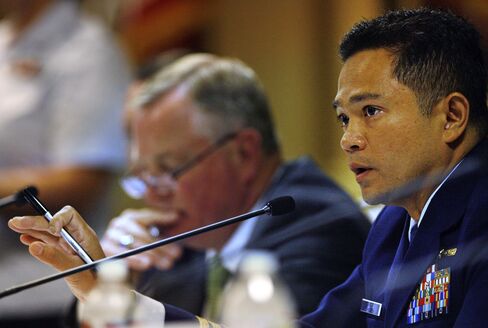 Aug. 24 (Bloomberg) -- A U.S. government panel investigating the fatal Deepwater Horizon rig disaster focused on the vessel's command structure, the fire-fighting effort following the blast, and attempted to determine how bonuses motivated managers.
The eight-member U.S. Coast Guard-Interior Department panel focused much of its questioning yesterday and today on whether the dual-command structure is confusing to rig workers, especially during crises like the Deepwater Horizon blast that killed 11 people and led to the largest offshore oil spill in U.S. history.
The panel will compile recommendations for changing the existing arrangement that splits authority between the captain and a drilling manager, Wayne Andersen, a panel member, said today during a hearing in Houston. Andersen is a retired federal judge who was appointed to the panel last.
"Does having a dual-command structure make it clear who is the master of the vessel?" Hung Nguyen, panel co-chairman, asked Daun Winslow, rig manager of the Deepwater Horizon for owner Transocean Ltd.
Winslow, who was on the rig when the well erupted and helped dozens of workers escape aboard a lifeboat, answered that the chain of command is understood by everyone who works on the vessel and is common in the offshore-drilling industry.
The captain has supreme authority when the rig is in transit and surrenders command to the offshore-installation manager when the vessel is stationary and conducting drilling operations, he said.
Use of Water
Nguyen also asked why water was used to fight the fire and if anyone worried that pouring water on the flames might sink the rig. Winslow said water was used to cool down the vessel and that several hours into the response, Transocean ordered a reduction in the amount used.
In April, the Coast Guard didn't raise concerns about the amount of water used during the response, Winslow said, answering a question from Ned Kohnke, an attorney for Geneva-based Transocean.
Transocean managers' bonuses are tied to several performance metrics, including safety, to a much higher extent, than to a rig's downtime, Winslow said. The company would lose some or all of the more than $500,000 daily rate it charged BP for rig rental if the vessel had to be idled for repairs, he said.
The panel, which is in its 12th day of hearings, is scheduled to complete its investigation and compile a list of recommendations by Jan. 27.
To contact the reporters on this story: Katarzyna Klimasinska in Houston at kklimasinska@bloomberg.net; Joe Carroll in Houston at jcarroll8@bloomberg.net.
To contact the editor responsible for this story: Susan Warren at susanwarren@bloomberg.net.