U.S. Has 'Realistic Possibility' of Stagnation, S&P's Wyss Says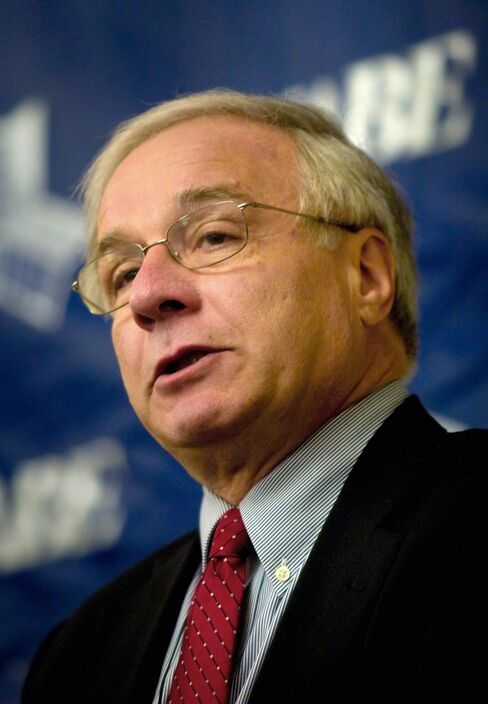 The U.S. has a "realistic possibility" of falling into a Japanese-style economic slump, said David Wyss, chief economist at Standard & Poor's.
U.S. consumer prices, excluding food and energy, increased less than 1 percent for a fourth month in July, Labor Department data showed, while Japan's so-called core inflation rate has remained mostly negative since September 1998.
"I think there is still a realistic possibility in the U.S. that it's slipping into this pattern like Japan has -- 10, 20 years of stagnation," Wyss said at a seminar in Tokyo today hosted by the Securities Analysts Association of Japan. "A rising population in the U.S. creates more need for capital, more need for housing, which makes deflation a little less likely, but I'm not sure if that makes it impossible."
Deflation, or a drop in general prices, increases the value of fixed payments from bonds. Prices for U.S. debt have surged this year, driving yields on 10-year Treasuries to 2.53 percent on Aug. 20, the lowest since March 2009. Rates on similar maturity Japanese debt are near the least since 2003.
St. Louis Federal Reserve President James Bullard wrote in a report released last month that the U.S. is "closer to a Japanese-style outcome than any time in recent history."
Japan fell behind China in the second quarter to become the third-largest economy. U.S. gross domestic product, the biggest worldwide, grew 1.4 percent in the three months ended in June, less than the 2.4 percent expansion reported last month, according to the median estimate of economists surveyed by Bloomberg. The Commerce Department is scheduled to release its revised number on Aug. 27.
The U.S. and world economies are still at the beginning of a gradual recovery, New York-based Wyss said today.
"A slow recovery is a vulnerable recovery," he said. "It's fragile. Any kind of outside shock could easily still turn this into another recession."
Before it's here, it's on the Bloomberg Terminal.
LEARN MORE