Sherrod Turns Down USDA Job Offer After Firing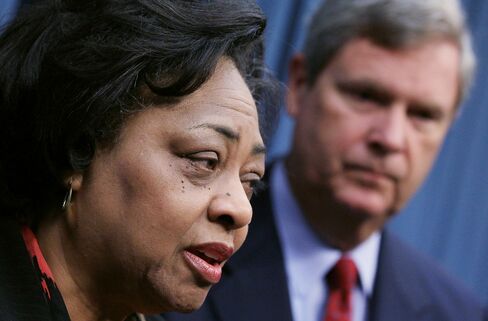 Aug. 24 (Bloomberg) -- Shirley Sherrod rejected a job offer from the U.S. Department of Agriculture, a month after her firing by the agency for remarks on race, found to be taken out of context, prompted an apology from President Barack Obama.
Sherrod, 62, said too much had happened at the USDA for her to accept the job now and that she may consider accepting a different position later after taking more time off. She spoke at a Washington news conference with Agriculture Secretary Tom Vilsack by her side, saying she wants to continue to be active on civil rights and race issues.
"I want to hear about issues of discrimination and racism," she said, adding that she looks forward to some type of future relationship with the USDA.
Vilsack forced Sherrod's resignation last month after an edited video clip released by the website biggovernment.com left the impression that she didn't fully help a white farmer she met with in 1986.
In the full version of her speech, she talked about how that experience caused her to realize that the issue was about the "haves and have-nots," and not white versus black. She also said she worked hard, "calling everybody I could think of" to help the man save his farm, a statement corroborated by the farmer.
Presidential Apology
Vilsack, and later Obama, apologized for the firing after seeing the full video. The USDA secretary offered Sherrod, previously the department's director of rural development for Georgia, a new position. Sherrod said the job was deputy director of the Office of Advocacy and Outreach, which would include efforts to improve the department's civil-rights efforts. She was also offered her old job back.
In an interview today on CNN, Sherrod said she was reluctant to take the new position offered by Vilsack because she questioned whether she would be effective in it.
"I'm sure the secretary was sincere with the offer," she said. "The secretary's not the only person you deal with." Her responsibilities in the new position weren't "made really clear," she said.
Vilsack, at the news conference with Sherrod, said he will always regret the firing, and said again that the White House played no role in his decision.
"This was my responsibility," he said, adding that he failed Sherrod, Obama, and the nation.
To contact the reporter on this story: Alan Bjerga in Washington at abjerga@bloomberg.net
To contact the editor responsible for this story: Steve Stroth at abjerga@bloomberg.net