Purchases of Existing Homes in U.S. Probably Slumped in July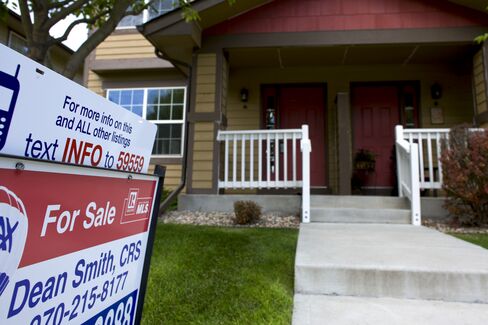 Sales of U.S. previously owned homes probably plunged in July to the lowest level since March 2009, evidence the market is restrained by foreclosures and limited job growth, economists said before a report today.
Purchases dropped 13.4 percent from June to a 4.65 million annual rate, according to the median of 73 forecasts in a Bloomberg News survey. A decline would be the third in a row.
A tax credit of up to $8,000 boosted sales earlier in the year, pulling forward demand and indicating additional advances will prove difficult. Mortgage rates at record lows have provided scant relief to the industry as unemployment hovers close to 10 percent, foreclosures hold near record-highs and the economy cools.
"There's obviously a very severe payback going on," from the expiration of the government tax credit, said Joshua Shapiro, chief U.S. economist at Maria Fiorini Ramirez Inc. in New York. "Prices need to come down further to deal with the looming oversupply."
The report from the National Association of Realtors is due at 10 a.m. in Washington. Estimates in the Bloomberg News survey ranged from 3.96 million to 5.3 million. Previously owned homes make up about 90 percent of the market.
Housing's inability to build on the temporary boost generated by government assistance is one reason the economy is having trouble strengthening.
Residential real estate may keep struggling for the rest of this year, while into "2011 and beyond, it is difficult to determine," Richard Dugas, chief executive officer at Pulte Group Inc., said in an Aug. 20 interview with Bloomberg Television. Bloomfield Hills, Michigan-based Pulte is the largest U.S. homebuilders by revenue.
'Demand Is Low'
"Demand is low across the country," Dugas said. "You have record-low interest rates and excellent pricing, but consumer confidence eased. We really need the economy to improve and job creation to take hold before people feel comfortable stepping into a home."
The National Association of Home Builders/Wells Fargo confidence index on Aug. 16 reflected Dugas's comments. The August index of builder sentiment dropped to the lowest level since March 2009.
The Standard & Poor's Supercomposite Homebuilder Index, which includes Pulte and Miami-based Lennar Corp., has dropped 13 percent this year through yesterday, while the S&P 500 Index is down 4.3 percent.
The timing of the tax incentive has caused swings in the existing-home sales data. After surging to a 33-month high of 6.49 million in November, the month the credit was initially set to expire, purchases dropped for the next three months. Demand recovered in March and April, which was the deadline for signing contracts, before slipping again the next two months.
Closing Deadline
The June 30 deadline to close deals, which is when existing home sales are tabulated, was extended to the end of September to ensure prospective buyers had enough time to complete transactions. Sales of new homes are recorded when contracts are signed, and a Commerce Department report tomorrow may show little change in July purchases from a month earlier.
To help bring stability to the market, the Obama administration will offer $1 billion in zero-interest loans to help homeowners who've lost income avoid foreclosure as part of $3 billion in additional aid targeting economically distressed areas.
The Department of Housing and Urban Development plans to make loans of as much as $50,000 for borrowers "in hard hit local areas" to make mortgage, tax and insurance payments for as long as two years, according to an Aug. 11 statement. The Treasury Department will also provide as much as $2 billion in aid under an existing program for 17 states and the District of Columbia.
Lower Rates
Mortgage rates have declined as well. The average rate on a 30-year fixed mortgage dropped to a record 4.42 percent in the week ended Aug. 19, according to Freddie Mac.
Private payrolls rose a less-than-forecast 71,000 in July and were revised down for the previous month, the Labor Department reported Aug. 6. Economists surveyed by Bloomberg forecast unemployment will end the year at 9.5 percent, unchanged from the rate in June and July.
Foreclosures and short sales are boosting the so-called shadow inventory and competing with owners trying to sell properties. Home seizures increased almost 4 percent in July from the previous month, with 325,229 properties last month getting a notice of default, auction or bank repossession, RealtyTrac Inc. said Aug. 12.
              Bloomberg Survey
===========================================
                             Exist    Exist
                             Homes    Homes
                              Mlns     MOM%
===========================================

Date of Release              08/24    08/24
Observation Period            July     July
-------------------------------------------
Median                        4.65   -13.4%
Average                       4.66   -13.2%
High Forecast                 5.30    -1.3%
Low Forecast                  3.96   -26.3%
Number of Participants          73       73
Previous                      5.37    -5.1%
-------------------------------------------
4CAST Ltd.                    4.60   -14.3%
ABN Amro Bank                 5.10    -5.0%
Action Economics              4.75   -11.6%
Aletti Gestielle SGR          4.60   -14.3%
Ameriprise Financial Inc      4.70   -12.5%
Banesto                       4.80   -10.6%
Bank of Tokyo- Mitsubishi     5.14    -4.3%
Bantleon Bank AG              4.75   -11.6%
Barclays Capital              4.60   -14.3%
BBVA                          4.98    -7.3%
BMO Capital Markets           4.80   -10.6%
BNP Paribas                   4.65   -13.4%
BofA Merrill Lynch Research   4.70   -12.5%
Briefing.com                  4.60   -14.3%
Capital Economics             4.80   -10.6%
CIBC World Markets            4.73   -11.9%
Citi                          4.50   -16.2%
ClearView Economics           5.00    -6.9%
Commerzbank AG                4.90    -8.8%
Credit Agricole CIB           4.80   -10.6%
Credit Suisse                 4.40   -18.1%
Danske Bank                   4.68   -12.9%
DekaBank                      4.60   -14.3%
Desjardins Group              4.50   -16.2%
Deutsche Bank Securities      4.55   -15.3%
DZ Bank                       4.90    -8.8%
Exane                         4.40   -18.1%
First Trust Advisors          3.96   -26.3%
FTN Financial                 5.20    -3.2%
Goldman, Sachs & Co.          4.03   -25.0%
Helaba                        4.65   -13.4%
HSBC Markets                  4.50   -16.2%
Hugh Johnson Advisors         5.00    -6.9%
IDEAglobal                    4.50   -16.2%
IHS Global Insight            4.30   -19.9%
Informa Global Markets        4.25   -20.9%
ING Financial Markets         4.35   -19.0%
Insight Economics             4.50   -16.2%
Intesa-SanPaulo               4.80   -10.6%
J.P. Morgan Chase             4.30   -19.9%
Janney Montgomery Scott       4.94    -8.0%
Jefferies & Co.               4.50   -16.2%
Landesbank Berlin             4.55   -15.3%
Landesbank BW                 4.90    -8.8%
Maria Fiorini Ramirez         4.50   -16.2%
MF Global                     4.70   -12.5%
MFC Global Investment         5.10    -5.0%
Moody's Economy.com           4.15   -22.7%
Morgan Stanley & Co.          5.30    -1.3%
National Bank Financial       5.10    -5.0%
Nomura Securities Intl.       4.65   -13.4%
Pierpont Securities LLC       4.90    -8.8%
PineBridge Investments        4.56   -15.1%
PNC Bank                      4.75   -11.6%
Raiffeisen Zentralbank        4.50   -16.2%
Raymond James                 4.90    -8.8%
RBC Capital Markets           4.40   -18.1%
RBS Securities Inc.           4.85    -9.7%
Scotia Capital                4.10   -23.7%
Societe Generale              4.80   -10.6%
Standard Chartered            4.50   -16.2%
State Street Global Markets   4.49   -16.4%
Stone & McCarthy Research     4.50   -16.2%
Thomson Reuters/IFR           4.73   -11.9%
Tullett Prebon                4.65   -13.4%
UBS                           4.50   -16.2%
UniCredit Research            4.20   -21.8%
University of Maryland        4.85    -9.7%
Wells Fargo & Co.             4.55   -15.3%
WestLB AG                     5.20    -3.2%
Westpac Banking Co.           4.73   -12.0%
Woodley Park Research         4.86    -9.5%
Wrightson ICAP                4.30   -19.9%
===========================================
Before it's here, it's on the Bloomberg Terminal.
LEARN MORE