Maruti May Drop Suppliers on India Parts Shortage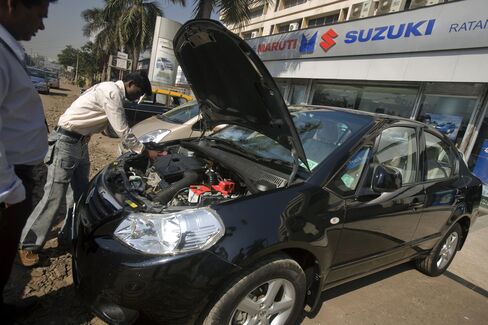 Maruti Suzuki India Ltd., the maker of half the cars sold in the country, may drop parts makers unable to pay for expansion as an industrywide component shortage damps production in Asia's third-largest vehicle market.
"Without strong balance sheets and resources, it will be impossible for parts makers to expand at the same pace as Maruti," Chairman R.C. Bhargava said in an Aug. 23 interview at his home in Noida, near New Delhi. "We have told suppliers that either they ensure that they strengthen their balance sheets or face the risk of being dropped."
The Suzuki Motor Corp. unit and Hyundai Motor Co. are among carmakers to have introduced waiting lists in India as a lack of parts including tires, bumpers and batteries hurts vehicle production. Local component makers have struggled to expand because of debt levels that are more than twice the average of Asian suppliers.
"The inability of even one or two suppliers to deliver parts on time affects not just Maruti but the entire supply chain," said Vaishali Jajoo, an analyst with Mumbai-based Angel Broking. "Maruti needs to work with suppliers to resolve this issue."
Maruti fell 1.1 percent to close at 1,220.05 rupees in Mumbai trading. The stock has dropped 22 percent this year, compared with a 4.1 percent gain in the benchmark Bombay Stock Exchange's Sensitive Index, or Sensex.
Debt Ratios
The carmaker will cooperate with parts makers without offering direct financial assistance, Bhargava said. He didn't identify suppliers that may be dropped.
"We hope it doesn't come to that," he said.
India's 133 listed makers of components and tires have an average debt-to-equity ratio of 138 percent, according to data compiled by Bloomberg. The average for the 73 companies in the Bloomberg Asia Pacific Auto Parts & Equipment Index is 58 percent.
"Ideally, we'd like suppliers to have an equal debt-to-equity ratio, but this isn't possible and we understand that," said Ajay Seth, Maruti's chief financial officer. "Different suppliers have higher or lower debt-to-equity ratios based on the business they're in."
Many Indian suppliers built up debts by making overseas acquisitions or adding capacity at local plants, Jajoo said.
"While a lot of vendors are extremely professional, others are family-run businesses," Seth said. "They need to become more professional, and we are trying to guide them towards better management practices."
Maruti Sales
Maruti, which had waiting lists of as much as a month for Swift hatchbacks and Dzire compacts, boosted vehicle sales 25 percent in the quarter ended June. India's overall car market has expanded more than 30 percent this year.
Maruti faces increasing competition at home as rising demand encourages foreign automakers including Toyota Motor Corp., Nissan Motor Co. and Volkswagen AG to open plants and add new models in India.
Maruti intends to introduce at least one new model a year to retain its lead, Bhargava said. The carmaker is also spending 17 billion rupees ($362 million) boosting capacity at a plant in Manesar. The company also has three plants in Gurgaon.
The automaker intends to produce 1.2 million cars in the year to March, Bhargava said. It plans to export 15 percent of output, little changed from last year, he said.
"A large exposure to foreign markets brings volatility," Bhargava said. "When there is sufficient demand in India, why should I sell my cars abroad?"
Before it's here, it's on the Bloomberg Terminal.
LEARN MORE