Jets, Center Mangold Reach Tentative Contract Deal, Coach Says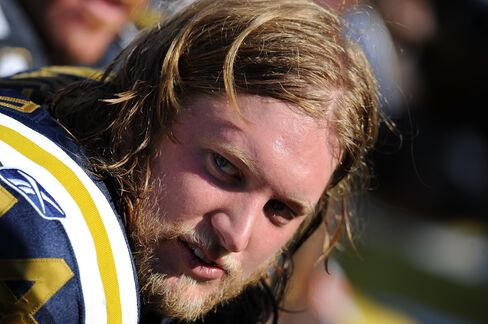 Aug. 24 (Bloomberg) -- The New York Jets and Pro Bowl center Nick Mangold reached tentative agreement on a contract, coach Rex Ryan said.
The deal, which Ryan said should be signed today, would make Mangold the National Football League's highest-paid center at $55 million over seven years, the New York Daily News reported. The newspaper said $24 million of the contract is guaranteed.
"He is going to officially sign here," Ryan said at his daily news conference after practice. "We have a deal in principle with Nick and it should be official within the next couple of hours."
The deal secures another piece of the Jets' offensive line for the long term.
In July, the Jets and left tackle D'Brickashaw Ferguson agreed on a six-year, $60 million extension. The Jets rushed for 2,756 yards last season, the most in the NFL.
Mangold was in the final year of a rookie contract that would have paid him $3.3 million this season. Unlike teammate Darrelle Revis, Mangold participated in training camp while awaiting the new deal.
The Jets took the 6-foot-4, 305-pound Mangold with the 29th pick in the 2006 draft.
To contact the reporter on this story: Eben Novy-Williams in New York enovywilliam@bloomberg.net.
To contact the editor responsible for this story: Michael Sillup at msillup@bloomberg.net.