Irish Bonds Slump After S&P Cuts Rating One Step on Banks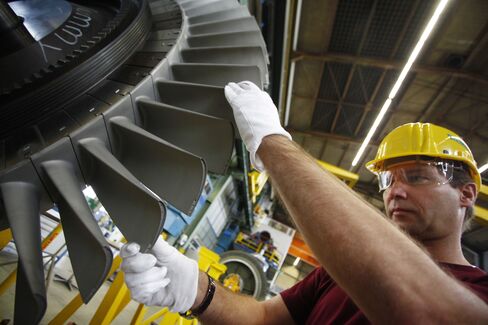 Irish bond yields jumped to the highest since May after Standard & Poor's cut the country's credit rating one step to AA- on concern the rising cost of supporting its struggling banks will swell the budget deficit.
S&P increased its estimate for recapitalizing the banking system to as much as 50 billion euros ($63 billion) from a previous estimate of as much as 35 billion euros. Ireland's rating, now the lowest since 1995, is still one level better than Italy's and three above Portugal's. It is seven steps higher than Greece's junk status.
"A further downgrade is possible if the fiscal cost of supporting the banking sector rises further," S&P said in a statement yesterday. The extra yield demanded by investors to hold Irish 10-year debt over German bunds rose to a record.
Prime Minister Brian Cowen is trying to convince investors that Ireland can cap the cost of rescuing a banking industry that almost collapsed after the worst recession on record. The S&P cut comes three months after the European Union announced a rescue package for nations stung by the Greek fiscal crisis and as the slowing global economy prompts traders to dash for the perceived safety of U.S. Treasuries and German bunds.
"They're going to pay very high yields for a prolonged period of time," Jacob Kirkegaard, a research fellow at the Peterson Institute for International Economics in Washington, said in an interview. While "this isn't Greece," the "misfortune for Ireland is not only have they had an incredible housing bust, they have also had very poorly regulated banks. That sets them quite apart" from a country such as Spain.
Bond Sale
Ireland is slated to sell between 400 million euros and 600 million euros worth of bills tomorrow.
The yield on Irish two-year government bonds rose as much as 31 basis points to 3.127 percent. That's the highest since May 7, the day that EU leaders started to put together a bailout plan for the euro region.
The extra return demanded by investors to hold 10-year debt over German counterparts climbed to a record of 332 basis points, 26 points above the May 7 level. The Spanish and Greek spreads were almost unchanged at 183 points and 883 points, respectively.
A negative outlook "indicates another downgrade is more likely over the next" two years, said Alan McQuaid, chief economist at Bloxham Stockbrokers in Dublin. The timing "isn't great given that Irish banks have a significant amount of debt refunding to do in September."
Irish debt is now riskier than that of Iceland, whose financial system fell apart in 2008. Credit-default swaps on its bonds have surged nearly 200 basis points since March to 309 basis points, the highest since March 2009, according to data provider CMA.
'Not Robust'
Ireland's debt agency said that S&P's analysis is "not robust" because it doesn't take into account the assets the government controls in return for bailing out the banks. It also said the move was based on an "extreme" estimate of bank recapitalization needs and that Ireland is fully funded into the second quarter of 2011. A spokesman for the finance ministry said Ireland still plans to cut its budget deficit to below the EU's limit of 3 percent of gross domestic product by the end of 2014.
At 14.3 percent of GDP, Ireland had the highest deficit in the euro region last year. The shortfall will narrow to 11.7 percent this year, excluding the cost of bank bailouts, the European Commission forecast.
Rising Debt
"There are still huge structural deficits in Ireland," said Juergen Michels, chief euro-area economist at Citigroup in London. "Current fiscal adjustments are not sufficient to reach the 3 percent target by the end of 2014."
Irish spreads have surged this month as investors fret the government won't be able to limit the cost of bailing out the banks to its estimated 30 billion euros. The commission on Aug. 10 approved an additional injection of about 1.4 billion euros into Anglo Irish Bank, which was nationalized last year as bad debts jumped.
That triggered concern that the overall costs of rescuing the bank are climbing at a time when unemployment is still rising and tax income is under threat.
S&P said its new projections suggest that Ireland's net general government debt will rise toward 113 percent of gross domestic product in 2012. That's more than 1.5 times the median for the average of euro zone sovereign nations and "well above" the debt burdens the New York-based firm projects for similarly rated countries such as Belgium and Spain. Those countries have debt-to-GDP ratios of 98 percent and 65 percent, respectively.
ECB Plan
The spreads on Spanish and Irish bonds have risen above the levels touched in May, when the Greek fiscal crisis prompted the European Central Bank to buy government bonds for the first time. ECB council member Axel Weber signaled in an interview on Aug. 19 that he's relaxed with current yields, saying that the bond purchase program was designed to smooth tensions in bond markets rather than set a floor to prices.
Irish counterpart Patrick Honohan said a day later that the Anglo Irish issue must be resolved because of the "disproportionate impact" it is having on investors. Supporting the bank may result in a net cost of about 22 billion euros to 25 billion euros to the Irish government, he said.
Before it's here, it's on the Bloomberg Terminal.
LEARN MORE