Encana Bonds Diverge From Shares as Gas Tumbles: Canada Credit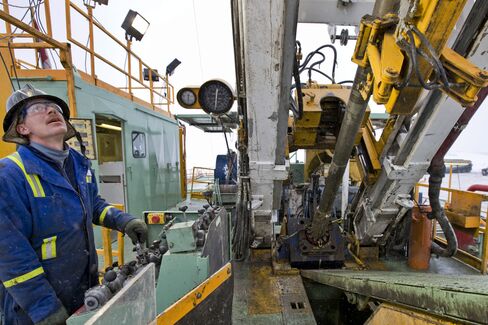 Encana Corp.'s debt is outperforming its shares as fixed-income investors bet the Canadian energy producer's low costs and hedging program will help it withstand a 27 percent decline in natural gas prices.
Bonds of Canada's largest natural gas company have gained as much as 12 percent this year, compared with a 15 percent drop in the Calgary-based company's stock price. The extra yield that investors demand to own Encana's $1 billion of 5.8 percent securities due in May 2014 narrowed to 95 basis points more than government debt, a four-month low.
While the spot price for natural gas fell to a 13-week low yesterday, bond investors are encouraged that Encana's relatively low cost of production and large gas deposits will help cushion any drop in revenue, said Lanny Pendill, an analyst at Edward Jones & Co. in St. Louis.
"It dominates in the North American natural gas environment," said Pendill. "When the gas price is low, they are the one that is able to keep producing whereas the peers who have higher cost of production" have to stop producing, he said.
Equity investors tend to focus on short-term gas prices, leading to the decline in Encana's shares this year, he said. The stock has fallen twice as much as the Standard & Poor's/TSX Energy Index. Encana is using hedging contracts to lock in prices that are as much as 50 percent higher than the spot market price.
Hydro-Quebec Debt
Elsewhere in credit markets, the extra yield investors demand to own corporate bonds rather than government debt widened to 143 basis points, or 1.43 percentage points, Bank of America Merrill Lynch index data show. Yields overall fell to 3.67 percent yesterday from 3.71 percent on Aug. 20. The securities have returned 1.89 percent this month.
Hydro-Quebec sold an additional C$500 million ($475 million) in 5 percent bonds maturing February 2050, bringing the total outstanding to C$3 billion. The debt yields 94 basis points more than government bonds. Financement Quebec, which arranges financing for the province's education and health programs, issued an extra C$500 million of its 3.5 percent notes due December 2016 at a spread of 73 basis points.
The offerings came a day before Statistics Canada releases retail sales figures for June. The median estimate of economists surveyed by Bloomberg is for a 0.4 percent gain, after a 0.2 percent decline in May.
Ontario Deficit
In the provincial debt market, Ontario, Canada's most- populous province, reported a C$19.3 billion deficit for the fiscal year ended March 31, less than the C$21.3 billion gap projected in the March budget.
The spread on Canada's provincial bonds shrank to 59 basis points, the narrowest since Aug. 9, from 60 basis points. The securities have returned 1.68 percent this month and 6.22 percent for the year, the Merrill data shows. The country's government bonds have made investors 1.46 percent in August and 6.23 percent in 2010.
Encana has hedged about 55 percent of expected 2010 natural gas production at an average $6.05 per thousand cubic feet as of June 30, according to a company filing. The hedging position is more than the industry's average of about 30 percent to 35 percent, according to Esther Mui, senior vice president of energy at DBRS Ltd. in Toronto.
The energy producer hedged about 1.2 billion cubic feet per day of expected natural gas production in 2011 at $6.33 per thousand cubic feet, and about 1 billion cubic feet at $6.46 for 2012.
Tops Spot Prices
"Encana has strategies keeping it fairly well hedged," said Matthew Kolodzie, a credit analyst at RBC Capital Markets in Toronto. "Investors may be giving them some credit in that they continue to capture a higher natural gas price than the spot price."
The cost to protect Encana's bonds from default with credit-default swaps fell 20.4 basis points over the last 90 days. The contracts typically drop as investor confidence improves and rise as it deteriorates. Credit-default swaps pay the buyer face value if a borrower fails to meet its obligations, less the value of the defaulted debt. A basis point equals $1,000 annually on a contract protecting $10 million of debt.
The 12 percent gain for Encana's bond maturing in 2031 compares with a 6.61 percent return Canada's corporate bonds on average, according to Bank of America Merrill Lynch data.
Encana will continue asset acquisitions to expand market share while smaller competitors pull back as the low gas price squeezes profit margins, said Mike Graham, executive vice president of Encana.
"It's a margin game," Graham said in an interview. "Even if gas stays 4 to 5 dollars, where it is today, we can still make a healthy return and we can still do everything we need to do."
Before it's here, it's on the Bloomberg Terminal.
LEARN MORE