Citigroup Consumer Unit's Overhaul Said to Spur Overdue Loans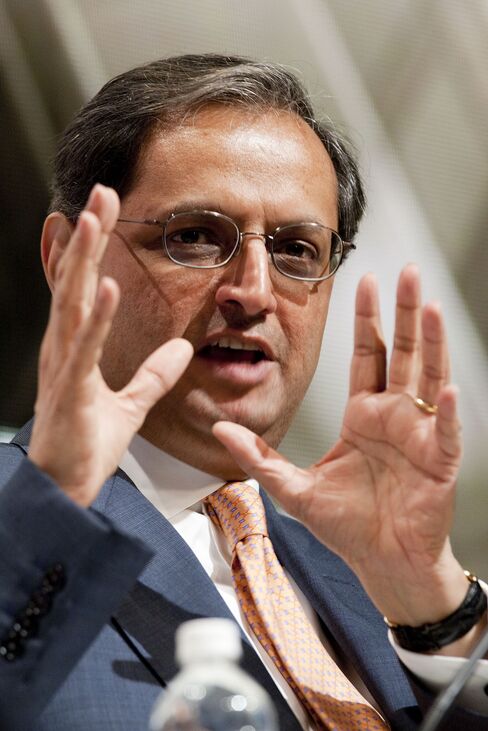 Citigroup Inc.'s effort to streamline its North American consumer finance unit caused overdue loans to jump more than expected as the bank moved 750,000 customer accounts to new locations, a person briefed on the matter said.
CitiFinancial's delinquency rate last month was 0.25 percentage points more than executives had forecast, according to the person, who declined to be identified because the figures aren't public. The firm had expected disruptions in its operations would lead to more missed payments as 330 branches were closed and about 180 were converted into "servicing centers" for troubled loans, the person said.
Any losses will add to the cost of Chief Executive Officer Vikram Pandit's effort to restructure and rebrand CitiFinancial to make it attractive for an eventual sale. He has been trying to sell CitiFinancial since January 2009 after Citigroup's $45 billion bailout by U.S. taxpayers. Buyers have stayed away amid consumer joblessness and rising costs for financing loans.
"There's a risk if the economy turns down sharply that Vikram Pandit is throwing good money after bad," said Richard Staite, an analyst with Atlantic Equities LLP. Some investors in the New York-based bank "would like Citigroup to exit the business, even if the very best price isn't achieved."
The increase in delinquencies was disclosed in a briefing for employees last week by Mary McDowell, CEO of Baltimore-based CitiFinancial, the person said. She didn't say how much the increase equaled in dollars and calls to McDowell were referred to spokesman Mark Rodgers, who declined to comment on the totals.
Consumer Lending
Citigroup's North American consumer-lending business, which includes CitiFinancial, had $15.4 billion in personal loans at the end of June, according to a second-quarter earnings report. A 0.25 percent increase in overdue loans could mean the extra delinquencies equaled as much as $38.5 million.
Personal loans more than 90 days late in the North American consumer-lending business stood at $503 million at the end of June, or 3.27 percent of the total. That's up from 3.06 percent at the end of June 2009 and 2.16 percent at the end of June 2007.
The higher delinquencies "could be one of two things: Customers are taking advantage of the situation or there is some operational issue that something's not functioning right in the restructuring," said Patrick Lagrange, managing director of Carl Marks Advisory LLP, which consults on corporate restructuring.
Default rates tend to rise at lenders when they cut off or transfer accounts. In June, Citigroup said the changes would cut the unit's 1,833 full-service branches in the U.S. to 1,321.
Emergencies and Fun
"CitiFinancial is successfully implementing the reorganization plan announced earlier this summer and we are pleased with our progress to date," Rodgers said.
The unit offers personal loans "for emergencies or just for fun," according to its website, and its products include loans for debt consolidation, car repairs and vacations. CitiFinancial lost $218 million in the second quarter, bringing cumulative losses over the past year to $954 million, according to a presentation on the bank's website.
CitiFinancial, which cut a net 720 jobs in the U.S. and Canada, is still hiring for 800 positions created to staff the servicing centers, the person said. So far it has filled about 570 positions and is offering incentives to employees who successfully refer candidates for the remaining posts, the person said. In June, prior to the changes, CitiFinancial employed 9,600 people in the U.S. and 1,720 in Canada.
New Name
The unit could be renamed as early as October, the person said. Jim Ryan, the unit's senior vice president of marketing, told employees that an outside consultant had advised CitiFinancial on more than 2,000 possible names, which have been winnowed to three finalists, according to the person. Rodgers said that Ryan was unavailable to comment.
A national rebranding campaign can run into millions of dollars, according to David Martin, president of the New York office of Interbrand Corp., which advised Ally Financial Inc. on changing its name from GMAC Inc. Ryan told employees that the costs of the rebranding campaign will be worth it to make the business more attractive to potential suitors.
"Vikram is keeping all his options open," said David Hendler, an analyst with CreditSights Inc. "Nobody knows what's going on in consumer finance right now."
Fix or Flee
When asked about CitiFinancial on a July 16 conference call with analysts and investors, Pandit called the unit "an extremely valuable business" because it serves a clientele that banks often ignore. Citigroup has "plenty of funding, plenty of capital" to carry CitiFinancial and "we're in no hurry to sell anything," he said.
Pandit's strategy of keeping the business and fixing it up contrasts with that of American International Group Inc., which agreed to sell a majority stake in its American General Finance unit for about $130 million this month, resulting in a $1.9 billion charge. Wells Fargo & Co. announced in July that it would shut its consumer-finance division's 638 branches, eliminate 3,800 jobs and take a charge of $185 million.
"In another recession, this type of business performs very poorly," said Richard Bove, an analyst with Rochdale Securities LLC who rates the stock "buy." "There's a 40 percent chance of another recession and therefore I wouldn't want to be a buyer who jumps into this thing at this point."