China Will 'Tolerate' Breach of 2010 Loan Target, SocGen Says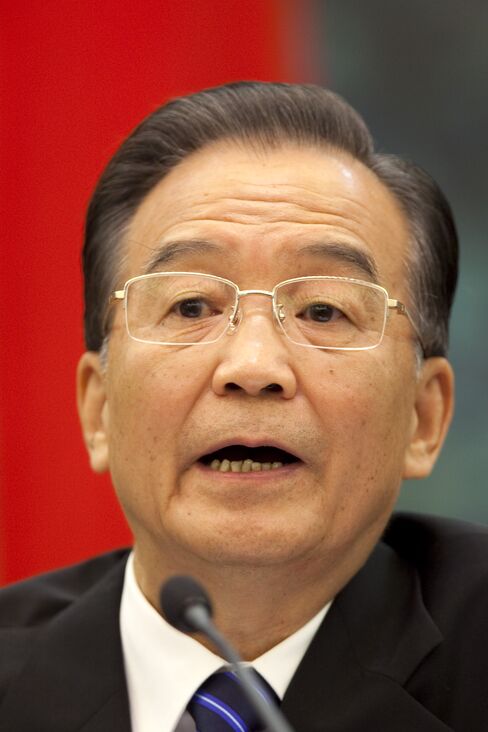 Aug. 24 (Bloomberg) -- Chinese officials are likely to "tolerate" banks breaching the nation's 7.5 trillion yuan ($1.1 trillion) loan target for 2010 to sustain growth as the economy cools, Societe Generale SA says.
The government may allow a "drift upwards," Hong Kong-based economist Glenn Maguire said in a phone interview today. He said there's a 60 percent likelihood of this happening, given "the moderation in the growth momentum in recent months."
Premier Wen Jiabao aims to contain risks to the economy and the banking system from a record 9.59 trillion yuan of lending in 2009 that drove the nation's rebound from the financial crisis. At the same time, signs of weakness in the global economy could encourage the government to loosen policies.
The Chinese economy expanded 10.3 percent in the second quarter from a year earlier, down from 11.9 percent in the first three months. So far this year, lenders have extended 5.17 trillion yuan of new loans.
Maguire saw a 50 percent chance of the government officially mandating a higher lending target. This would happen "if the economic situation slides further and faster," he said.
The odds of a cut in banks' reserve ratios, the proportion of deposits that lenders are required to set aside, are 30 percent, Maguire said. This would be "the third and final step in the Chinese easing cycle, if global conditions demand such."
The China Securities Journal this week cited former central bank adviser Li Yang as saying a cut in the ratio was possible. For big banks, the requirement stands at 17 percent, after three increases this year.
To contact Bloomberg News staff for this story: Paul Panckhurst in Beijing at ppanckhurst@bloomberg.net
To contact the editor responsible for this story: Stephanie Phang at sphang@bloomberg.net