Lehman Made 'Best Deal It Could' in Sale to Barclays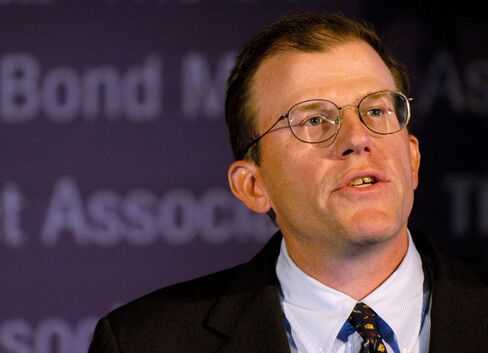 Lehman Brothers Holdings Inc. made "the best deal it could" when it sold its brokerage to Barclays Plc in "one of the most uncertain weeks in financial market history," a former Lehman restructuring executive told a judge.
"Lehman was the largest broker-dealer to go bankrupt in history," said Mark Shapiro, who worked on the deal with former Lehman President Herbert "Bart" McDade. "The absence of a sale would have led to near-term liquidation and a piecemeal sale for much less."
Shapiro, now a Barclays restructuring executive, was today's first witness in U.S. Bankruptcy Court in Manhattan as the London-based bank defended itself against Lehman's claim that it should pay as much as $11 billion for an allegedly undisclosed "windfall" on the defunct brokerage. The deal, approved by U.S. Bankruptcy Judge James Peck, closed a week after Lehman's Sept. 15, 2008, bankruptcy, the biggest in U.S. history.
The bench trial, resuming today after a summer holiday, pits the U.K.'s third-biggest bank, represented by lawyer David Boies, against Lehman, which wants money from Barclays to pay creditors.
The money would help Lehman creditors, who may recoup only 15 cents to 44 cents on the dollar, Lehman has said, and hurt Barclays, which made 2.4 billion pounds ($3.7 billion) in the first half.
'Had to Sell'
Shapiro told the judge that Lehman, in the days before the bankruptcy filing, focused on listing assets it "had to sell" as part of the brokerage business. Lehman fought with Barclays over the price for its New York headquarters building, boosting it to about $1 billion, and slashed a $250 million breakup fee demanded by Barclays in case the deal fell apart.
Many Lehman assets had no fixed valuations as the markets declined, Shapiro said. Preparing to sell a portfolio of securities to Barclays, Lehman wasn't even sure what it could deliver as lenders seized collateral and trading partners closed out trades.
Other assets Barclays bought, such as intellectual property and securities indexes, had only "scrap value" to Lehman as a liquidating firm, although they could be valuable to Barclays as an operating business, Shapiro said. Liabilities that Barclays assumed, such as contracts, also couldn't be fixed, he said.
"We didn't have precise numbers," Shapiro said under questioning by Boies. "We categorized things but we had no specific numbers for many things."
'Secret' Profit
Lehman said in three weeks of testimony ended June 25 that Barclays made $5 billion of "secret" profit on a portfolio of securities it took on with the brokerage, and another $6 billion by writing up business assets, skimping on promised payments and "grabbing" money in margin accounts and clearance boxes.
Barclays said Lehman's advisers signed all the documents disclosing the transfers and didn't object at the time.
In a videotaped deposition played today, Lazard Ltd. vice chairman of investment banking Barry Ridings, who advised Lehman on the Barclays deal, said there were no "secret discussions" to give the U.K. bank a $5 billion discount on the securities it took on, as Lehman alleged.
"I can't remember being in a room with Barclays when there was no Lehman person present," he said in the January deposition. "The markets were trending down and there was disagreement between Barclays and Lehman over what valuations should be."
September Markets
Barclays might have failed in the turbulent markets of September 2008 if it had lost money on the deal, Ridings said. The U.K. bank maintained that Lehman had overstated the value of its securities, he said.
"It was a bet-the-ranch transaction" for Barclays, he said.
Peck said he would have preferred it if Ridings, who has a New York office, had come to court. "I don't like video when a person can appear in person," he told Boies. "It won't help you."
Boies had also planned to play taped statements by Shari Leventhal, a lawyer for the Federal Reserve Bank of New York who attended the 2008 brokerage sale hearing. Peck said he would listen to it only if she also appeared in court.
Peck said when he approved the deal that it would help stabilize the credit markets during the subprime lending crisis. Lehman, its creditors and the brokerage trustee, James Giddens, sued Barclays last November as markets rebounded.
Encourage Settlement
The judge may encourage a settlement to avoid undoing a sale he approved, with Barclays paying less than it risks in a court-ordered judgment, said bankruptcy-law professor Lynn LoPucki.
"Peck might signal to Lehman and Barclays that he very much wants this settled," said LoPucki, who teaches at Harvard Law School. "Judges have ways of pressuring lawyers and litigants to settle."
Under U.S. Bankruptcy Judge Arthur Gonzalez, Enron Corp. creditors seeking $20 billion from Citigroup Inc. settled for $1.7 billion in 2008; Citigroup also waived claims on Enron.
Lawyers for Lehman spent three weeks questioning witnesses including Barclays Chief Executive Officer John Varley in an effort to show that the bank raided Lehman's assets before the deal closed and didn't tell the judge.
Barclays this week will call other witnesses who worked on the Lehman deal, including Stephen King, a former Barclays trading executive, Gary Romain, an accounting specialist at Barclays, and lawyers from Cleary Gottlieb Steen & Hamilton LLP.
Lehman paid its lawyers, advisers and managers $44.5 million in July, bringing the total fees to $917.6 million for 22 1/2 months in bankruptcy, a regulatory filing shows.
The cases are In re Lehman Brothers Holdings Inc., 08-13555, and Giddens v. Barclays Capital Inc., 09-01732, U.S. Bankruptcy Court, Southern District of New York (Manhattan).
Before it's here, it's on the Bloomberg Terminal.
LEARN MORE