Gome Urges Investors to Oppose Founder's Move to Oust Chairman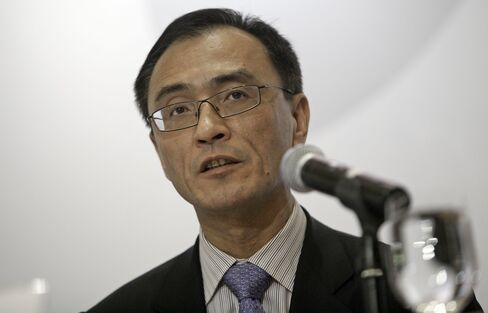 Gome Electrical Appliances Holdings Ltd. urged shareholders to reject a bid by jailed founder Huang Guangyu to oust its chairman as a battle intensifies for control of China's second-biggest electronics retailer.
"Everyone knows Huang's reason for this is unfounded," Chairman Chen Xiao said in an interview in Hong Kong yesterday. Huang, the biggest shareholder in the retailer, brought it close to bankruptcy and "Gome managed to resurrect itself due to the efforts of the existing management," Chen said.
The 41-year-old founder is fighting for control of the company he built into China's biggest appliance chain after a Beijing court jailed him for 14 years for bribery, insider trading and illegal operations. Huang, who is being sued for breach of trust by Gome, wants Chen removed and a plan to sell new shares that may dilute his stake scrapped.
The Beijing-based retailer will hold a special general meeting Sept. 28 to vote on the proposals, it said in a statement yesterday. Gome urged investors to oppose the billionaire, who was once China's richest man.
Gome's board and Huang are "neck and neck at the moment" in the battle for control, said Kenny Tang, an executive director at Hong Kong-based Redford Asset Management Ltd.
"Let's see which side can dilute the other's shareholdings."
Gome gained 3.4 percent to HK$2.44 at the 4 p.m. close of trading in Hong Kong, the most in three weeks. The benchmark Hang Seng Index declined 1.1 percent.
Bain's Support
Bain Capital LLC, which will convert its bonds to shares at least five business days before the meeting, is one of the investors supporting Chen, Gome said. The conversion may give Bain a stake of about 11 percent.
Gome's shareholders also will vote on whether to cancel a mandate, granted at the company's annual general meeting on May 11, to sell new stock equal to 20 percent of outstanding shares at the time.
Investors in the electronics retailer last year proposed issuing more new shares to dilute the stake of "a big shareholder," Chen separately said at a briefing yesterday. Huang holds a 34 percent stake in Gome, valued at about HK$12.5 billion ($1.6 billion) at today's stock price, according to data compiled by Bloomberg.
'Operating Constraints'
Huang's wholly owned Shinning Crown Holdings Inc. made the proposals, including the removal of a director, a day after Gome's board decided to sue him over profits in connection with a 2008 share buyback and for breach of trust, according to an Aug. 5 statement.
Gome lost 13.6 percent of its market value from Aug. 5 to Aug. 20, the last trading day before Gome's announcement yesterday.
When Huang was detained in 2008, "he left the company almost on the verge of bankruptcy," said Chen, who holds a 1.38 percent stake in Gome, according to data compiled by Bloomberg. "Suppliers tightened credit lines and the company faced huge operating constraints."
Chen at one point put up personal assets as a guarantee for a company loan, he said during the interview. Huang's demands are "not for the interest of the shareholders, not rational and not appropriate," Chen said yesterday.
Huang has been unavailable for comment since his detention in 2008, and his wife, Lisa Du Juan, didn't respond to voice and e-mail messages.
China's Richest Man
Huang, China's richest man in 2008 with a fortune estimated by the Hurun Report's China Rich List at $6.3 billion, is the highest-profile businessman snared by a government crackdown on corruption. Forbes Asia ranked him the second-richest person in China in 2008 with an estimated wealth of $2.7 billion.
The billionaire, a school dropout who became China's youngest self-made billionaire, was convicted of bribery and insider trading by the Beijing No. 2 Intermediate People's Court, lawyers for business partner and co-defendant Xu Zhongmin said in May. Huang also was fined 600 million yuan, the state-run Xinhua News Agency said.
Gome reported first-half profit rose 66 percent to 962 million yuan as Chinese consumer spending rebounded. Suning Appliance Co., overtook Gome to become China's biggest electronics retailer by sales in 2008, according to data compiled by Bloomberg. Suning's market value is almost triple that of Gome's.
Gome plans to double its stores to 1,400 by 2014 by focusing on China's second- and third-tier cities, Chen said. The expansion may also double revenue, he said.
The retailer plans to open about 100 stores in the second half of this year and provide a wider range of electronics products in first-tier cities, Chen said.
"We are now in a very healthy position," he said.
Before it's here, it's on the Bloomberg Terminal.
LEARN MORE