Foster's Shares Surge After Report of SABMiller Bid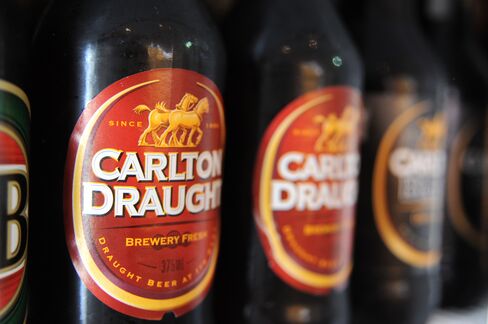 Foster's Group Ltd., Australia's biggest brewer, surged the most in four years in Sydney trading after a report that SABMiller Plc may make a 7 billion-pound ($10.9 billion) bid for its beer division.
Foster's rose 7.6 percent, the most since August 2006, to A$6.26 at the close of trading in Sydney. The beermaker has a market value of A$12.1 billion ($10.8 billion). SABMiller, the world's second-largest brewer, fell as much as 1.6 percent in London and was down 1.1 percent at 1,830 pence as of 8:52 a.m.
SABMiller, based in London, may make the offer for the Carlton & United Breweries division before it is split from Foster's wine business next year, the Sunday Times reported yesterday, without saying where it got the information. Melbourne-based Foster's said it's unaware of any unannounced information to explain its share-price gain.
"SABMiller is the most logical bidder, and I am sure they will be doing a lot of work on what they can bid," said Theo Maas, who helps manage A$5 billion of equities at Arnhem Investment Management in Sydney. "Seven billion pounds would be a good opening statement if there is a bid."
Nigel Fairbrass, a London-based spokesman for SABMiller, and Troy Hey, a spokesman for Foster's, declined to comment.
Wine Expansion
Foster's Chief Executive Officer Ian Johnston announced plans in May to pursue a split after a A$7 billion expansion into wine was marred by falling prices and shrinking profit margins. No formal breakup is expected until 2011, Johnston said at the time.
Since the split was announced, media reports have linked Foster's to potential offers from China's Bright Food Group Co. and Tsingtao Brewery Co., as well as Japan's Asahi Breweries Ltd., in addition to earlier reports of interest from SABMiller.
Foster's is "well within SAB's firepower," Trevor Stirling, an analyst at Sanford C. Bernstein, wrote on June 1. SABMiller "has looked closely at buying Foster's in the past, and will no doubt re-examine a potential deal," he said then.
The cost of protecting against default on SABMiller debt rose to the highest in more than six weeks today, according to data provider CMA. Credit-default swaps on SABMiller rose 12 basis points to 88, meaning it costs $88,000 annually to insure $10 million of the company's bonds for five years.
Foster's has about half the Australian beer market and gets 85 percent of its earnings from the beverage, through brands such as Victoria Bitter, Crown Lager and Pure Blonde.
"The company is not aware of any unannounced information concerning it that explains the recent trading in the company's securities," Foster's said in a regulatory filing today.
The brewer reports annual earnings tomorrow.