Enel Seeks EU3 Billion From Green Power Sale, IPO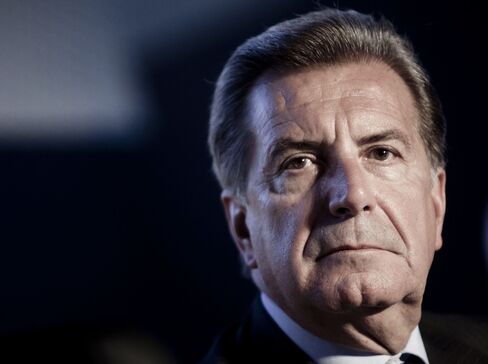 Enel SpA Chief Executive Officer Fulvio Conti said he expects the company to raise "at least" 3 billion euros ($3.8 billion) from the sale of a minority stake in its Enel Green Power unit, less than his previous estimate.
The Rome-based company is in talks with sovereign wealth funds that may bid to buy a direct stake in the alternative energy unit of Italy's biggest utility, Conti said today in an interview in Rimini, Italy. Enel will also sell part of Enel Green Power in October in what may be Europe's biggest initial share sale since 2007.
"We're in the due diligence room right now," Conti said. There have been "a lot of manifestations of interest" from funds. Conti said that the Libyan Investment Authority was not negotiating the purchase, while declining to give any details on what countries' wealth funds were considering an offer.
The Enel Green initial sale may prove to be the largest since Iberdrola Renovables SA, a Spanish alternative energy company, raised 4.1 billion euros, according to data compiled by Bloomberg. The IPO is part of Enel's plan to reduce debt to 45 billion euros this year from 51 billion euros partly through asset sales.
Sales Shelved
Enel is ramping up for the share sale after at least 13 European IPOs were postponed or shelved since April, according to data compiled by Bloomberg. Fairfield Energy Plc, a North Sea oil and gas company, delayed its 330 million-pound ($500 million) IPO in London last month, citing "market conditions." The Stoxx Europe 600 Index has dropped as much as 14.7 percent since its highest level this year reached on April 15.
Conti had said in an April 9 interview that Enel would gain "in the region of 4 billion euros" from the Green Power sale before giving the lower figure today. When asked about the difference, Conti replied, "I'm not saying the 4 billion is too high. I said at least 3 billion, what is above is above."
Enel shares gained, adding 0.5 percent to 3.74 euros as of in Milan trading. The advance left the company with a market value of 35.1 billion euros.
Market 'Reassured'
"I think the market was reassured by the news that the company is indeed in talks with several funds, given how difficult conditions are these days," said Alessandro Frigerio, a fund manager at RMJ Sgr in Milan. "Rather than knowing the amount they want to earn, I'd like to know how much of the company they want to sell."
Conti declined to say how much of Enel Green Power would be sold in the share sale and to private investors. He has previously said that Enel would remain the majority shareholder after the sale.
Green Power manages wind, solar, biomass, hydro and geothermal power producers in 17 countries. The company has about 1.3 billion of earnings before interest, taxes, depreciation and amortization, Conti said in April.
Before it's here, it's on the Bloomberg Terminal.
LEARN MORE