Tax Cheats as Sailboat Owners Become $13 Billion Italy Dragnet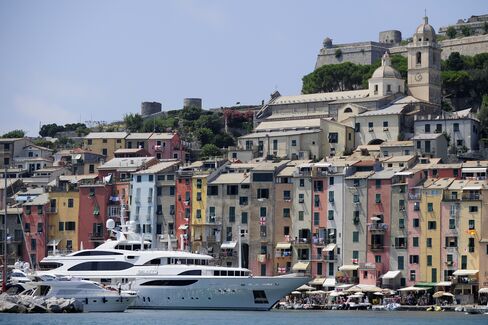 Aug. 23 (Bloomberg) -- Mario Calabrese fumes as he stands near his 10-meter (33 feet) sailboat docked at the Rome Harbor where, days earlier, 20 inspectors swept through the port searching for well-heeled tax cheats.
"People are pretty upset here," said Calabrese, a 58-year-old builder. "I'm not so concerned, as my accounts are in order, but it's wrong to target yacht owners. If I buy a boat, I help the workers who made it, and help keep the economy going."
The raid was part of a summer crackdown at beaches, yacht clubs and discos from Venice to Sicily in a campaign to recoup 10 billion euros ($13 billion) in unpaid taxes this year. Prime Minister Silvio Berlusconi's government is hunting black economy revenue to tame its budget deficit and pare Europe's biggest debt burden of 116 percent of gross domestic product.
Evasion is rampant in Italy, one of the world's 15 richest nations based on per-capita GDP, where only 0.2 percent of taxpayers declare income of more than 200,000 euros a year. Berlusconi said earlier this year that about 22 percent of the economy is underground, and Italy misses out on 100 billion euros a year in unpaid levies.
The summer holidays, when consumption is conspicuous and business booms on Italy's 8,000 kilometers (4,970 miles) of beaches, are an ideal hunting season for tax inspectors to target marinas, restaurants and resorts.
'Tax Dodgers'
"We believe these locations conceal lots of tax dodgers," said Luigi Magistro, who heads the assessment directorate at the Italian Revenue Agency in Rome. With yacht owners, "sometimes we find their annual income isn't even enough to pay for a boat slip in the marina," he said.
Undercover inspectors sporting T-shirts, shorts and flip-flops aim to carry out 25,000 checks this summer. In the first months of the campaign, the agency discovered "several tens of millions of euros" of undeclared revenue, Magistro said.
Inspectors identified beach clubs on the Amalfi Coast listed as money-losing, non-profit organizations that instead serve haute cuisine and cocktails to beachgoers who shell out 50 euros to lounge on a sunbed under an umbrella on the sand.
The agency said in an Aug. 16 statement that it found an erotic club in northeast Italy that not only lacked a license, all 32 of its lap dancers "declared, in unison, that they were putting on their first performance," and hadn't had the time to get their working papers.
"In Capri, we found a person on a luxury yacht who was officially listed as having no assets and in need of welfare," Magistro said. "First he said he didn't know who the boat belonged to, then, after checking, we discovered he led a life of luxury and owned several properties, none of them declared."
Tax Bite
High taxes and lax collection have helped fuel fraud in Italy, which has the fifth-highest tax burden in Europe. Total taxes as a percentage of GDP rose to 43.2 percent by the end of 2009 from 42.9 percent a year earlier, according to national statistics office Istat.
"The higher the tax burden, the higher the incentive to evade," Carlo Alberto Carnevale-Maffe, a professor of business strategy at Milan's Bocconi University, said in an interview. "So far, the risk of being caught has been negligible compared with the benefit for evaders."
The campaign may hamper Italy's recovery from the worst recession since World War II, according to Fabio Pesto, the head of Federagenti-yacht, which represents Italy's yacht agents. Through June, visits to Italy by foreign-flagged boats longer than 30 meters fell by about half from a year earlier as the crackdown deterred sailors, who typically spend about 200 million euros a year after tying up, he estimates.
Tax Bombshell
When finance police in May confiscated a luxury craft they say belongs to Flavio Briatore, Renault's former Formula One team manager, "it was like a bomb," Pesto said. "It scared away a lot of yacht owners and charters from coming to Italy."
Authorities have accused Briatore, who said he chartered the yacht, of being its true owner, meaning he would owe about 4 million euros in fines and unpaid taxes on the 62-meter "Force Blue." Briatore has denied any wrongdoing.
Occupancy is down by about 20 percent this year at Rome Harbor, in Ostia, in part due to concern about tax investigations, according to Antonio Castellano, who manages sales and rentals of slips. "It's also partly due to the recession, but with all the tax controls, I expect it will be even worse next year," he said.
The summer sting does have supporters. "It's the right move," said Pino Affer, owner of a so-called beach club in land-locked Milan's Idroscalo, a recreational area with an artificial lake known as the Sea of Milan.
"Here at the poor people's beach, there are no yachts, just little pedal boats and rowboats, so I don't know if there will be any checks," Affer said. "I pay my taxes because the little guy always has to pay, while the big fish always ends up eating the little fish, unfortunately."
To contact the reporters on this story: Sonia Sirletti in Milan at ssirletti@bloomberg.net; Jeffrey Donovan at jdonovan26@bloomberg.net
To contact the editor responsible for this story: Mark Gilbert at magilbert@bloomberg.net