City Steakhouse Goodman Celebrates Bloodthirsty Carnivores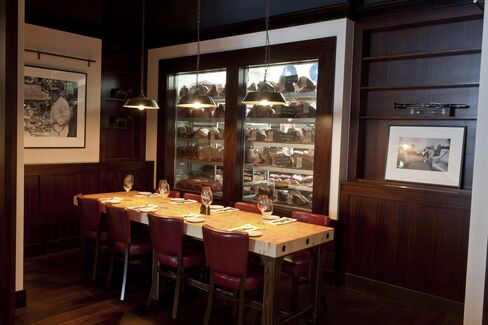 A window table in the new Goodman in the City of London would be a fine place to watch the world go by if everyone actually did hurry past, impatient to complete a deal or visit EAT to take out a mortgage on a sandwich.
From the seat I've occupied a few times over the past few days, I've watched more than a few people stop to look at the menu. From meal to meal, this exceptional steak restaurant, which opened last week, has filled, to the point where you'd be advised to make a reservation if you want to try it.
When the original London branch of Moscow-based Goodman opened in Mayfair 17 months ago, it took a while to catch on. After a few weeks, it began to fill and a month later it was buzzing like Eminem with a chainsaw.
That curve of popularity has accelerated to a day or two with the opening on Old Jewry, where that success has been reproduced. Many of the changes are behind the scenes. Where the kitchen in Mayfair is a basement maze, here the chefs look straight out into the restaurant from a linear-designed space.
There are now two Josper grills, the charcoal-fueled intensely hot Spanish ovens that lend a deep barbecue flavor to meat and vegetables at almost any London restaurant that can afford them. That's currently about half a dozen.
There's a private table looking into the aging room where you can see the meat hanging, a bigger bar and a more spacious feel. Otherwise, the eatery has a generic masculine look similar to the Mayfair mothership.
Daring the Wagyu
During an opening half-price offer on food, I braved the 300 gram Chilean Wagyu rib-eye (45 pounds/$69.76), which wasn't as epic as I'd hoped. While it was beautifully marbled, the idea that spider web of fat captures all the flavor like a fly in a trap was undermined by the fact that there was more depth in a simpler Irish bone-in rib-eye. I guess the USDA steaks will be the big sellers but I prefer my meat from closer to home.
This is one restaurant where I would certainly listen to the advice of the servers on what is good on any particular day. There's a blackboard with the day's cuts.
It's not just the meat that's special about Goodman. Chef John Cadieux's team devotes the same attention to the side dishes -- the crunchy sugar-snap peas with butter and Maldon salt, the firm mushrooms flirting with butter and garlic. The starter of tomatoes, sliced with crumbled stilton, red onions and aged balsamic works particularly well as a side to a steak.
While there are seafood options, vegetarians are likely to be frustrated.
(The portions are large and I have over-ordered four times in a row as temptation repeatedly trumped experience.)
The Bomber
Among the starters, I can never go without ordering tiger-prawn tempura, lightly battered and served with avocado, mango and a spicy Cajun mayonnaise. For desserts, you might do a lot worse than the Bomber, B-52 parfait, Kahlua, Baileys and Grand Marnier. Though the baked New York cheesecake with strawberry compote tastes pretty good to my Limey palate.
On the wine list, the 2008 Duck Pond, Pinot Noir, William Valley, Oregon (38 pounds) is good value. It's not big, bold or especially fruity. It's low key and charming, polite without being dull, friendly though not over familiar.
My one hesitation about Goodman is the noise. Go along on a Thursday evening -- the big night in the City -- or other busy times and you may wish the place was a little less popular.
Great steaks, cooked well and served with a smile is a more difficult formula than it sounds. Goodman makes it look easy. So, I'm awarding four stars for only the second time this year.
Goodman, 11 Old Jewry, London, EC2R 8DU. Information: +44-20-7600-8220 or click on http://www.goodmanrestaurants.com.
The Bloomberg Questions
Cost? Starters cost 7-11 pounds. New York sirloin (350 grams) is 27 pounds. Most side dishes are 4 pounds. The set lunch is 21-26 pounds for three courses.
Sound level? Can get loud -- 80 decibels plus -- for dinner.
Inside tip? The window tables are great for lunch.
Special feature? Aging room in the restaurant.
Will I be back? Yes.
Date place? Yes.
Rating? ****
What the Stars Mean
**** Incomparable food, service, ambience
***  First-class of its kind.
**   Good, reliable.
*    Fair.
0    (no stars) Poor.
(Richard Vines is the chief food critic for Muse, the arts and leisure section of Bloomberg News. Opinions expressed are his own.)
Before it's here, it's on the Bloomberg Terminal.
LEARN MORE