Yahoo May Buy a Stake in Hulu, Stifel Nicolaus Says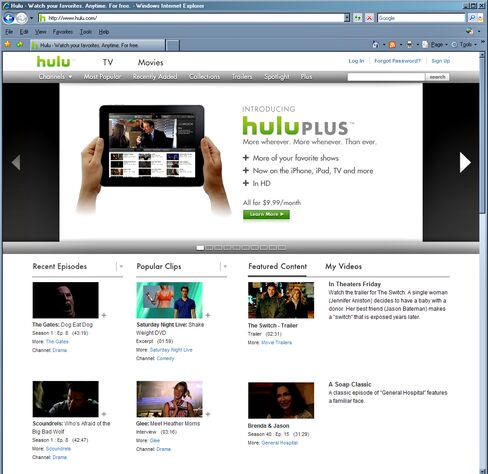 Yahoo! Inc. may buy a "considerable" stake in Hulu LLC if the video website pursues an initial public offering, according to Stifel Nicolaus & Co.
Hulu, owned by three of the biggest U.S. broadcast networks, is preparing a share sale as early as this year that may value the company at more than $2 billion, a person with knowledge of the plan said Aug. 16.
Yahoo, owner of the second-most popular U.S. Internet search engine, would consider acquiring a stake in Hulu to solidify itself as an entertainment destination and a "must-buy" for advertisers, Jordan Rohan, an analyst with Stifel Nicolaus in New York, wrote in a note today. Hulu's estimated $200 million in revenue this year "implies superior monetization" compared with Google Inc.'s YouTube video site, Rohan wrote.
"Such an acquisition could be a very smart strategic move as the Yahoo sales force would be able to cross-sell Hulu inventory with parts of Yahoo's own content initiative," wrote Rohan, who recommends holding Yahoo shares.
Founded in 2007 by General Electric Co.'s NBC Universal and News Corp.'s Fox, Hulu started as an advertising-supported service for viewers to watch previously broadcast TV shows for free online. Now the venture, also owned by Walt Disney Co.'s ABC and Providence Equity Partners Inc., is starting a subscription service.
Video Advertisements
Hulu makes about $14 in revenue for every thousand video streams in the U.S., six times more than YouTube, Rohan estimates.
Hulu drew 28.5 million unique visitors in July, ranking 10th among U.S. online video sites, according to ComScore Inc. Viewers watched 783 million video advertisements on Hulu that month, the most of any U.S. property, ComScore data show.
Yahoo, based in Sunnyvale, California, fell 6 cents to $13.79 at 4 p.m. New York time on the Nasdaq Stock Market. The shares have dropped 18 percent this year.
A phone call to Yahoo wasn't immediately returned before regular business hours. Brandon Boone, a spokesman for Los Angeles-based Hulu, also didn't immediately respond to an e-mail before regular business hours.