Thailand to Send Accused Arms Dealer Bout to U.S.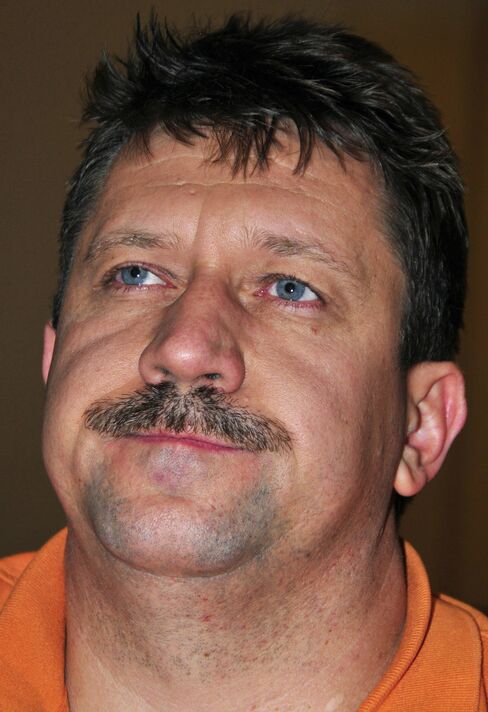 A Thai court ruled that accused Russian arms dealer Viktor Bout can be extradited to the U.S. to face terrorism charges after two years in detention, a decision officials in Moscow called "political."
Bout, indicted by a U.S. grand jury in 2008 on four charges that he plotted to kill Americans, will be detained until he is extradited, according to Bangkok's Appeals Court. The U.S. says the ex-Soviet air force officer ran an air cargo network that shipped weapons to conflict zones from Afghanistan to Rwanda.
The ruling was "political" and Russia will seek to secure Bout's return to his homeland, Foreign Minister Sergei Lavrov said today in comments broadcast by state TV Rossiya 24. "This decision was taken with very strong outside pressure, according to the information we have," Lavrov said. "This is sad."
The high-profile case tested Thailand's ability to balance relations with Russia and the U.S., a key ally and largest trading partner. "The prosecution of Viktor Bout is of utmost priority to the United States," Acting Deputy Attorney General Gary G. Grindler said today in an e-mailed statement, adding the U.S. is "extremely pleased" with the extradition decision.
Russia's Foreign Ministry summoned Thailand's ambassador in to convey its "extreme disappointment and puzzlement about the politically-motivated verdict," the ministry said in a statement on its website. The ambassador promised to convey that position to his government, the ministry said.
"We are trying to explain to both countries that we will follow the truth," Thai Prime Minister Abhisit Vejjajiva told reporters today. "We will give justice. This is not a political issue and we will not take anyone's side."
'American Mousetrap'
Bout, 43, has denied wrongdoing, saying U.S. undercover agents from the Drug Enforcement Administration, who posed as Colombian rebels, framed him in March 2008 when they arrested him in Bangkok. He controlled as many as 50 aircraft, according to Amnesty International, and specialized in delivering weapons around the world.
"This is an American mousetrap," Bout said as he left the court house today in comments broadcast by Rossiya 24.
"Extraditing him is not so easy," Lak Nittiwattanawichan, Bout's lawyer, said by phone after the ruling. "Now it's a matter of international affairs, Thailand's relationship with the U.S. and Russia."
Thai authorities will study the extradition law before deciding when to send him to the U.S., Abhisit said. Bout must be released if the government doesn't send him back within three months, according to the court ruling.
'Good Relations'
In April, Thai Foreign Minister Kasit Piromya said Russia allowed former Prime Minister Thaksin Shinawatra to visit the country as his supporters fought to bring down the government in Bangkok. Russia said at the time that it had no information about the visit.
"We hope to continue to have good relations with both countries no matter what the outcome will be in this case, simply because we base the handling of the case on our law," government spokesman Panitan Wattanayagorn said by phone. "We hope that our friends will understand that."
The U.S. Treasury imposed financial sanctions on Bout in 2004 and 2005. Last month in Bangkok, U.S. Undersecretary of State William Burns cited Bout's arrest as an example of Thailand's cooperation with the U.S. as a key ally in the region.
The U.S. was Thailand's biggest trading partner last year, with $16.7 billion in commerce, about 40 times more than the Southeast Asian country's trade with Russia.
UN Sanctions
Bout is charged with conspiracy to kill U.S. nationals, conspiracy to kill U.S. officers or employees, conspiracy to acquire an anti-aircraft missile and conspiracy to provide material support to a designated foreign terrorist group. If convicted, he may face life in prison.
"The criminal charges he faces are not solely an American concern," said Grindler, that acting deputy attorney general. "He has been sanctioned by the United Nations for alleged arms trafficking activity and support of armed conflicts in Africa."
Before the ruling, Thai prosecutors brought six new charges against Bout, including money laundering and electronic fraud. They will report the court's decision to the U.S. and discuss what steps to take next, Sirisak Tiyapan, head of the prosecutor's international affairs department, told reporters.
"We have to discuss with them again whether to drop the new charges after the Appeals Court's decision," he said. "We can't decide for them."