New York May Reduce Assumed Returns on Pension Assets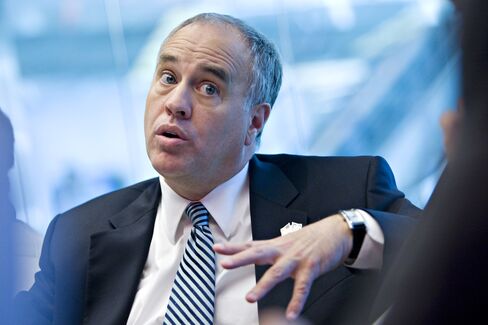 New York state's $132.6 billion pension fund, the nation's third-largest, will cut the assumed rate of return on its investments to less than the 8 percent it has used for a decade.
A reduction to 7.5 percent or 7.75 percent is likely, said Robert Whalen, a spokesman for Comptroller Thomas DiNapoli. The move "will increase the required contributions from the state and local governments but will keep the fund as strong as it is now," Whalen said.
The plan, which covers 1 million current and retired workers, had assets equal to about 107 percent of its future liabilities, according to the fund. New York was one of only four states with pension systems in 2008 that fully funded their future obligations, according to a study by the Washington-based Pew Center on the States.
"A more conservative approach is warranted," based partly on recent years' stock market performance and the level of interest rates, Whalen said. The assumed rate of return on investments is used to calculate the size of pension contributions from employers needed to pay retirees.
The 30-year Treasury bond yielded 3.66 percent today, compared with an average of 5.81 percent for the past 20 years. The Standard & Poor's 500 Index, a benchmark for equity investments, fell at an annualized rate of 0.76 percent during the past 10 years, with reinvested dividends, and rose 8 percent the past 20 years.
The Actuary Advises
The recommendation to lower the rate came from the pension fund's actuary, Michael Dutcher. It was reviewed by an advisory committee of outside actuaries, Whalen said.
The New York fund earned annualized returns of 3.1 percent for the 10 years ended in March 2009, and 1.1 percent over five years, according to the annual report. Returns exceeded 8 percent annually if measured over 20 years, Whalen said.
The market value of the state fund's investments were volatile the past few years, falling 26 percent in the 12 months through March 2009, and then rising 26 percent through the next fiscal year, according to the comptroller's office.
To compensate for investment returns below 8 percent, payments to the fund by the state and local governments in February 2011 are to increase 61 percent to about 11.9 percent of payrolls, DiNapoli announced last year.
Pension IOUs
New York lawmakers and Governor David Paterson approved a plan this month allowing the state and local governments to substitute interest-earning IOUs for cash payments above 9.5 percent of their payroll. Those who defer cash payments must agree to pay more than the required amounts in future years.
Spreading out the payments is expected to save the state $242 million this year, according to budget documents.
The median annual return for state plans in the 25 years ending with 2009 was 9.25 percent, according to the National Association of State Retirement Administrators.
About half of 116 state pension plans assumed an 8 investment return, according to a study by Joshua D. Rauh, associate professor of finance at Northwestern University in Evanston, Illinois.
New York reduced its assumed rate of return from 8.5 percent in 2000. The rate was as high as 8.75 percent in 1989 through 1997, and was as low as 4.87 percent in the years before 1975, Whalen said.
Target Mix Shift
A reduction in the expected investment returns would follow a shift last year in the New York fund's targeted asset mix. The target for domestic and international stocks was cut to 43 percent from 51 percent, while the proportion of hedge funds dropped to 4 percent. The share of private-equity investments, which the state expects to exceed stock market returns, was increased to 10 percent from 8 percent, and the target for fixed-income investments was unchanged at 30 percent.
New categories were established for so-called real assets, such as land, infrastructure projects and gold, at 3 percent of the fund. Opportunistic investments were targeted at 4 percent of the total. Whalen said there haven't yet been any investments in the real category.
A drop in the assumed rate of return for the New York fund would follow similar reductions by state pension plans in Colorado, Utah and Pennsylvania. In 2008, Utah lowered its assumed rate to 7.75 percent from 8 percent, according to Pew. Last year, Pennsylvania reduced its expected return to 8 percent from 8.5 percent. Colorado matched that cut this year.
-- With assistance from Dunstan McNichol in Trenton, New Jersey. Editors: Ted Bunker, Steve Merelman.
Before it's here, it's on the Bloomberg Terminal.
LEARN MORE