Mullah Comedy at Fest, Wall Street Exploits Teens: N.Y. Weekend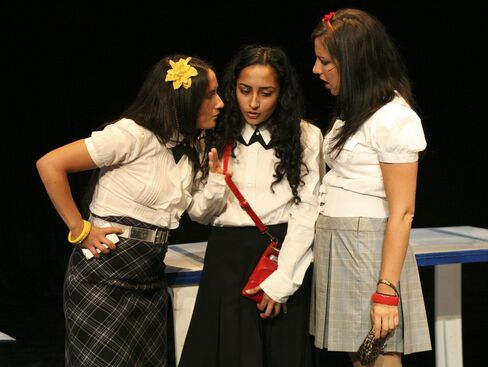 A Muslim female standup comic, of all things, Shabana Rehman made headlines by power lifting an angry mullah off the ground. Her story, "For Kingdom and Fatherland," is one of the gems of the 14th New York International Fringe Festival, and you can catch her show this afternoon or tomorrow.
Dressed in an electric blue gown, Rehman takes the stage alone, with a pair of suitcases for props. Born in Karachi, Pakistan, she moved with her family to Oslo and from poverty to middle-class comfort until the financial crisis hit in the late '80s.
Rehman was in the nightclub audience when Mullah Krekar turned up to promote his new book. Reassuring and jovial, he told the crowd not to fear him. Taking the mullah at his word, she joined him onstage, grabbed him around his thighs and hoisted the chubby religious leader into the air. He was not amused.
Using her elastic limbs and a face that can go from calm loveliness to fierce anger in an instant, Rehman never pushes her material. Directed by Stephen Rosenfield, her show is intimate, amusing and a bit heartbreaking. (Jeremy Gerard)
Rating: ** 1/2
Runs today at 2 p.m. and tomorrow at 2:30 p.m. at the New School for Drama Theater, 151 Bank St.
Information for all Fringe Festival shows: 1-212-279-4488; http://www.fringenyc.org
Saturday
"Lemonade: A Play of World Domination," falls into the expanding category of "Urinetown" wannabes. An unabashedly lefty musical, "Urinetown" was an allegory about evil capitalists who control even our bodily functions. That 1999 festival offering later moved to Broadway and won three Tony Awards.
"Lemonade" isn't a musical and it won't be winning Tonys anytime soon. Written by Jais Brohinsky and staged by David Denson, it's a comic book fantasy in which evil capitalists conspire to sell air and sunlight as plebes suffer in the streets.
Painted in the broadest possible strokes, with sets, props and even some costumes scissored out of cardboard, the show's humor wears thin long before its allotted 90 minutes. (Jeremy Gerard) Rating: *
There's a performance Saturday night at 7:15 at Tom Noonan's Paradise Factory, 64 E. 4th St.
Sunday
By day a financial writer, Felipe Ossa is the playwright behind "Monetizing Emma," about a shifty investment bank that creates bonds backed by the future earnings of gifted teenagers.
While promising as an amusing concept, Emma needs to grow up a little for prime time. (Philip Boroff) Rating: * 1/2
Sunday at 2:30 p.m. and Aug. 25th at 9:45 p.m. at Here Arts Center, 145 Sixth Ave.
More Fringe shows worth checking out: "The Hurricane Katrina Comedy Festival" at the SoHo Playhouse, 15 Vandam St. "Running" at the Cherry Pit, 155 Bank St. "Omarys Concepcion Lopez Perez Goes to Israel (to speak to God at the Wailing Wall)" at Players Loft, 115 MacDougal St. "When Last We Flew" at the Lucille Lortel Theatre, 121 Christopher St. "All Day Suckers" at the Robert Moss Theatre, 440 Lafayette St. and "Shine: A Burlesque Musical" at the Ellen Stewart Theater, 74A E. 4th St.
What the Stars Mean:
****       Do Not Miss
***        Excellent
**         Good
*          Poor
(No stars) Worthless
(Jeremy Gerard and Philip Boroff are writers for Muse, the arts and leisure section of Bloomberg News. The opinions expressed are theior own.)
Before it's here, it's on the Bloomberg Terminal.
LEARN MORE