Japan's Nikkei 225 Set for 'Dynamic' Rally: Technical Analysis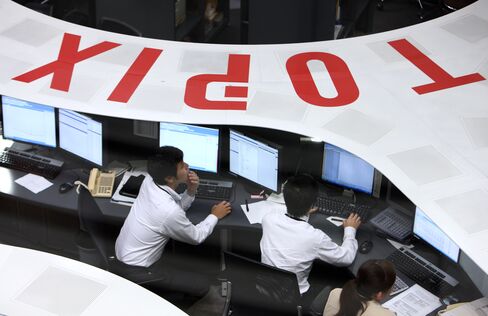 Japan's Nikkei 225 Stock Average may exceed its April high in a rally likely to start in the next two months, according to technical analysis by Mitsubishi UFJ Morgan Stanley Securities Co.
The gauge climbed 49 percent from its March 2009 low through Aug. 31 last year, marking the first wave of a five-phase Elliott Wave rally, said Naohiko Miyata, chief technical strategist at the brokerage unit of Mitsubishi UFJ Financial Group Inc., Japan's biggest bank by market value. Since then, the average has fallen 11 percent, forming the second wave, he said.
"What comes next is a long and dynamic rally," Miyata said. "The third wave is usually the biggest advance."
Miyata said the second wave will likely be completed by about October, with the index possibly finding a bottom at the 8,600 level. That would be a 38.2 percent Fibonacci retracement from the April high, according to Bloomberg data. Once the retracement is completed, the third-wave will start, the analyst said.
The wave principle is a theory developed by accountant Ralph Nelson Elliott during the Great Depression. He concluded that market moves follow a five-stage structure of three steps forward and two steps back.
Elliott said that wave two never falls below the starting level of wave one; wave three is never the shortest; waves one and five tend to be of equal length; and wave sizes are often related by a series of numbers known as the Fibonacci sequence, wherein each number is based on the sum of the two previous ones.
Technical analysts observe price charts to forecast resistance levels, or ceilings restricting further price increases, and support levels, or floors limiting declines. They use trading patterns and prices to predict changes in a security, commodity, currency or index.